EXPERIENCE THE QUINTESSENTIAL
After being exposed to the charm of Japanese food through the Kappabashi Dougu Street and Sushi cooking class, take a trip to old-line Prefecture, Oita.
You can spent calm and peaceful time at Usa Jingu and Onsenkyou (spa resort) and feel real significance of Japan.

Official Tokyo Travel Guide
https://www.gotokyo.org/en/

Local government official website
https://www.discover-oita.com/


COMING SOON!


Two people are traveling this route right now!
Their travel reports will be posted soon.
Sydney Airport
JAL772 Examine the directions from your country
Narita International Airport
Narita Express
Tokyo Metropolitan Area
Day
1
TOKYO
Kappabashi Kitchenware Townmore
Kappabashi Kitchenware Town is a shopping street with over 100 years of history located in downtown Tokyo between Asakusa and Ueno. The street stretches 800m from north to south and has over 170 specialist shops selling Japanese, Western, and Chinese cookware and lacquerware, Japanese and Western sweets and bread makers, kitchen equipment and tools, food ingredients and packaging, and more.
Professional use products for purchase by general consumers. Japanese knives and food samples are popular with foreign customers.
Tokyo Metro Ginza Line
Tawaramachi-->Ginza
Tokyo Metro Hibiya Line
Ginza-->Roppongi
Around 30 minutes/200 yen
Sushi making experience (Hassan)more
RECOMMENDED DESTINATIONS
Learn, make, eat, and enjoy sushi!
1. Don a traditional happi coat
2. Learn about the history of sushi through a Japanese picture story show
3. Witness a live demonstration of fish being prepared
4. Make your own rolled sushi & nigiri sushi
5. Enjoy your sushi lunch along with a special beef hot pot
6. Receive certification with a sushi experience certificate"

Hassan is a shabu-shabu and sushi shop with an innovative style where you can select all-you-can-eat or an a la carte course depending on your mood and the purpose of your visit. It is an almost unheard of refined authentic Japanese space that is loved by a wide range of customers."
Tokyo Metro Hibiya Line
Roppongi-->Ueno
Around 25 minutes/200 yen
Ameyoko(Shopping Street)more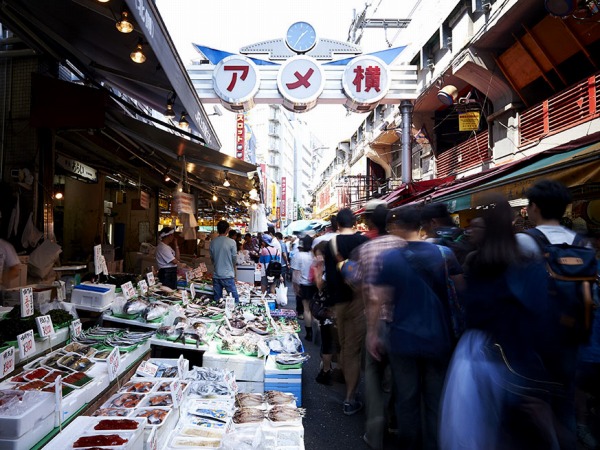 A shopping street full of life now and in the old days, in addition to fresh food and candy, it also has shops offering clothes, shoes, bags, and even cosmetics. The good-humored vendors of each shop are firm supporters of face-to-face interaction. The area is always lively with vendors calling out to potential customers. While it is famous for fish and crabs, apart from grocers, there are countless shops that carry shoes, clothing, and even international knick-knacks.
Tokyo Metropolitan Area
Day
2
KYUSHU(OITA)
Haneda Airport
JAL (JAL Japan Explorer Pass) Show details
Oita Airportmore
From the general information desk at the first floor Arrivals area, travelers can find airport facilities plus get help for their vacation or business in everything including sightseeing and lodging, transportation, or renting a car.
Tabito, next to the Departure lobby, is the go-to shop offering from specialties from across Oita and Kyushu, to a full range of original gifts that can only be found at the airport. Here, you can find various items such as seafood products, confectioneries, and crafts unique to Oita.
The impressive view of the sky with planes flying about with the magnificent ocean spreading in the distance from the observation deck and cuisine gets you in the mood to travel. The observation counter, where you can see powerful airplanes up close, is popular with couples. Dining, which features local ingredients from Oita, is not to be missed. The airport has it all from Japanese to Western, to sushi and ramen, to dessert and drinks.
Oita Kotsu High-Speed Limousine Bus
Oita Airport→Kitsuki
About 30 minutes, 720 yen
Kitsukimore
It is the only place in Japan known as the Sandwich castle town." With the flavor of the Edo period remaining thick, it was the first in the country to be recognized as "Historic Cityscape with Kimono."
Around Kitsuki Castle, there is a group of samurai residences on the south and north hills, and a merchant town sandwiched in the valley between them. The rows of samurai residences and other buildings are a window into the past for you to enjoy and understand how the samurai and townspeople lived in the Edo period and what the town looked like. The view from the top of the hill is very dynamic, with the thatched roofs of the samurai residences and the white walls of homes, along with stone walls and bamboo groves forming a precious scenery that is often seen in a movie or TV drama."
JR Nippo Main Line Limited Express Sonic
Kitsuki Station→Usa Station
About 14 minutes, 760 yen
Taxi
Usa Ekimae→Usa Jingu Shrine
About 10 minutes
Usa Jingu Shrinemore
RECOMMENDED DESTINATIONS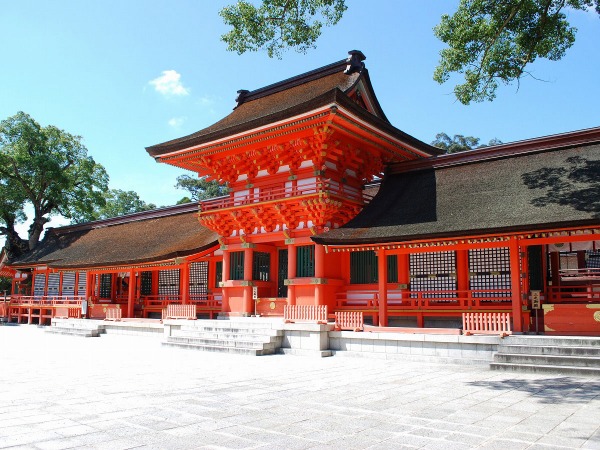 Usa is the main sanctum for the more than 40 thousand hachiman shrines across Japan, and the shrine's main hall has been designated a National Treasure. Ninmon bosatsu is the incarnation of Hachiman, and the temple has a deep history as the birthplace of the fusion of Shinto and Buddhist culture.
Birthplace of the fusion of Shinto and Buddhist culture Usa/Kunisaki peninsula
Kunisaki Peninsula is where Shinto and Buddhism intertwined to develop a unique culture. This culture is called Rokugo Manzan culture.
It is said that Rokugo Manzan was started by Ninmon bosatsu, the incarnation of Hachiman of Usa Shrine in 718 (Yoro 2 nen). In the Kunisaki Peninsula, where the Rokugo Manzan culture spread around Usa Shrine, the area came to be known as the birthplace of the fusion of Shinto and Buddhism.
2018 will mark 1,300 years of the temple's founding.
Usahachiman - Usa Station: 7 minutes by bus 
Usa Station - Beppu Station: Around 30 minutes by JR (Limited Express)
*Each train stops at slightly different stations.
Beppu Station West Exit - Safari: 46 minutes by Kamenoi Bus
African Safarimore
Around 70 species and 1,400 animals and birds live active lives in this approximately 115 m2 expanse of nature.
This safari-style zoological garden is among the largest in Japan; here, you can gain an incredible, exciting view of the wildlife in the Safari Zone, where you can see large wild animals from your car or the Jungle Bus, a bus for ecological observation. In addition, the Kangaroo Petting Forest within the Petting Area, where you can pet kangaroos, is popular. You can also pet small animals such as miniature horses and guinea pigs.
Around 22 minutes by bus from the Safari Bus Stop to Myoban (Kamenoi Bus 41 Safari Line, for Beppu Station West Exit, 470 yen)
Myoban Onsen
Day
3
Myoban Onsen
Around 1 hour by train from Beppu Station to Mie-machi (Adult: 1,110 yen)
Geo Experiencemore
Oita Bungo Ohno Geopark is designated a Japanese geopark, and visitors can study and experience natural heritage and tangible and intangible cultural heritage here. There are a number of charming spots in the geopark, with notable highlights known as "geosites." There is an abundance of places for you to enjoy, including the Harajiri Falls, Ogata Iro Watercourse, arched stone bridges, shrines, and breweries!
Around 1 hour 10 minutes by bus from Mie-machi Ekimae to Usuki Station (adult: 1,150)
Around 20 minutes by bus from Usuki Station to Usuki Sekibutsu (adult: 310 yen)
Usuki Stone Buddhasmore
The Usuki Stone Buddhas are carved to represent Furuzono Sekibutsu Dainichi Nyorai and are said to have been created from the late Heian period to the Kamakura period.
In terms of scale and quantity, the high quality of the carving of the stone Buddhas is representative of Japan, and on June 15, 1995, the statues were designated as National Treasures, the first stone carvings to receive such a designation and the first national treasure in Kyushu.
There are over 60 stone Buddhas, of which 59 are national treasures.
The stone Buddhas are divided into 4 groups, with each group given a name determined by their location. The grups are called the First Hoki group (Dogasako Buddhas), the Second Hoki group, the Sanno group, and the Furuzono group, respectively.
Each is a masterpiece of outstanding work and the expressive figure of Buddha gives peace of mind to visitors.
Around 17 minutes by bus from Usuki Sekibutsu to Notsu City (adult: 480 yen)
Nohaku (Farmstay)
Day
4
Nohaku (Farmstay)
Around 35 minutes by train from Usuki Station to Saiki Station (adult: 560 yen)
Around 1 hour 20 minutes by bus from Saiki Station to Kamae Port (adult: 940 yen, via Aoyama)
Fukashima Islandmore
Cats and coral welcome you on Fukashima, a small, isolated island off the southernmost point of Oita Prefecture. This "cat paradise" has more cats than human residents. It is also said to be the northernmost place in Japan where you can see coral. The island as a whole has been designated a quasi-national park, and its abundant nature stretches on and on. You can casually admire the coral when snorkeling in the shallows, and you may meet some of the colorful tropical fish that live in the warm ocean current caused by the Kuroshio Current.
Around 1 hour 20 minutes by bus from Kamae Port to Saiki Station (adult: 940 yen, via Aoyama)
Around 1 hour 50 minutes by train from Saiki Station to Beppu Station (adult: 1,470 yen)
Beppu Jigoku Meguri (hell tour)more
A tour of the seven hells where fumaroles and hot water vigorously erupt from the ground. In admiring the hells, the UmiJjigoku (sea hell), Chinoike Jigoku (blood pond hell), Tatsumaki Jigoku (tornado hell), and Shiraike Jigoku (white pond hell) have been designated nation scenic spots for their superior colors and formations.
Around 25 minutes by bus from Umi Jigoku to Beppu Station (330 yen)

Around 50 minutes by Airliner from Beppu Ekimae to Oita Airport (adults: 1,500 yen)
Oita Airport
JAL (JAL Japan Explorer Pass) Show details
Haneda Airport
Other recommended route in same area