THE ABDITORY
New discoveries await in the nostalgic shopping district of Yanesen, where the atmosphere of Tokyo's old Shitamachi remains. In Kumamoto is Japan's foremost hot spring destination, Uchimaki Onsen, a hot spring paradise where you can experience springs of different water qualities. Discover its charm.

Official Tokyo Travel Guide
http://www.gotokyo.org/en/

Local government official website
http://kumanago.jp/en/


COMING SOON!


Two people are traveling this route right now!
Their travel reports will be posted soon.
Paris Charles De Gaulle Airport
JAL046 Examine the directions from your country
Haneda Airport
Tokyo Metropolitan Area
Day
1
TOKYO
YanakaGinza(Shopping Street)/Nezu-jinja Shrinemore
RECOMMENDED DESTINATIONS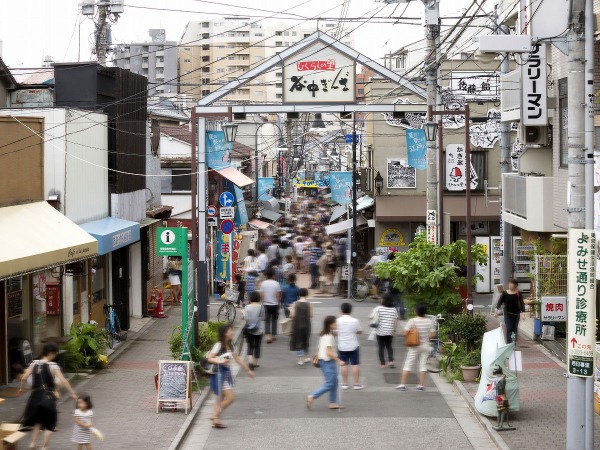 Collectively known as Yanesen, taking the first syllable of each of Yanaka, Nezu and Sendagi, these locations are filled with the atmosphere of the traditional shitamachi neighborhoods in Tokyo. YanakaGinza(Shopping Street) allows visitors to catch a glimpse of old Japan. Popular for its cherry blossoms, Yanaka-reien cemetery is one of the many perfect places for a stroll in any season. It was also a place well-loved by many literary masters. If you decide to cross the hill road and go through the mazelike alleyways, you will definitely encounter retro scenes of Tokyo as if you've gone on a time trip to the "good old days". Why not escape the hustle and bustle of the metropolis and have a traditional Tokyo experience in Yanesen?
JR Yamanote Line
Nishinippori Station→Komagome Station
5 minutes / 140 yen
Rikugien Gardensmore
These gardens were constructed by Yanagisawa Yoshiyasu on land given to him in 1695 by Tokugawa Tsunayoshi, the fifth shogun of the Edo bakufu. Yoshiyasu spent seven years constructing a garden with paths around artificial hills and a pond. As the land was part of the flat Musashino region, when building the gardens he had to dig a pond, create hills, and bring in water from the Senkawa water supply to fill the pond.
Tokyo Metro Namboku Line
Komagome Station→Iidabashi Station
9 minutes / 170 yen
Kagurazakamore
Kagurazaka-dori is said to have taken its present form during the Edo period. Sakai Tadakatsu built his residence around Yarai given by Tokugawa Iemitsu in 1633. Kagurazaka took shape after developing the road to the castle for the Tairo (chief minister).
There are several shops that were founded in the Edo period, as well as more than 10 stores from the Meiji and Taisho periods. While the buildings may be difficult to find as they have been renovated, try to do by looking at the names and ambiance for clues.
Namboku Line
Iidabashi Station → Todaimae Station
About 5 minutes / 170 yen
From Todaimae Station on the Namboku Line
About 15 minutes on foot
Ryokan Sawanoya
Day
2
KYUSHU(KUMAMOTO)
Haneda Airport
JAL(Japan Explorer Pass) Show details
Aso Kumamoto Airportmore
Situated 20km east of Kumamoto City, Aso Kumamoto Airport sits atop the Takayubaru Plateau on the western side of the Aso outer rim mountains. The airport lies within the municipalities of Mashiki (Kamimashiki District), Kikuyo (Kikuchi District), Ozu (Kikuchi District), and Nishihara Village (Aso District). There are few houses around the airport – instead you'll find many farms, golf courses, and natural forests. With the smoky Aso volcano visible to the east, and faraway Mt. Unzen visible to the west, Kumamoto Airport occupies a truly scenic location in beautiful Kumamoto Prefecture.
Kyushu Sanko bus Yamabiko-go
Aso Kumamoto Airport→Aso Station
About 70 minutes / 980 yen
Kyushu Sanko bus
Aso Ekimae→Daikanbo Iriguchi
About 35 minutes / 550 yen
Walk
25 minutes
Daikanbomore
It is one of the peaks on the northern outer rim mountains northeast of Uchinomaki Onsen. Once known as "Tomigahana," it was renamed Daikanbo after Uchinomaki mayor Kojima made a request to the great writer Tokutomi Soho in 1922. The view of Aso Gogaku and the Kuju mountain is fantastic, and the view of the mountains when they emerge from a sea of clouds is par excellence. Aso Gogaku from here is called "Nehanzo" because of its appearance of a Buddha in repose. From the observation deck, you can see the cityscape of Aso, pick up some souvenirs, and have a bite to eat. It is also a spot for star gazing.
Kyushu Sanko-Bus
Daikanbo Iriguchi→Uchinomaki Onsen Iriguchi
Etwa 20 Minuten / 380 Yen
Walk
5 minutes
Uchinomaki Onsen
more
RECOMMENDED DESTINATIONS
The city of Aso is renown for its top-quality hot springs with abundant water. Among them is Uchinomaki Onsen, the classic hot spring town with more than 20 hotels and inns. It is famous as a hot spring resort where great writers and others have stayed. The spring water is clear and a little hot, but drinkable. It is a must-see spot when sightseeing in Aso, and many travelers use it place as a base for their sightseeing. A tour of public baths called "Machiyu" is particularly popular. There are 6 "Machiyu" baths which locals use for relaxation.
Day
3
Uchinomaki Onsen
(Aso Plaza Hotel)
Kyushu Odan bus
Uchimaki (Kadoman Mae)→Kumamoto Kotsu Center
About 2 hours / 1,700 yen
Walk
10 minutes
Kumamoto Castlemore
Kumamoto Castle, one of Japan's three great castles, was started by Kato Kiyomasa in 1601, with the construction lasting seven years. The castle is also known as Ginnanjo (Ginkgo Castle). It is a truly grand and magnificent castle of approximately 980,000 m2, and within the castle grounds, which have a circumference of about 5.3 km (as originally built), there are three towers, 49 turrets, 18 turret gates, and 29 castle gates. The unique castle structure makes use of ishigaki stone walls and natural landforms that give it its beautiful curves. Katsu Kaishu once stated, "there are no other castles like this castle," praising its intimidating size and height.
During the Satsuma Rebellion of 1877, the castle demonstrated its value as an impregnable fortress by fending off the Satsuma army led by Saigo Takamori for 50 days, but a mysterious fire the day before the main attack left only 12 towers including the Uto Turret standing. The present castle tower was rebuilt by Kumamoto City in 1960 to commemorate the 350th anniversary of Kato Kiyomasa and the 70th anniversary of the municipality. It is famous as a cherry blossom spot, with 600 Yamazakura, Higo, and Yoshino cherry trees that attract more than 100,000 people when the cherry blossoms are in full bloom. The park is open at night where they reflect off the lit up castle. The cherry blossoms bloom from late March to early April. The Honmaru Goten, completed in 2008, further adds to the castle's allure.
Kumamoto City Tram
Kumamoto Castle / City Hall→Kumamoto Station
About 20 minutes / 170 yen
JR Misumi Line
Kumamoto Station→Misumi Station
52 minutes / 740 yen
Walk
5 minutes
Amakusa Takarajima Line (boat)
Misumi Port→Matsushima Port
About 17 minutes / 900 yen
Dolphin watching (sea cruise)more
Approximately 200 dolphins inhabit the northern part of Futae Bay, called the Hayasaki Seto straight, where you can see them up close in the wild. Dolphins have a easygoing character and their curiosity makes them very friendly as they wait for the sounds of fishing boat engines before coming closer.
Hotel's courtesy car
Amakusa Nagisatei
Day
4
Amakusa Nagisatei
Matsushima → Hondoko
35 minutes / 1,300 yen
[Amakusa Airport Shuttle Bus]
Hondo Bus Center (No. 3) → Amakusa Airport
15 minutes / 340 yen
Amakusa Airportmore
Amakusa Airport is located in the uplands of Amakusa Shimojima in the center of the Amakusa Islands, surrounded by the beautiful blue ocean in Unzen-Amakusa National Park. The airport is part of the sightseeing experience as a dramatic trip unfolds on a clear day with Shimabara Peninsula and Kumamoto City in the distance.
Amakusa Airport is a monument that sends information on Amakusa's wealth of nature and the warmth of its people. Amakusa Airlines' Dash 8 aircraft illustrated with mother and child dolphins.
The control station rising from the center of Amakusa Airport has a terminal tower style, and sends out quick and accurate information to aircraft to ensure their safety and efficiency, with its mission to make sure that all trips in the air are even safer.
JAL(Japan Explorer Pass) Show details
Fukuoka Airport
JAL(Japan Explorer Pass) Show details
Haneda Airport
Other recommended route in same area