RELAXATION & CULTURE
Visit Phoenix Seagaia Resort for a resort hotel experience designed with adults in mind, and try your hand at the world-famous art of origami paper-folding, one that every Japanese person knows. Enjoy a variety of activities in the resort's rich natural environment, returning to childhood innocence as you play to your heart's content.

Official Tokyo Travel Guide
https://www.gotokyo.org/en/

Local government official website
http://www.kanko-miyazaki.jp/foreign.html


COMING SOON!


Two people are traveling this route right now!
Their travel reports will be posted soon.
London Heathrow Airport
JAL044 Examine the directions from your country
Haneda Airport
Tokyo Metropolitan Area
Day
1
TOKYO
Origami experience
(Ochanomizu Origami Kaikan)more
RECOMMENDED DESTINATIONS
The allure of the unlimited possibilities of origami to create a variety of shapes from a single piece of square paper. Experience a creativity unique to Japan.
Tokyo Metro Ginza Line
Suehirocho-->Nihonbashi
5 minutes/170 yen
Nihonbashi (cultural experience)more
The Nihombashi area, known as a "town for merchants," flourished in the Edo period centered on the Five Routes, which converged there. It continues to be the center of commerce and finance even today, with streets lined with offices, department stores, long-standing shops, etc.
On Chuo-dori Street, visitors may enjoy seeing Nihombashi Mitsukoshi Main Store, known as Japan's first department store, and other famous buildings of Tokyo, including the nationally designated important cultural properties of Takashimaya Nihombashi Store and the Bank of Japan Headquarters.
There are also numerous long-standing and famous specialty stores and traditional restaurants founded in the Edo period.
Ningyocho, retaining the atmosphere of Shitamachi, has many long-standing businesses from the Edo period, and it is also renowned for Suitengu Shrine dedicated to prayers of conception and easy childbirth, and the ceramics, doll and pickled vegetable fairs synonymous with their respective seasons.
Tokyo Metro Ginza Line
Nihonbashi-->Omotesando
16 minutes/200 yen
Nezu Museummore
The museum was founded in 1941 to preserve and display Japanese and East Asian antique art from the collection of its founder, Nezu Kaichiro, a businessman whose career included being President of the Tobu Railway Co., Ltd.
It reopened in October 2009, newly designed by Kengo Kuma. The expanse of this open, relaxing space is an enjoyable place to appreciate art.
The lush 17,000 square meters of Japanese garden creates an oasis in the city, where visitors can take pleasure in the passage of the seasons.
Tokyo Metropolitan Area
Day
2
KYUSHU(MIYAZAKI)
Haneda Airport
JAL (JAL Japan Explorer Pass) Show details
Miyazaki Airport (Miyazaki Bougainvillea Airport)more
Miyazaki is the gateway to the skies with 5 domestic routes (18 roundtrips to Tokyo per week, 11 to Osaka, 3 to Nagoya, 1 to Okinawa, and 13 to Fukuoka) and 3 international routes (3 roundtrips to Seoul per week, 2 to Taipei, and 2 to Hong Kong). Flowering trees such as Bougainvillea and Washington Palm fill the airport interior and greet travelers with a tropical mood. Its restaurants and shops offer many unique Miyazaki dishes and souvenirs of Miyazaki.
Free Wi-Fi is also available. There is also excellent train service via a 10 minute trip from JR Miyazaki Station. *Route information is as of April 2017.
Take a bus from Miyazaki Airport bus stop for Miyakonojo, and alight at Miyakonojo Station bus stop (1,620 yen)
Around 60 minutes
Kirishima Factory Gardenmore
Facilities for industry, culture, and connectedness combine in this garden park, which serves as a base for Kirishima Shuzo, widely open to the public. Several facilities have been developed here, including the craft beer brewery and restaurant, the Kirinokura Brewery, which also functions as a shop, and the Kirinokura Bakery, which makes and sells bread.
Take the train for Miyazaki from JR Miyakonojo Station
Alight at Miyazaki Station
(1,560 yen)
55 minutes
Take a bus for Saito Bus Center from Miyazaki Station
Alight at Mifune-dori bus stop
(1,040 yen)
55 minutes
Around Saito City
Day
3
Around Saito City
Take a bus from Mifune-dori bus stop for the Saitobaru Archaeological Museum
Alight at Saitobaru Kokohakubutsukan-mae
(240 yen)
10 minutes +
After you alight, it is one minute on foot
Saitobaru Kofun-gun (Saitobaru Burial Mounds)more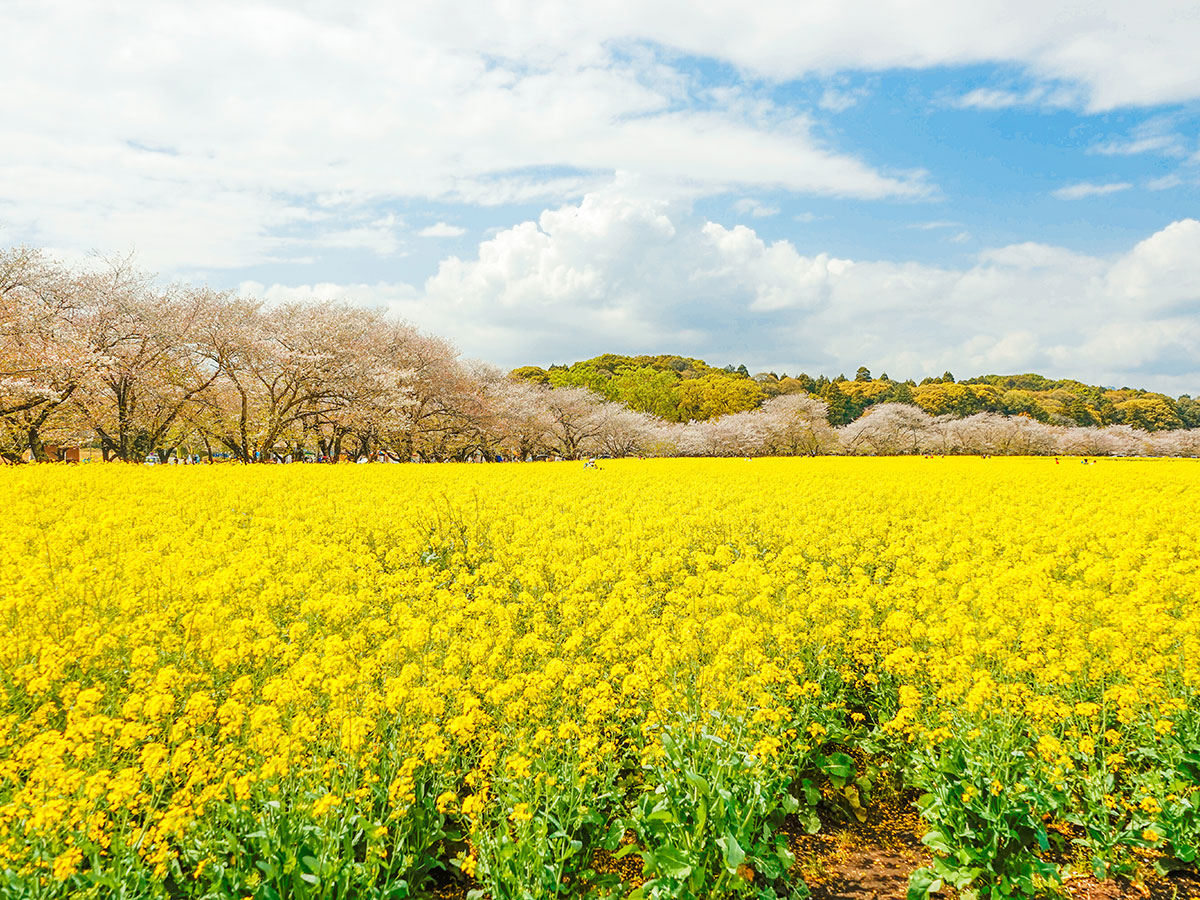 More than 300 burial mounds are dotted around this large area, which measures 2.6 km east to west, and 4.2 km north to south. Most of these have not been excavated, and so have been preserved in their natural state.
Currently, this area is protected and managed as a Special Historic Site.
In addition, as a hub of information about Hyuga Province in ancient times, overflowing with romance, the Saitobaru Archaeological Museum located on the site welcomes many visitors.
Take a bus for Saito Bus Center from Saitobaru Kokohakubutsukan-mae bus stop
Alight at Mifune-dori bus stop
(240 yen) 10 minutes

Take a bus for Miyazaki Station from Mifune-dori bus stop
Alight at Ehira Itchome bus stop
(960 yen) 40 minutes
Take a bus for Shusen from Ehira Itchome bus stop
Alight at Ayamachiaisho bus stop
(960 yen) 40 minutes
Aya Teruha Suspension Bridge more
Extending over the laurel forest area in Kyushu-chuo Sanchi Quasi-National Park, this suspension bridge is one of the largest in the world, at 142 meters high and 250 meters long. In front of the Teruha Suspension Bridge is the Shoyo Jurin Bunkakan (Laurel Forest Culture Hall), where you can learn about the creatures living in the laurel forest, and the rest of the forest.
On the other side of the suspension bridge is a 2 km nature trail, where you can enjoy a peaceful walk in the woods for around 40 minutes.
Taxi (15 minutes)
Aya Teruha Suspension Bridge to Ayamachiaisho
Take a bus from Ayamachiaisho bus stop for Miyazaki Station
Alight at Tachibana-dori San Chome bus stop
50 minutes (1,010 yen)

Take a bus from Tachibana-dori San Chome bus stop for Sheraton Grande
Alight at the Sheraton Grande bus stop
30 minutes (570 yen)
Sheraton Grande Ocean Resort
Day
4
Sheraton Grande Ocean Resort
5 minutes on foot
Phoenix Seagaia Resortmore
RECOMMENDED DESTINATIONS
Phoenix Seagaia Resort is an integrated resort facility located on the east coast of Miyazaki City facing the Pacific Ocean. The resort is 11 km north to south, spread out among a natural world surrounded by around 700 ha of black pine forest, with hotels, a golf course, an onsen, a spa, cuisine from Miyazaki, and is a MICE establishment.
Take a bus from Sheradon Grande bus stop for Miyazaki Station and alight at Miyazaki Station bus stop
(510 yen)
25 minutes
Travel from Miyazaki Station and alight at Miyazaki Airport Station
(380 yen)
15 minutes
Miyazaki Airport (Miyazaki Bougainvillea Airport)
JAL (JAL Japan Explorer Pass) Show details
Haneda Airport
Other recommended route in same area