FEEL THE EARTH
After appreciating Thirty-six Views of Mount Fuji, a masterpiece of one of the most famous ukiyo-e painter, Hokusai Katsushika at the Sumida Hokusai Museum where possesses and exhibits his works, head to Sakurajima, active volcanoes in Kagoshima prefecture. Amazing trip to feel power of the earth.

Official Tokyo Travel Guide
https://www.gotokyo.org/en/

Local government official website
http://www.kagoshima-kankou.com/for/


TRAVELER
Traveled : September, 2019

Portia Jones


Travel writer
Reside in UK

Traveled : September, 2019

Matthew Hernon


Teacher
Reside in Tokyo
Home country: England
London Heathrow Airport
ANA Examine the directions from your country
Portia Jones


ANA international flight : The ANA International flight was reliable, prompt and had all the features you might expect from an international flight. The check in process was very smooth at Heathrow Airport. The in-flight service is excellent and offers the choice between western and Japanese food. There is a great selection of films to keep you entertained on the flight
Haneda Airport
Tokyo Metropolitan Area
Day
1
TOKYO
Toei Streetcar (Toden) Arakawa Linemore
Toei Streetcar (Toden) Arakawa Line is a streetcar that runs from Minowa of Taito-ku, a neighborhood that very much retains the Shitamachi (old Tokyo downtown) atmosphere, to Waseda, known as the site of the university by the same name. The gentle ride is so laid back it's hard to believe that this is an actual means of transport in Tokyo.
Visitors can enjoy sights that are well off the beaten track to their hearts' content, including shopping centers, Arakawa Yuen, Asukayama Park, Togenuki Jizoson Kogan-ji Temple, and Kishimojin. Nothing can beat a trip along the Toei Streetcar (Toden) Arakawa Line for those who want a taste of local life.
Portia Jones


Streetcar : The Tokyo Sakura Tram (Toden Arakawa Line) is the only Toden tram line left in Tokyo, which runs from Minowabashi Station to Waseda Station. Taking this tram is a fantastic way to get a taste of authentic Tokyo. Typically trams serve as a tourist attraction in busy cities, however this small tram is used for commuting by locals.

Sugamo Jizo-dori shopping street : Approximately 800 meters long is a road filled with about two hundred shops, cafes and restaurants. Jizo-dori is affectionately called 'Grandma's Harajuku'. There are quaint shops selling tea, sweets and seaweed. It's a slower pace of life on this street and you can spend several hours wandering around as warm shop keepers beckon you in. The entire street is full of a sense of nostalgia as shops and restaurants cater to 'how it used to be'.

Lunch at Jizo Soba Ohashiya : The food is fresh and beautifully presented. You can choose from a wide selection of dishes from their menu, and then admire the many photographs on the wall of Japanese celebrities eating at the restaurant. The atmosphere is really relaxing.

Joyful Minowa Shopping Street : Joyful Minowa Shopping Street is a traditional covered shopping street in Tokyo. This lively shopping street is lined with eateries, boutiques, teahouses and grocery stores. The street has a wonderful aroma of food being cooked and if you are feeling hungry, there are lots of meat skewers, deep fried chicken, pork and vegetables and seafood. If you are a coffee fan, Papa Noel's is recommended as they roast their own beans daily.

Matthew Hernon


Streetcar : The Toei Arakawa Line is a cute little tram. It stops off at small but intriguing local neighborhoods that many tourists wouldn't think of visiting. These were good opportunities to know Tokyo better.

Sugamo Jizo-dori shopping street : There is a charming about 800-meter long, Sugamo Jizo-dori shopping street known as Granny's Harajuku around two minutes from Koshinduka station. Sugamo Jizo-dori has a variety of fascinating shops, including bakeries, sweets shops and clothing stores (including ones selling the famous red underwear). One of the street highlights is Koganji Temple with its Togenuki Jizo statue, said to help heal illness if worshippers wash the area of the statue's body that corresponds to their ailments.

Lunch at Jizo Soba Ohashiya : From the sumptuous sashimi to the delicious tempura, all the dishes in our lunch course at Soba Ohashiya were wonderful. Their main soba dish is very nutritious. A relaxed establishment with friendly waiters and some mouthwatering dishes, it is well worth visiting again.

Joyful Minowa Shopping Street : Beyond the neon signs and skyscrapers, Tokyo's also known for its shotengai, which often have nostalgic atmospheres. Joyful Minowa Shopping Street is one of those examples. It feels like you've been transported back in time. There's a friendly vibe, particularly at Papa Noel, an enchanting coffee shop with an English-speaking owner. The Toden (Tram) Blend Coffee is highly recommended.
Train
Train (JR)30 minutes
Sumida Hokusai Museummore
RECOMMENDED DESTINATIONS
Katsushika Hokusai, praised as a world-class artist, was born near Hokusai Dori in what is now known as Sumida Ward, and spent most of his 90-year life in the ward, leaving behind many excellent works.
In addition to showcasing Hokusai's works, the museum conducts exhibitions and educational outreach projects with diverse themes that convey the relationship between Hokusai and Sumida in an easy-to-understand manner.

Portia Jones


Sumida Hokusai Museum : The Sumida Hokusai Museum is a contemporary-style museum, featuring exhibits on the life & art of Katsushika Hokusai. He is one of Japans most famous artists, and you can see his life and works comprehensively. There is also an amusing animatronic facsimile of his life at the time. The interactive displays bring the art to life. The layout and design is incredibly swish and the entire museum has a definite upscale feel to it.

Matthew Hernon


Sumida Hokusai Museum : The Sumida Hokusai museum is a very attractive museum, with a strikingly modern exterior and a brilliant collection of the famous ukiyo-e painter Katsushika Hokusai's artwork inside. It includes his most iconic pieces, "Red Fuji" and "The Great Wave off Kanagawa." The museum has two lifelike animated wax figures of Hokusai and his daughter. On the upper floors there are some impressive views of Tokyo Skytree.
Train (JR)11 minutes
3 minutes by foot
SKY BUS TOKYO(Odaiba Night Course)more
On the Odaiba Night Course, the two-story open-deck SKYBUS TOKYO takes passengers to see the Tokyo Tower lit up against the night sky and also goes directly beneath the Rainbow Bridge. Since the SKYBUS TOKYO also takes highways along the way, passengers can feel like they are on a theme park attraction.
The SKYBUS TOKYO stops at Aqua City in Odaiba and allows passengers one hour of free time to get something to eat or take a commemorative photo with the Statue of Liberty and Rainbow Bridge in the background.
This two-hour tour is the perfect way to enjoy many of Tokyo's night spots in a short amount of time.
Portia Jones


Sky bus : The sky bus is surely the best way to experience Tokyo at night. Board an open-deck bus and take a trip around Tokyo's most famous sights. The bus takes passengers to see Tokyo Tower lit up against the night sky and also goes directly beneath the Rainbow Bridge. It is marvellous to feel the wind whip around you as you whizz around the city. There is time to stop at Aqua City in Odaiba, which allows you one hour of free time to get something to eat or take night shots with the beautiful Rainbow Bridge in the background. This tour (about two hours) is the perfect way to enjoy many of Tokyo's night spots in a short amount of time.

Dinner at Tsukiji Sushiko : It is hard to imagine that you would have a decent meal in shopping mall, however the food at Tsukiji Sushiko is outstanding. The sushi was colourful and fresh and prepared by sushi chefs in front of us. The restaurant also has a menu that is easy to comprehend for western visitors, which is very handy. The entire ambiance of the restaurant is very warm and inviting and is full of people enjoying plates of sushi.

Matthew Hernon


Sky bus : A wonderful way to see the bright lights of Tokyo, the Sky Bus is an easy to use hop on/hop off open-air bus. We went from Tokyo Station to the ultramodern Odaiba entertainment district. You can feel relaxed on the bus while looking at the imposing sight of Tokyo Tower and taking in all the skyscrapers from across the bay. A voice guide provides information on the various landmarks and English interpretation is available.

Dinner at Tsukiji Sushiko : A calm restaurant with a range of reasonably priced sushi options, it's easy to see why Tsukiji Sushiko is so popular. With an English menu, it couldn't be easier to order. Watching the sushi masters work their magic behind the counter adds to the allure of the place.
Tokyo Metropolitan Area
Day
2
KYUSHU(KAGOSHIMA)
Haneda Airport
ANA (ANA Expericence JAPAN Fare) Show details
Portia Jones


ANA Domestic flight : ANA domestic flights have brilliant domestic flight service which is smooth and prompt. The flight was on time and was comfortable and calm. They provide much needed hot drinks on those early morning flights.

Matthew Hernon


ANA Domestic flight : The ANA flight left and arrived on time. The service was excellent throughout and the seats were comfortable. A complimentary drink was provided so the time spent was even more comfortable.
Kagoshima Airportmore
Kagoshima Airport is located about 28km northeast of Kagoshima City atop the Jusanzukabaru plain, which offers views of the Kirishima mountains to the east and Sakura-jima to the south. This provides the perfect location as the gateway to Kagoshima. On sunny days, head to the rooftop observation deck to watch all sorts of airplanes take off and land, from turboprops to large jets, all backed by magnificent views of the Kirishima mountains. Kagoshima Airport also offers shops selling a huge selection of goods from Kagoshima, including delectable sweets, specialty foods from Kagoshima, and arts and crafts made by local artisans. Check out the retro Eames shell chairs in the domestic departures lobby that make the airport chic.
Express bus40 minutes
Train15 minutes
Ferry15 minutes
Portia Jones


Lunch at Umi no Ohkan : The lunch menu at Umi no Ohkan is packed with fresh fish and specialties that will give you a real taste of Japan. The views of the Kinko bay and the volcano are a brilliant addition to the ambiance of the restaurant. There's nothing quite like eating fresh sushi with an active volcano view.

Matthew Hernon


Lunch at Umi no Ohkan : Located in a prime spot — with the active volcano, Sakurajima in the background — Umi no Ohkan's a casual restaurant where you order from an easy-to-use ticket machine. The food is sublime. From the various courses options, we went for some fresh sashimi and salmon roe eggs with a peanuts salad. My favorite was arani, a simmered fish head that tasted heavenly.
Sakura-jimamore
RECOMMENDED DESTINATIONS
Sakura-jima, floating in Kinko Bay, is the symbol of Kagoshima. It was previously, as its name suggests, an island (jima = island), but lava flowing from the 1914 Taisho eruption of the island's volcano filled in the strait between the mainland and the island, and it became part of the Osumi Peninsular. There are around 4,600 people who live on this volcanic island, with its frequent eruptions, and they enjoy the blessings of the volcano, including crops such as the Sakurajima daikon and Sakurajima mandarin oranges, abundant hot springs, and views of mountains and villages.
Portia Jones


Sakurajima (Active volcano) : Living near an active volcano certainly makes life interesting. Local residents have learnt to co-exist with the frequent eruptions through their lives in this area. Look out for raised umbrellas when 'Sakurajima' spews volcanic ash. The area of Kagoshima itself is an otherworldly blend of the traditional and tropical. The volcano spews out ash on a regular basis, which makes for some amazing travel photos.

Life near an active volcano : Sakurajima is one of Japan's most active volcanoes, blasting out ash most days. It's really interesting to visit the Arimura Lava Observatory and Sakurajima Visitor Center and get to know what this is like and how the volcano has shaped the area and impacted the lives of residents.

Distance from volcano, convenience, etc. : The views are utterly picturesque. The area is compact and contains nature and many activities. My favourite is the free foot spas that have a lovely view of Sakurajima. It is rather splendid to soak your feet in a natural hot spring foot bath with a volcano view. This free foot spa is located opposite Sakurajima Visitor Center & inside of Yogan Nagisa Lava Park. It's the best way to unwind.

Matthew Hernon


Sakurajima(Active volcano) : Sakurajima is called the symbol of Kagoshima. An active composite volcano so close to an inhabited town is special and extraordinary. Sakurajima as seen across the bay is a majestic sight. Perpetually smoking, it erupts fairly often.

Life near an active volcano : One of the best experiences of the trip was being able to go out on a fishing boat to feed kanpachi (greater amberjack). You throw out food and thousands of fish appear while Sakurajima looks on dynamically in the background. On our way back to the harbor we were fortunate enough to see several dolphins.

Distance from volcano, convenience, etc. : The best way to get around the city is probably either by car or bus. While driving, we saw some stunning views of Sakurajima. One of the best spots to see the volcano was the Arimura Lava Observatory. The only thing between us and the mountain was a sea of pine trees. It truly was a magnificent sight. Another great place to view the mountain is from a hot spring foot spa just outside of Sakurajima Visitors Center.
Ferry15 minutes
Portia Jones


Dinner at Wasan : This small and inviting restaurant, located in the retro-flavoured Meizanbori area, has a marvellous atmosphere for dinner. You can watch your food be prepared from not only counter seats but also table seats. It's a really special experience to see the talented chefs at work preparing Japanese dishes. There are a range of dishes to try. The food is utterly incredible and carefully prepared by dedicated staff. The sushi is particularly wonderful and the local beef is unlike anything you will ever taste.

Matthew Hernon


Dinner at Wasan : A cozy little izakaya with a wonderfully relaxed atmosphere located in the well-kept secret of Meisanbori, Wasan is a fun place to go for a few drinks and some delicious dishes. As well as having a delectable selection of sashimi and fresh vegetables, we also had some kuroge wagyu (Black Japanese beef) that just melts in your mouth. Featuring an open kitchen, the chef prepares the dishes in front of guests, happily chatting with them as he does so.
Train15 minutes
SHIROYAMA HOTEL kagoshima
Matthew Hernon


SHIROYAMA HOTEL Kagoshima : A luxurious hotel located 108 meters above sea level with spectacular views of Sakurajima, SHIROYAMA HOTEL Kagoshima was the ideal place to stay during our trip to Kagoshima. The hotel has very friendly staff, comfortable and spacious rooms, and best of all, a soothing hot spring bath where you can lie back and enjoy the sight of Sakurajima ahead. The award-winning breakfast here is also a treat.
Day
3
SHIROYAMA HOTEL kagoshima
Ibusuki no Tamatebako JR Kyushu limited express Kagoshima-chuo Station – Ibusuki Stationmore
Head to Ibusuki on this train, designed around the theme of the legend of the Dragon's Palace told on Satsuma Peninsular in Kagoshima Prefecture. This train has an interesting monotone exterior, and a stylish wooden interior. The train produces white smoke when people board, referring to Urashima Taro's treasure box, and the white smoke that came from it.
Portia Jones


Express Ibusuki no Tamatebako : The 'Ibusuki no Tamatebako' is a gorgeous train that takes you on a scenic route from Kagoshima-chuo Station to Ibusuki. Grab a window seat and kick back with a coffee from the service trolley and enjoy stunning sea views. This has to be one of the most scenic train rides you will ever take as it passes by the Kinko bay, the Sakurajima volcano and leafy residential areas. It is a must do activity in Kagoshima.

Matthew Hernon


Express Ibusuki no Tamatebako : The Ibusuki no Tamatebako Express train ride was an unexpected discovery. Once on board, we enjoyed spectacular views and a gorgeous little compartment, which was a magical experience. Our comfortable seats faced the window so we could look out at the ocean and Sakurajima while eating and drinking. The journey takes about an hour, but the time flies by.
Taxi15 minutes
View Chiringashima from the Uomidake Observatorymore
Chiringashima, or Chirin Island, is also known as the "marriage island." You can walk here across the sandy "Chiririn Road," an 800 meter sandbank that appears at low half-tide and low Spring tide from March to October.
Portia Jones


Views of Chiringashima Island : Chiringashima is a pretty and uninhabited island in Kinko Bay. It is connected to the mainland by a sand bar only when the sea is at low tide. The sandbar roughly appears for one to four hours a day and allows you to walk across to the island in about twenty minutes. You can also rent a bike and bike around the area and enjoy the lovely nature views.

Lunch at Ibusuki Shusuien : This restaurant has a calm and relaxing atmosphere and has very upscale décor. You can dine in your own private room and be served delectable tempura and delicious bowls of noodles. It's a lovely place to have a quiet and intimate lunch with family, friends or colleagues and the service is really excellent.

Views of Ibusuki Shusuien → Mt. Uomidake Observatory : The whole area is full of nature and vibrancy and it really feels like a totally different part of Japan, especially after coming from Tokyo. Driving around in this area also seems really calm and peaceful, with the scenic views being especially great. 

Chiringashima Island: views from Mt. Uomidake Observatory : If you are a fan of panoramic views this is a wonderful spot to get some great shots of Chiringashima Island. It's a bit of a trek up but the views are really worth it. Try and visit when the temperatures are a little cooler. If you want to see the sandbar disappear though, check the tide times and you can watch it sink beneath the water in front of your eyes.

Matthew Hernon


Views of Chiringashima Island : Following a bike ride through the town of Ibusuki, it was time to take in the wonderful sight of Chiringashima island, a splendid and slightly mysterious uninhabited island that's connected to the mainland by a sandbar that appears for a few hours a day when the tide is low. It made for a relaxing stroll in a tranquil atmosphere. Sakurajima could also be seen in the distance.

Lunch at Ibusuki Shusuien : Featuring immaculate service, a nice view of the garden and most importantly some delightful dishes, Ibusuki Shusuien was the perfect place for lunch after a morning bike ride and walk. The set menu featured delicious sashimi, fresh vegetables, crispy tempura and a choice of either soba or udon (thick wheat noodles) followed by dessert.

Views of Ibusuki Shusuien → Mt. Uomidake Observatory : The drive from Ibusuki Shusuien to Mt. Uomidake Observatory had beautiful mountain and ocean views. It was a very pleasant journey. It's a perfect place to drive around.

Chiringashima Island: views from Mt. Uomidake Observatory : While the view of Chiringashima island from the ground is great, it's nothing compared to the view of the island from the Mount Uomidake Observatory. The sight of the island from the lofty position was simply breathtaking.The city views on the opposite side were also pretty spectacular.
Taxi15 minutes
Bus5 minutes
Sunamushi Onsen Sarakumore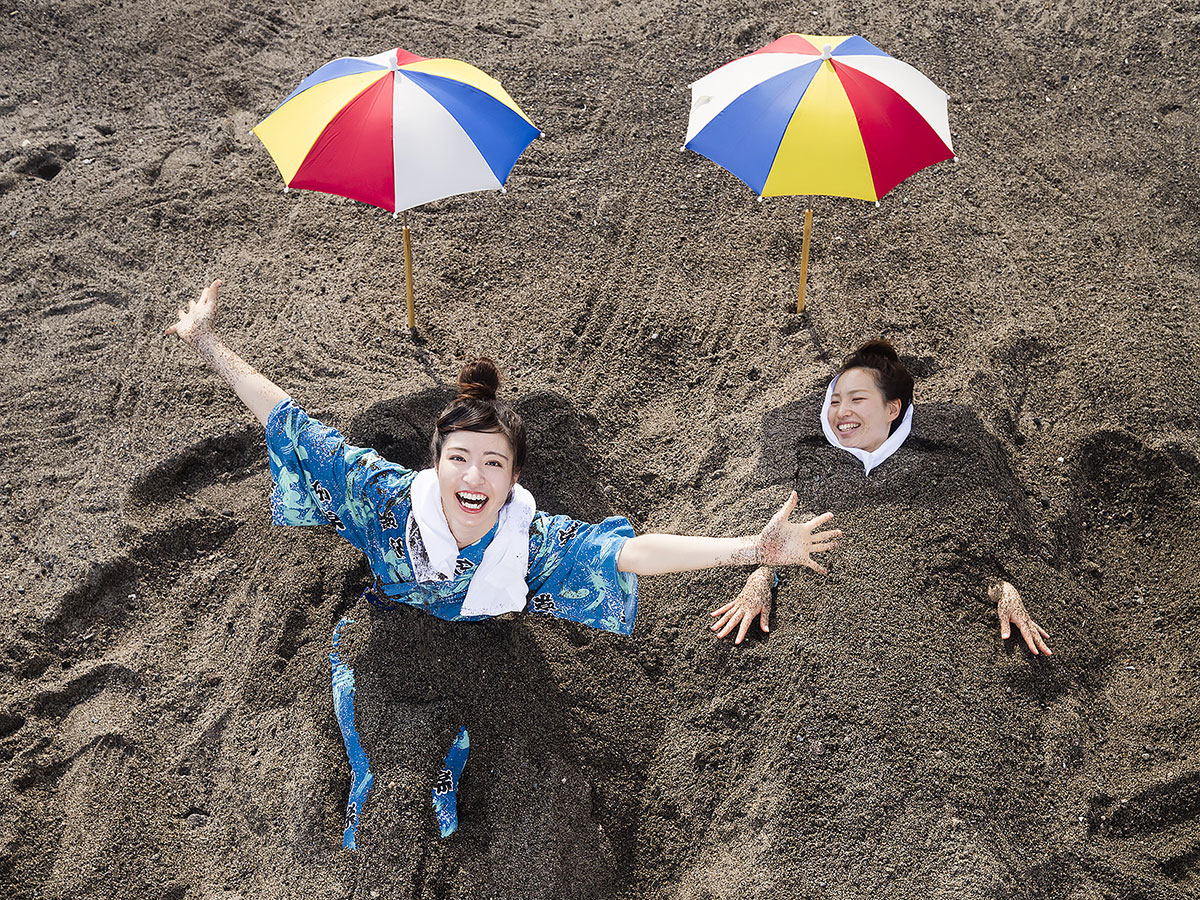 There are over 1000 places where sources of hot springs gush forth throughout Ibusuki City. The world's only natural "sunamushi onsen," or sand bath, is highly effective for both detoxing and relaxing.
Portia Jones


Hot steam sand bath (Sunamushi Onsen) experience : Having a hot steam sand bath is a really unique experience in Japan. Once you are in your robe you will be taken down by the beach and buried under layers of sand. This is unlike any other spa experience. You can relax under the weight of the warm sand. It is definitely an activity you must try in japan, if for the eye-catching photos you will get.

Matthew Hernon


Hot steam sand bath (Sunamushi Onsen) experience : An absolute must for any visitor to Ibusuki, the three-hundred-year-old tradition of taking a hot steam sand bath is a surreal experience but one that left us feeling completely re-energized. You get changed into a robe, and then buried in extremely hot sand (over 50 degrees Celsius). After that you wash yourself off and take a refreshing dip in the local hot spring. A wonderfully relaxing afternoon.
Bus5 minutes
Express bus90 minutes
Portia Jones


Dinner (Kagomma Furusato Yataimura food stall village):The Kagomma Furusato Yataimura food stall village is a collection of small restaurants where you can try a range of Japanese food offerings. It's really nice to wander around and visit several different stalls so that you can sample a range of dishes including seafood dishes, noodle dishes and meat dishes. The atmosphere is really lively and friendly as locals gather to eat, drink and catch up with friends.

Matthew Hernon


Dinner (Kagomma Furusato Yataimura food stall village) : Kagomma Furusato Yataimura is an interesting and lively area to dine and drink with a host of options. We tried three places and in each one the shop staff were extremely welcoming. It was a fantastic opportunity to sample more of the local cuisine while trying a few glasses of shōchū (distilled spirits), a Kagoshima specialty.
Hotel in Kagoshima City
Day
4
Hotel in Kagoshima City
Hotel shuttlebusHotel to Kagoshima-Chuo Station (Airport limousine pickup point), around 30 minutes
Kagoshima Airport Limousine Bus 45 minutes
Portia Jones


Walking tour of Kirishima Open-Air Museum : The Kirishima Open-Air Museum is a brilliant place to experience art in a natural setting. There are twenty-three sculptures and impressive art pieces scattered around. You can take a walk and discover art. The pieces are blending into their grounds and becoming part of the landscape. It's a lovely way of seeing a range of sculptures and installations that are bursting with creativity.

Lunch (Kimama na Kitchen) : This lunch setting is like something a fairytale. You can sit amongst nature in a forested setting. It is really special to eat a beautifully prepared lunch as you listen to the sounds of nature.

Matthew Hernon


Walking tour of Kirishima Open-Air Museum : An expansive area of land with some terrific sculptures, the Kirishima Open-Air Museum is a fascinating place to go for a stroll as there are surprises around every corner. Highlights include two pieces of work by the magnificent Yayoi Kusama: "Flowers of Shangri-La" and "High Heel," Jonathan Borofsky's giant "Male/Female" and Dani Karavan's "In the Beginning."

Lunch (at Kimama na Kitchen) : A wonderfully serene environment to enjoy a feast, our picnic in Kirishima was an unforgettable experience. The extensive meal, which included bacon and mushroom pasta, lasagna, ratatouille, various vegetables and corn soup, was divine. What made it even better was the fact that we could eat it outside, surrounded by full of greenery trees.
Kagoshima Airport
ANA (ANA Expericence JAPAN Fare) Show details
Haneda Airport
Portia Jones


It was wonderful to see two completely different sides of Japan in one trip. Having short travel time and comfortable domestic flights opens up travel possibilities from Tokyo to other areas. The contrast between the busy capital and the calmness of Kagoshima shows that Japan is a very diverse and interesting place to visit that is full of surprises.

Matthew Hernon


The Tokyo and Kagoshima program is a fantastic way to see different sides of Japan and sample some amazing dishes. From the bright lights and skyscrapers of the capital to the more serene atmosphere of Kagoshima, the itinerary gave us a wonderful insight into two very intriguing, though very different regions in Japan.
RECOMMENDATIONS FROM OTHER TRAVELERS
Visiting Tokyo and Kagoshima provides two different sides of Japan. To go from Japan's vibrant capital to the serenity of Kagoshima is quite the experience. Tokyo mixes the modern and the traditional; here you'll find historic shopping streets and temples as well as gigantic skyscrapers and gorgeous night views. After the excitement of the city, it's rather splendid to relax in the hot springs of Kagoshima with an active volcano, Sakurajima as an awe inspiring backdrop.
Portia Jones


Travel writer
Reside in UK

Hobby

Nature and photography

Number of visits to Japan

First time
RECOMMENDATIONS FROM OTHER TRAVELERS
A thoroughly enjoyable tour that shows visitors some of the lesser-known and more famous sites of Tokyo and the delights of Kagoshima, a picturesque and very unique prefecture where locals live alongside an active volcano.
Matthew Hernon


Teacher
Reside in Tokyo
Home country: England

Hobby

Sport, travel, reading

Length of stay in Tokyo

Over ten years
Other recommended route in same area