FEEL THE EARTH
After appreciating Thirty-six Views of Mount Fuji, a masterpiece of one of the most famous ukiyo-e painter, Hokusai Katsushika at the Sumida Hokusai Museum where possesses and exhibits his works, head to Sakurajima, active volcanoes in Kagoshima prefecture. Amazing trip to feel power of the earth.

Official Tokyo Travel Guide
https://www.gotokyo.org/en/

Local government official website
http://www.kagoshima-kankou.com/for/


TRAVELER
Traveled : November 2017

Yishyene Chew

Travel blogger
Reside in UK

Traveled : November 2017

Reina

Writer for Japanese culture website.
Reside in Tokyo
Home country: UK
London Heathrow Airport
ANA212 Examine the directions from your country
Yishyene Chew

It was my first time flying with ANA. They now offer direct flights from London Heathrow to Tokyo Haneda Airport, getting you there in under 12 hours. I slept most of the way as it was a red-eye and the journey was comfortable. The in-flight meal menu came as a laminated card with pictures of four options to choose from. I enjoyed being able to eat on a plane with chopsticks! This was a novelty for me. For breakfast, there was also the option of savoury rice porridge. Green tea was served throughout the flight. Wifi was available (for a fee). My flight departed and arrived at its scheduled times.
Haneda Airport
Tokyo Metropolitan Area
Day
1
TOKYO
Toei Streetcar (Toden) Arakawa Linemore
Toei Streetcar (Toden) Arakawa Line is a streetcar that runs from Minowa of Taito-ku, a neighborhood that very much retains the Shitamachi (old Tokyo downtown) atmosphere, to Waseda, known as the site of the university by the same name. The gentle ride is so laid back it's hard to believe that this is an actual means of transport in Tokyo.
Visitors can enjoy sights that are well off the beaten track to their hearts' content, including shopping centers, Arakawa Yuen, Asukayama Park, Togenuki Jizoson Kogan-ji Temple, and Kishimojin. Nothing can beat a trip along the Toei Streetcar (Toden) Arakawa Line for those who want a taste of local life.
Yishyene Chew

Riding the streetcar/tram on the Toden Arakawa Line gave me a glimpse of a quiet, and nostalgic, part of Tokyo, away from the popular tourist spots. The one-car tram feels quaint inside and takes you through a scenic route. The bell does a 'ding ding' noise at every crossing. I loved watching the white-gloved conductor pull all sorts levers, as though operating a tram was a complicated process. Perhaps it is!
We got off at Arakawa Yuenchimae station for a stroll around an old-fashioned amusement park run by Arakawa city.
At the Minowabashi stop, we had the opportunity to take a look around Joyful-Minowa shopping arcade, another remnant of old Tokyo which I enjoyed despite most of the stalls and shops being closed as it as their off day. We still managed to eat some yakitori!


Reina

Dubbed as the 'Tokyo Sakura Tram' in 2017, it runs on the Arakawa Line from Waseda in central-west Tokyo, then travelling north along the outskirts of Tokyo towards the east where it terminates at Minowabashi.
All platforms are accessed solely by a ramp therefore providing great accessibility for those with pushchairs, strollers or needing wheelchair access. Each tram has a unique exterior and interior design as well as offers a calm and picturesque view of Tokyo along its route.

Tokyo Metro Hibiya Line
Minowa Station → Akihabara Station
30 minutes
JR Chuo Line
Akihabara Station → Ryogoku Station
Yishyene Chew

After a brief look at the Ryogoku Tourist Information Center, we had lunch at Kappo Yoshiba, a popular restaurant in the area. The building that houses the restaurant used to be a sumo wrestler training stable. There is a sumo wrestling ring that still remains in the middle of the restaurant. It was quiet when we were there, but atmosphere is said to be usually very vibrant and lively, more so if you visited in the evening. We ordered a Chanko Nabe, which is a hot pot specially eaten by sumo wrestlers to gain weight. I love any dish that comes with a soup or broth, so I really enjoyed this meal, especially as it was cold outside. 

Reina

Ryōgoku is renowned for sumo wrestlers and the special dish they eat called 'chanko' (hot pot). Tucked away just off the main road in Ryōgoku, Kappo Yoshiba fully embraces this, by offering their signature 'Chanko Yoshiba Nabe' course meal with incredibly fresh meat, fish and vegetables, as well as an actual sumo wrestling ring in the centre of the restaurant!
Sumida Hokusai Museummore
RECOMMENDED DESTINATIONS
Katsushika Hokusai, praised as a world-class artist, was born near Hokusai Dori in what is now known as Sumida Ward, and spent most of his 90-year life in the ward, leaving behind many excellent works.
In addition to showcasing Hokusai's works, the museum conducts exhibitions and educational outreach projects with diverse themes that convey the relationship between Hokusai and Sumida in an easy-to-understand manner.

Yishyene Chew

Just around the corner from Ryogoku station, the Sumida Hokusai Museum building looks futuristic and modern from the outside, with its geometric design, silver panels, and sharp edges. I loved the architecture. The museum itself tells you the story of Hokusai , from his beginnings to his impressive works. There is interactive content available in four languages including English. The chronological presentation Hokusai's development in terms of his style made it easy to understand.

Reina

A small exhibition room with plenty to do, see and learn!
It's especially suitable for those unfamiliar with this famous Japanese artist as his life is panned out in a timeline and you can view all his works on a digital touch screen, including the renown work titled 'Thirty-six Views of Mount Fuji', as well as play touch screen games to learn about the techniques he used.
With a very detailed woodblock printing demonstration video showing how Hokusai created his art, you will definitely leave having appreciated the detail and patience Hokusai put into his works that made him worldwide famous.

Oedo Line → Hanzomon Line
Ryogoku Station → Kiyosumi-shirakawa Station → Otemachi Station
About 25 minutes
From Otemachi Station
About 7 minutes on foot
SKY BUS TOKYO(Odaiba Night Course)more
On the Odaiba Night Course, the two-story open-deck SKYBUS TOKYO takes passengers to see the Tokyo Tower lit up against the night sky and also goes directly beneath the Rainbow Bridge. Since the SKYBUS TOKYO also takes highways along the way, passengers can feel like they are on a theme park attraction.
The SKYBUS TOKYO stops at Aqua City in Odaiba and allows passengers one hour of free time to get something to eat or take a commemorative photo with the Statue of Liberty and Rainbow Bridge in the background.
This two-hour tour is the perfect way to enjoy many of Tokyo's night spots in a short amount of time.
Yishyene Chew

Taking the Sky Bus at night in November was actually exhilarating. It was an open-top bus; I'm glad I wore my thickest clothes. We took the Odaiba route, which takes you along the water front, passing Ginza and the Tokyo Tower. We also crossed the Rainbow Bridge. The ride is two hours long and includes a stop at Aqua City, where there are shops and restaurants. The information given in English on the tour was basic, but I was too busy trying to take photos of the night scenes anyway!

Reina

A great way to see most of central Tokyo and Tokyo Bay. Sitting 3-4 rows from the back will offer you a comfortable and great spot enjoy the tour.
The Japanese guide will give you plenty of warning to get your camera ready for your pictures too! An English audio guide is also available to use with your own headphones. The front rows in the bus have a roof to shield you, if it gets a little too windy during the ride.
About 15 minutes
Pearl Hotel Yaesu
Day
2
KYUSHU(KAGOSHIMA)
Haneda Airport
ANA (ANA Expericence JAPAN Fare) Show details
Yishyene Chew

It was my second time at Haneda Airport now, and I really liked this airport. There were some small restaurants near the gate which tempted me. 
There seemed to be a lot of businessmen in suits on the flight with ANA, which was fully booked. I was excited about arriving in Kagoshima.


Reina

Flying with ANA for domestic flights in Japan, both check in and security are smooth and effortless processes as the airports are not too big, so things get completed in good time. The staff are pleasant and the airport is generally clean and comfortable. Once you land, you can collect your luggage very quickly too.
Kagoshima Airportmore
Kagoshima Airport is located about 28km northeast of Kagoshima City atop the Jusanzukabaru plain, which offers views of the Kirishima mountains to the east and Sakura-jima to the south. This provides the perfect location as the gateway to Kagoshima. On sunny days, head to the rooftop observation deck to watch all sorts of airplanes take off and land, from turboprops to large jets, all backed by magnificent views of the Kirishima mountains. Kagoshima Airport also offers shops selling a huge selection of goods from Kagoshima, including delectable sweets, specialty foods from Kagoshima, and arts and crafts made by local artisans. Check out the retro Eames shell chairs in the domestic departures lobby that make the airport chic.
Kagoshima Airport → Kagoshima-Chuo Station (Kagoshima Chuo Terminal Building)
Limousine Bus
40 minutes
Kagoshima-Chuo Station (East Exit Bus Stop E4) → Senganen-mae
Kagoshima City View Bus
30 minutes
Sengan-en Gardenmore
Sengan-en Garden houses a villa constructed by Shimazu Mitsuhisa in 1658. One of the greatest features of Sengan-en Garden is the majestic scenery of the garden that replicates Kinko Bay and Sakura-jima. With an area covering 50,000 square meters, Sengan-en Garden offers a host of things to see, including historical, cultural and natural wonders. These include an architectural style deeply influenced by Chinese culture, perfectly suited to the history and culture of Satsuma long considered the gateway to the South, as well as flowers and events that dazzle each of the four seasons and the roots of modern Japanese technology and industrial strength remaining nearby.
Yishyene Chew

Despite the gloomy weather, the colours of the many flowers of Sengan-en botanical gardens still popped brightly. There was an annual chrysanthemum flower growing competition, so rows and rows of chrysanthemum plants of various sizes and colours were displayed. I found it funny to see the disparity between the well grown flowers and the not-so-well grown ones. Sakurajima volcano can be seen easily from the gardens, which made a great backdrop for photos. We got to try some purple sweet potato ice cream, which I was excited about, but it turned out that I liked shochu flavoured ice cream better.

Reina

A whole lot more than just a garden!
A great day for individuals or for the family, it's an open-air museum, a traditional Japanese feudal-lord home experience, a nature hiking trail, a flower wonderland and much more all in one.
You can learn and obverse various traditional Japanese craftsmanship as well as enjoy local flavours and even shōuchū (Japanese liquor) flavoured ice-cream! Designed as a World Heritage Site, the world of Sengan-en changes with each season, making it a place to visit more than once!
Senganen-mae → Tenmonkan Kagoshima City View Bus
10 minutes
Tenmonkan (Hotel Remm Kagoshima-mae) → SHIROYAMA HOTEL Kagoshima
Hotel Shuttle Bus
15 minutes
SHIROYAMA HOTEL Kagoshima
Yishyene Chew

The view from SHIROYAMA HOTEL Kagoshima is one of the best in Kagoshima. Sakurajima can be seen easily and there is a panoramic birds-eye view of the city as well. I especially loved being outside the hotel at night, when it was lit up with fairy lights and there was a lights/music show at the fountain. There are indoor and outdoor hot spring baths. Watching the sun rise in the morning while soaking in those warm waters was definitely the highlight of my stay. It made waking up early worth it!

Reina

Situated on top of a mountain, you're greeted with a breathtaking, unobstructed view of Sakurajima in all its glory at the entrance of the hotel and revitalised with fresh air.
There are outdoor natural hot springs, indoor baths and a sauna for complimentary use with semi private booths to wash in for those needing a reserved space. With plenty of restaurants to dine at, shops and an exhibition shop of Satsuma glass (local craftwork of Kagoshima), you'll leave SHIROYAMA HOTEL Kagoshima with magical memories and total revitalisation of both your body and soul.
Day
3
SHIROYAMA HOTEL Kagoshima
SHIROYAMA HOTEL Kagoshima → Fish Market
Taxi Approximately 15 minutes
Fish market tourmore
Guests of participating hotels have the opportunity to tour the local morning fish market (Kagoshima-city Central Wholesale Market) alongside a volunteer guide to watch the lively auctions and see firsthand where a huge selection of fresh seafood unique to Kagoshima are brought to be sold. Visitors are able to experience a day in the life of the market, including how to spot the best fresh fish and seasonal fish as well as experience seafood preparation and a visit to the freezer, in addition to seeing tuna sold at auction filleted on the spot. Local seafood is mainly caught in the depths of the Kuroshio Current and in Kinko Bay, which is as deep as 200 meters. The tour provides visitors with the unique chance to learn about and experience seasonal seafood in a fun-filled environment, while receiving boost of energy from the auction and activity in the market, before sitting down to enjoy a dish made from the fresh bounty of the sea.
Yishyene Chew

The Kagoshima Fish Market tour was a lot more fun than I anticipated! The meeting time was early - 6.45am at the market. We were given rain boots to change into and the option of wearing a marine animal themed hat for the tour. I picked a yellow fish. There was an English-speaking guide and we were taken for a walk through the market to observe the incredible variety of marine products available, fish landing, and the auction. The start of an auction was signalled with a loud bell repetitively, and buyers could be seen skulking around boxes of fish. The most interesting part of the tour for me was seeing a large number of hammerhead sharks in a pile.

Reina

The Kagoshima Fish Market is a great way to learn about the fishing world in a couple of hours, see a myriad of fish freshly caught and auctioned for, as well as getting to sample the fresh fish (or meat) dishes at restaurants on site. Waterproof boots are provided for free before you begin.
The tour team are very warm and friendly throughout and have speakers in English too, to explain the rules of the tour as well as to interpret throughout. The tour stops at various parts of the fish market, giving you the chance take pictures in good time while being in the middle of the action, without disturbing the workers too much.
The tour guides are incredibly passionate about the industry and fish, presenting interesting facts and amusing anecdotes about different fish during the tour for you to enjoy.
With so much happening at different locations, an hour truly flies by and works up a good appetite for you to sate at the restaurants on site.
Dishes include sushi, sashimi, bread-crumbed fish or fried fish, all from the catch of the day. Or if you've had enough fish for the morning, there are also restaurants serving meat dishes too.
Fish Market → Sakurajima Ferry Terminal
Taxi Approximately 15 minutes
Sakurajima Ferry Kagoshima Port → Sakurajima Ferry Sakurajima Port
Ferry 15 minutes
Sakura-jimamore
RECOMMENDED DESTINATIONS
Sakura-jima, floating in Kinko Bay, is the symbol of Kagoshima. It was previously, as its name suggests, an island (jima = island), but lava flowing from the 1914 Taisho eruption of the island's volcano filled in the strait between the mainland and the island, and it became part of the Osumi Peninsular. There are around 4,600 people who live on this volcanic island, with its frequent eruptions, and they enjoy the blessings of the volcano, including crops such as the Sakurajima daikon and Sakurajima mandarin oranges, abundant hot springs, and views of mountains and villages.
Yishyene Chew

The ferry crossing only took about 15 minutes. Most people were upstairs trying to enjoy the view despite the strong winds. We had fun trying to take a decent photo with Mt Sakurajima in the background. Overall, the ferry ride was smooth, easy, and quick. I was excited about going to Sakurajima.

The Sakurajima visitor centre was pretty. I managed to pick up a nice souvenir for myself - a kind of tea cloth with colourful pictures on it. At the building entrance, someone had created a welcome message and drawing, using the dark grey volcanic ash. Apparently, this welcome art has been created every single day by someone for many years! Just past the visitor centre, there was a 100m long natural hot spring foot bath. We spent some time soaking our feet there. The water felt silky and smooth, and it was a wonderful thing to do in the winter weather.

Reina

The Sakurajima Ferry serves as the main form of transportation for the 4,500 residents on Sakurajima Island, connecting them to Kagoshima City.
It runs 24hrs a day, every 15 minutes during the day. It costs just 160 yen for an adult or a little bit more if travelling in your own vehicle. The interior is clean and simple with a few small restaurants and a kiosk if you need something quick to eat.
*Prices are for travelers at the time of use.

Home to one of the most active volcanoes in the world, Sakurajima is a special island that perfectly embodies the Japanese spirit, ancient customs and religious Shinto beliefs of living together with nature, not in fear, but in true harmony.
At the visitor centre, the introductory video explains the history and unique yet ordinary lifestyles of the people of Sakurajima and their relationship with the volcano. Of course benefits from the volcano include natural, geothermal-heated outdoor foot spas with minerals that leave your feet and skin feeling silky soft, as well as very tasty vegetables from the rich soil.
Only in Sakurajima can you grow, see and buy 'Sakurajima Radish; the largest round-shaped radish in the world, capable of reaching a weight of 100lbs or 45kg!
Sakurajima Ferry Sakurajima Port → Sakurajima Ferry Kagoshima Port
Ferry 15 minutes
Sakurajima Ferry Terminal → Kagoshima City Tram Stop Suizokukan-guchi
10 minutes on foot
Suizokukan-guchi → Kagoshima-Chuo Station Kagoshima City Tram Line 2
20 minutes
Kagoshima-Chuo Station → Ibusuki Station
JR Ibusuki Makurazaki Main Line 1 hour 6 minutes
Yishyene Chew

Being in this train called Ibusuki no Tamatebako was a magical experience, like a fairytale! The wooden interiors included bookshelves and most seats came with a table top or space for you to have lunch, for example. There are even sofas and a play area for children. Some seats faced big windows on the side of the train, providing passengers with a great view of the sea. We bought a special black sesame pudding sold on the train and it was delicious. We especially enjoyed taking pictures wearing train conductor hats handed out by one of the staff - what a fun idea! The journey from Kagoshima to Ibusuki was about one hour.

Reina

As part of the world-class limited special-designed train series in Kyushu in Southern Japan, where the train ride becomes the reason of your trip, Ibusuki no Tamatebako takes you on a magical journey based on the children's tale of 'Urashima Taro', who opens a treasure box and is sucked into a magical world inside of it.
Departing from Kagoshima-chuo Station to Ibusuki Station, this monotone train offers a very scenic view of Kinkowan Bay and Sakurajima as it rides along the coast. The interior has been specially designed to emulate the magical world in the children's story, which is great for photo opportunities and for children and adults of all ages to enjoy it more than just a simple train trip!
Ibusuki Station → Healthyland Iriguchi
Kagoshima Kotsu Bus 20 minutes
Sunamushi Onsen Sarakumore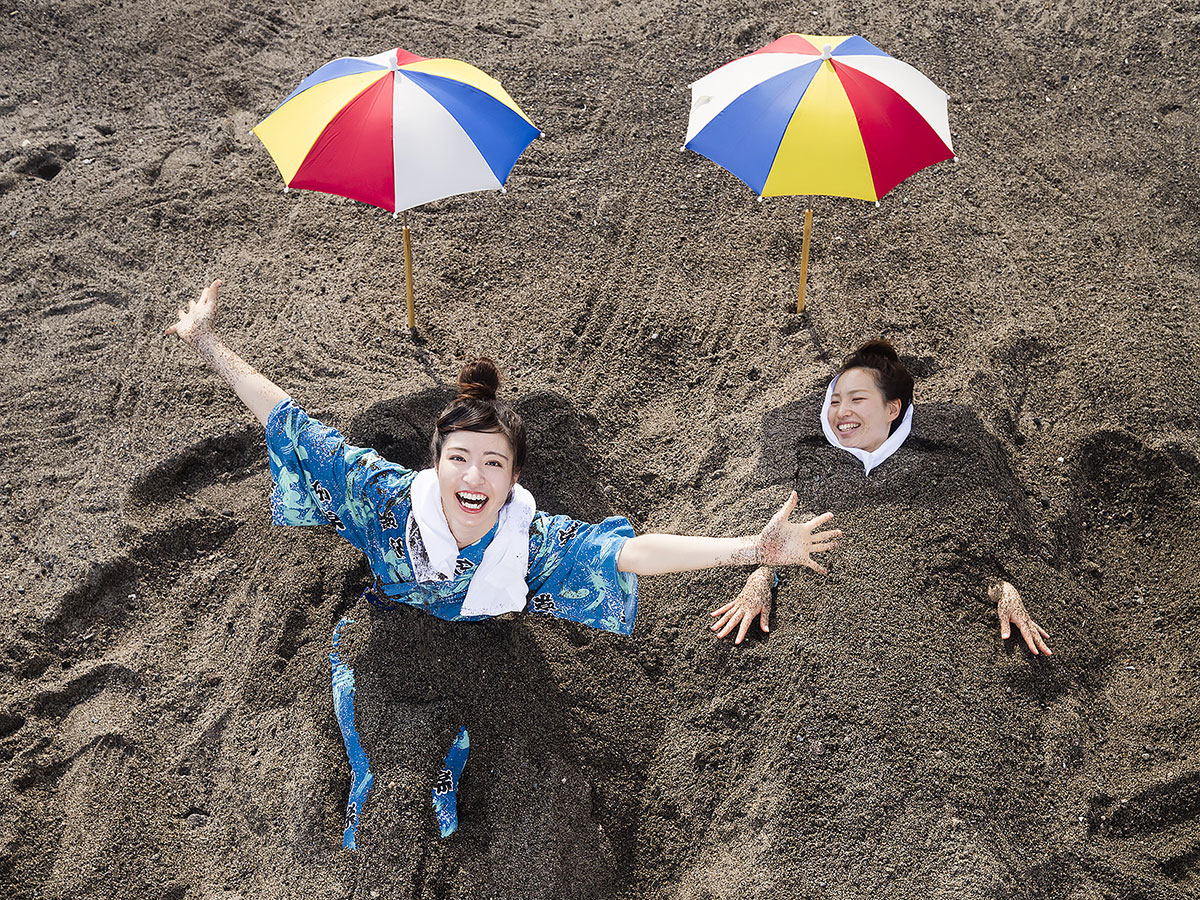 There are over 1000 places where sources of hot springs gush forth throughout Ibusuki City. The world's only natural "sunamushi onsen," or sand bath, is highly effective for both detoxing and relaxing.
Yishyene Chew

We were given yukatas to change into before walking to the back of the building to experience the hot sand bath at Sayuri. It wasn't too busy and there were only a handful of other guests. After picking our 'plots', we were each given a towel to wrap around our necks. Once laid down, warm black sand was piled onto our bodies using a shovel until we were completely covered from the neck down. I was surprised at how heavy the sand felt. There is a 15 minute limit for how long you can stay buried. When the time was up, we simply wiggled out and shook off any remaining sand - it was funny and refreshing. The experience was completed with rinse and soak in the indoor onsen, which I loved. I felt amazing by the end of it.

Nishi-Oyama Station, the southernmost train station in Japan, was beautiful. It was a small station with a view of Kaimondake volcano in the background. We were told that it was good luck to send a postcard via the bright yellow postbox situated outside the station, so we bought some colourful postcards from the shop nearby and did just that. I sent one to my mom and kept the extra postcards for myself, as a memento.

Reina

This rare, amazing experience allows you to do exactly just that at Sayuri Sand-Steam Bath in Ibusuki.
Once you've changed into your yukata, you're buried into the warm sand by the staff who can adjust the temperature of the sand at your request to keep you comfortable. Your head rests on a towel, propped up by the sand to support your neck, leaving you to relax and unwind to the sounds of the waves nearby.
Just ten to fifteen minutes is more than enough to stimulate your blood circulation and detoxify your skin, leaving you internally warm and cosy for up to thirty to forty minutes after you've left the place.
Highly recommended in the cool spring, autumn or winter seasons.

Just 3 stops from Ibusuki Station, brings you to Nishi Ōyama Station, the most southern station in all of Japan! Surrounded with various flower fields, it offers a majestic and uninterrupted view of Mt Kaimon (also known as Satsuma's Mt Fuji because of its cone shape).
Here, you're presented with the perfect opportunity to buy and send postcards to your loved ones through the yellow 'Happiness Post Box'.
Healthyland Iriguchi → Ibusuki Station Kagoshima Kotsu Bus
20 minutes
Ibusuki Station → Kagoshima-Chuo Station JR Ibusuki Makurazaki Main Line
1 hour 6 minutes
Kagoshima-Chuo Station → Tenmonkan Kagoshima City Tram Line 2
Approximately 15 minutes
Tenmonkan Tram Stop → Hotel New Nishino
10 minutes on foot
Hotel New Nishino
Day
4
Hotel New Nishino
Hotel New Nishino → Tenmonkan
10 minutes on foot
Tenmonkan → Kagoshima Airport Kagoshima Airport Limousine Bus
Approximately 50 minutes
Kagoshima Airport
ANA (ANA Expericence JAPAN Fare) Show details
Haneda Airport
Yishyene Chew

Overall, I enjoyed my quick visit to Tokyo and Kagoshima. In Tokyo I was happy to be able to visit some lesser-known areas and to see the Rainbow Bridge at night. Kagoshima was a real delight to see again after 17 years (when I last visited) ; it is such a beautiful city and I particularly enjoyed the food. The train ride to Ibusuki and the hot sand baths are something I will never forget. I only wish we could have stayed longer. I will have to come back again. My goal for next time is to hold one of those giant daikon radishes that grow specially on Sakurajima island - apparently they are the biggest in the world!

Reina

From Tokyo, to Kagoshima's "Satsuma-Fuji" Mt Kaimon and Sakurajima Island, this tour truly presents Japan to you through its unique geothermal and geological features that have heavily influenced the lives of the artists and local people that have lived here for thousands of years. Through this tour, you'll experience adventures and new insights historically, artistically, geologically as well as experience simple delights such as the natural foot spas or riding the treasure-box train.
Culinary-wise, you will always be eating some of the freshest, richest fish, meat and vegetables that Japan as to offer, all at very reasonable prices.
Just about a short two-hour flight from Tokyo, this tour will bestow you with rare, incredible experiences that will connect you to Mother Nature in Japan at its most majestic and regal, invigorating and inspiring.
RECOMMENDATIONS FROM OTHER TRAVELERS
In Tokyo, taking the Toden Arakawa Line is a unique experience that gives you a glimpse of old Tokyo, with various stops and locations along the line that are worth exploring further. Kagoshima is a great side trip to take when visiting Tokyo and accessible via an about 2-hour direct flight. Kagoshima city, while much smaller than Tokyo, is full of character and quirk and has much to offer especially in terms of its natural beauty. A visit to Sakurajima is not to be missed, and if you have the time, a ride on the train to Ibusuki for its hot sand baths will truly delight.
Yishyene Chew

Travel blogger
Reside in UK

Hobby

Food, photography, dance, adventure activities

Number of visits to Japan

2 times
RECOMMENDATIONS FROM OTHER TRAVELERS
The Feel the Earth tour allows you to truly appreciate the deep role that nature has with Japanese people and culture first hand. It's a relatively calm and scenic tour suitable for people of all ages and especially families who would like something a little less hectic from Tokyo, as well as able to enjoy what the earth has to offer you in Japan.
Reina

Writer for Japanese culture website.
Reside in Tokyo
Home country: UK

Hobby

I love all things traditional in Japan (castles, shrines, kimono, rakugo, kenjutsu, etc) and travelling.

Length of stay in Tokyo

9years
Other recommended route in same area