EXPERIENCE THE QUINTESSENTIAL
After being exposed to the charm of Japanese food through the Kappabashi Dougu Street and Sushi cooking class, take a trip to old-line Prefecture, Oita.
You can spent calm and peaceful time at Usa Jingu and Onsenkyou (spa resort) and feel real significance of Japan.

Official Tokyo Travel Guide
https://www.gotokyo.org/en/

Local government official website
https://www.discover-oita.com/


TRAVELER
Traveled : July, 2019

Samantha Firth

Full Time Travel Blogger and Contact Creator at Travelling King
Reside in Australia

Traveled : July, 2019

Oona McGee

Writer
Reside in Tokyo
Home country: Australia
Sydney Airport
ANA Examine the directions from your country
Samantha Firth

ANA international flight:The ANA Flight from Sydney to Tokyo was on time. The in-flight service was good and prompt, providing two options for dinner. For the in-flight entertainment, there were some English movies and TV shows and I enjoyed them.
Narita International Airport
Narita Express
Tokyo Metropolitan Area
Day
1
TOKYO
Kappabashi Kitchenware Townmore
Kappabashi Kitchenware Town is a shopping street with over 100 years of history located in downtown Tokyo between Asakusa and Ueno. The street stretches 800m from north to south and has over 170 specialist shops selling Japanese, Western, and Chinese cookware and lacquerware, Japanese and Western sweets and bread makers, kitchen equipment and tools, food ingredients and packaging, and more.
Professional use products for purchase by general consumers. Japanese knives and food samples are popular with foreign customers.
Samantha Firth

Kappabashi Kitchenware Town:Kappabashi Kitchenware town was very interesting, we were able to see different styles of plates, knives, and woks in the area–which were surprisingly cheap! We spoke at length to someone at a knife store, who explained how knives were made in a similar manner to how Samurai swords were made and the different uses for all the different styles of knives.

Oona McGee

Kappabashi Kitchenware Town:Kappabashi is one of the best places in Tokyo to window shop and learn about traditional Japanese dining culture, with all sorts of cooking utensils and crockery for sale.
Some of the highlights you'll find along the store-lined street include plastic food samples, engraved knives and custom-made pots and pans.
One of the places to stop and photograph during your stroll around the neighbourhood is the golden kappa statue.
Train
30 minutes
Sushi making experience (Hassan)more
RECOMMENDED DESTINATIONS
Learn, make, eat, and enjoy sushi!
1. Don a traditional happi coat
2. Learn about the history of sushi through a Japanese picture story show
3. Witness a live demonstration of fish being prepared
4. Make your own rolled sushi & nigiri sushi
5. Enjoy your sushi lunch along with a special beef hot pot
6. Receive certification with a sushi experience certificate

Hassan is a shabu-shabu and sushi shop with an innovative style where you can select all-you-can-eat or an a la carte course depending on your mood and the purpose of your visit. It is an almost unheard of refined authentic Japanese space that is loved by a wide range of customers.
Samantha Firth

Sushi-making experience (Hassan):The Sushi making experience at Hassan was by far my favourite experience of the day! We had a lot of fun and laughs with the Sushi Master chef, who taught us how to make two different kind of sushi–wrapped seaweed sushi rolls and traditional sushi. We were also provided with a short history of sushi in Japan and at the end, we were provided with certificates to show that we completes the sushi making experience, as well as a small souvenir from the chef. The best part was being able to eat all of the yummy sushi we made with the chef.

Oona McGee

Sushi-making experience (Hassan):The highlight here is the hands-on sushi-making experience led by a professional sushi chef, who teaches you how to make your own makizushi rolls and nigiri sushi.
By the end of the short lesson, you'll be able to eat your own sushi creations, along with a number of other tasty Japanese dishes.
The sushi-making skills and trade-industry tips and techniques you'll pick up during the lesson will help you to recreate some amazing sushi for friends when you return home, and you'll also receive a personalised "graduation certificate" signed by the chef himself, as a memento of the experience.
Train
25 minutes
Ameyoko(Shopping Street)more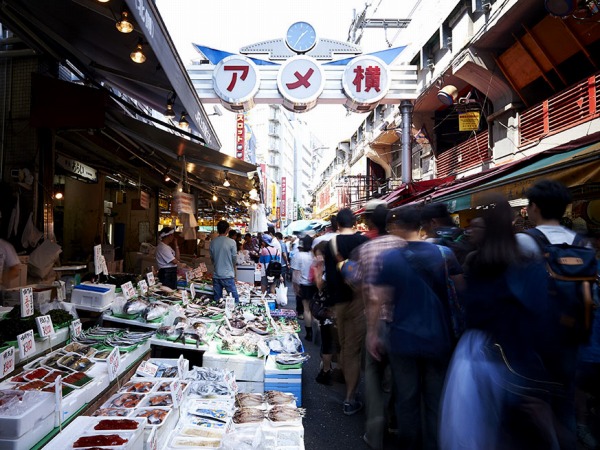 Ameyoko is a shopping street full of life now and in the old days and also a well-known spot for visitors to feel and experience the local atmosphere. In addition to fresh food and candy, it also has shops offering clothes, shoes, bags, and even cosmetics. The good-humored vendors of each shop are firm supporters of face-to-face interaction. "Ameya Yokocho" is the official name for Ameyoko and it became a famous marketspot after World War II.
Samantha Firth

Ameyoko (Shopping street):Ameyoko was an interesting area to walk through. We learned about its history and found out that this is a unique area in Tokyo where you can buy things after haggling. There was plenty to see here, including fresh foods from fish and fruit, clothing and a very large (and old) candy store.

Dinner at Tsujigahana (Ueno location):Dinner at Tsujigahana in Ueno location was delicious; we ordered a number of different items from the menu as well as tried sake and Japanese whiskey. We had our fill of more sashimi (after plenty at lunch), along with a salad and a few hot dishes of steak and pork with veggies.

Oona McGee

Ameyoko (Shopping Street):Ameya Yokocho, or "Ameyoko" as it's affectionately known, is a popular destination for tourists, who come to soak up the lively market-style atmosphere while strolling through the narrow stall-lined streets.
There are plenty of vendors selling everything from snacks, sweets, and fresh produce to clothing, accessories and souvenirs, and staff hold up signs while shouting out limited-time sale announcements to passersby.

Dinner at Tsujigahana (Ueno location):One of the surprising things about dining out in Tokyo is the fact that you can find hidden gems tucked away inside random buildings on floors high above eye-level from the street.
Tsujigahana is one of these hidden gems, accessed by an elevator that whisks you away from a busy street and up into a beautiful traditional dining area.
Here you can dine in private rooms, choosing a la carte or from the course menu, with pork and vegetables steamed in bamboo boxes being one of the must-try specialties.
Tokyo Metropolitan Area
Day
2
KYUSHU(OITA)
Haneda Airport
ANA (ANA Expericence JAPAN Fare) Show details
Samantha Firth

ANA Domestic flight:The ANA flight to Oita was very good–we were provided with hot drinks of tea and coffee. Due to the length of flight no in-flight entertainment was provided. The flight was fairly short and very pleasant.

Oona McGee

ANA Domestic flight:Flying with ANA is so smooth and easy. The flight from Tokyo to Oita is about 90 minutes, and it's a comfortable way to travel from the mainland to the southern island of Kyushu, where Oita is located.
Even flying within Japan, free drinks are served and free Wi-Fi is also available on some flights.(Routes and aircraft are limited)
Oita Airportmore
From the general information desk at the first floor Arrivals area, travelers can find airport facilities plus get help for their vacation or business in everything including sightseeing and lodging, transportation, or renting a car.
Tabito, next to the Departure lobby, is the go-to shop offering from specialties from across Oita and Kyushu, to a full range of original gifts that can only be found at the airport. Here, you can find various items such as seafood products, confectioneries, and crafts unique to Oita.
The impressive view of the sky with planes flying about with the magnificent ocean spreading in the distance from the observation deck and cuisine gets you in the mood to travel. The observation counter, where you can see powerful airplanes up close, is popular with couples. Dining, which features local ingredients from Oita, is not to be missed. The airport has it all from Japanese to Western, to sushi and ramen, to dessert and drinks.
Samantha Firth

Oita Airport:I was very surprised to find out how easy it was to navigate Oita airport; we got off the plane and within 1-2 minutes, we arrived in the baggage collection area, and our bags came out very quickly. We received a large welcome at the Oita airport with a large banner welcoming us to Oita!

Oona McGee

Oita Airport :Oita Airport is a delightfully small and stress-free terminal that introduces you to the wonders of Japan's "onsen prefecture" from the minute you step off the plane.
There's a foot bath filled with local hot spring water, a giant faux hot tub for visitors to sit in, and a huge plate of sushi sitting on the revolving conveyor belt where you pick up your luggage!
Bus
30 minutes
10 minutes by foot
Kitsukimore
It is the only place in Japan known as the Sandwich castle town. With the flavor of the Edo period remaining thick, it was the first in the country to be recognized as "Historic Cityscape with Kimono."
Around Kitsuki Castle, there is a group of samurai residences on the south and north hills, and a merchant town sandwiched in the valley between them. The rows of samurai residences and other buildings are a window into the past for you to enjoy and understand how the samurai and townspeople lived in the Edo period and what the town looked like. The view from the top of the hill is very dynamic, with the thatched roofs of the samurai residences and the white walls of homes, along with stone walls and bamboo groves forming a precious scenery that is often seen in a movie or TV drama.
Samantha Firth

Kitsuki Castle Town:While in Kitsuki Castle town, we dressed in kimonos and then wondered around the city taking photos. Our first stop was at Vinegar Shop Slope which was named after a vinegar shop at the bottom of the slope, when it was built–now there is a miso store at the bottom of the slope. From there, we visited the Ohara family home (an old style samurai home) which the city of Oita purchased and turned into a museum of sorts. It took them over 3 years to rebuild the home after it had aged and many things had needed to be replaced.

Lunch at Wakaeya:Wakaeya restaurant is very famous in Oita and has also been visited by the Emperor of Japan. We got to meet the 16th generation owner and found out that the secret sauce they use on their popular fish dish is passed down from father to son. Their popular fish dish is also served on Japan's 7-star luxury train every weekend. They pour green tea over rice and sea bream, leave the lid on for 3 seconds, and then you may eat it.

Oona McGee

Kitsuki Castle Town:Kitsuki Castle Town is a beautiful place to explore, and if you have time, stop by the Warakuan kimono store to get dressed by ladies who can style you in traditional dress in minutes. Strolling through the residence in kimono makes you feel like you've stepped back in time to the Edo period
Some of the picturesque locations here include the beautiful "Vinegar Slope", which is so pretty it's been used in historical films and television dramas, and a number of beautifully preserved samurai residences.

Lunch at Wakaeya:Wakaeya is a special gem that's been serving the same prized tai chazuke dish for more than 300 years.
The delicious sesame sauce flavoured red snapper and rice dish is known locally as "Ureshino", after a feudal lord tried it at Wakaeya centuries ago and uttered the words "Ureshino" (lit. "I'm so happy").
Tasting a dish with such history behind it is an incredibly special experience, especially once you learn that the restaurant is still being run by the same family, with the 16th generation currently overseeing operations to ensure that the culinary history is preserved.

Beppu City Traditional Bamboo Crafts Center:This was a nice stop on the tour which showcased local bamboo crafts in a fun and engaging manner. The intricate designs and large works created with bamboo were all amazing to look at, while the interactive woven bell-making course was a lot of fun and easy for both adults and children to take part in. The bamboo bell ball makes for a great souvenir afterwards, and there are plenty of gorgeous objects to purchase in the attached gift shop as well!
10 minutes by foot
Bus
11 minutes
Train (JR)
90 minutes
Yufuin Hot Springmore
Yufuin is a popular spot, representative of hot spring resorts in Japan, and attracts many tourists from within Japan and from abroad. Forget the hustle and bustle of the city and enjoy a peaceful time with the symbolic Mt. Yufudake in the background. After a soak in a hot spring, enjoy shopping on the bustling main street, or head to the side streets to explore museums in a tranquil setting.
Yufuin Hotel Shuhokan
Samantha Firth

Dinner at Accommodation:We enjoyed dinner at the restaurant of the hotel we stayed at. We ate everything from shabu shabu to sashimi and a few other local dishes. They were kind enough to deliver dessert to our rooms. The atmosphere of the restaurant was very comfortable and the staff were very friendly and helpful.

Yufuin Onsen (Yufuin Hotel Shuhokan):In Yufu City, it has around 1,000 hot spring(onsen) sources. The city was developed as a hot spring resort and the onsen there are said to help various ailments and injuries while also providing relaxation.
Bathing in onsen in Yufu City provides a new way of having fun and relaxation in Japan. You can see why onsen are very important in Japanese culture.

Oona McGee

Dinner at Accommodation:Dinner at Yufuin Hotel Shuhokan contained a delicious array of local delicacies, served in a brightly lit communal dining room with views out to the surrounding countryside.
Each dish was beautifully prepared and presented on plates and bowls adorned with seasonal motifs, enhancing the dining experience.

Yufuin Onsen (Yufuin Hotel Shuhokan):I felt the history of Yufuin Hotel Shukuhokan from this building. There was a nice view from the hotel room. Some rooms offer the view of Mt. Yufudake. You will be able to relax in the public bath. They also have a footbath in the garden, and it is an easy way to enjoy Japanese onsen culture.
Day
3
Yufuin Hotel Shuhokan
Samantha Firth

Lake Kinrin:Lake Kinrin is one of Yufuin's top sightseeing spots. There were beautiful reflections of the surrounding mountains and buildings in the crystal-clear still water of the lake, and I was amazed. The lake supports a lot of wildlife, including carp, and the area is overflowing with the charm of nature. Also, because the water temperature is relatively high all year, you may see a fantastic scene when steam rises from the lake surface on early winter mornings.

Lunch at Ginsushi:We enjoyed lunch at Ginsushi in a private room; the staff were so lovely and brought each dish explaining what it was and why it was special to the area. We had "Hitan sushi" which comes with veggies and fruit (instead of fish) such as tomato, onion, cabbage, fig, and mushroom–all of which are sourced locally as Hita is a mountain area and not very close to the sea so fish is more expensive. We also enjoyed some sashimi sushi.

Mameda Town walking tour :We did a walking tour of the Mameda area, where we looked through shops that sold souvenirs, Japanese shoes (geta), and items made out of kimono clothing. After walking through the main streets, we went to the plum sake brewery Oyama for a quick tasting of some sake, which to me tasted like a mix of white wine and vodka and warms your chest like whiskey.

Ontayaki no Sato:Here we visited the pottery museum where we learned that the people of the village were initially half farmers and half pottery makers. After finding out how popular their pottery become, 10 households in the village started to make their own pottery, using different methods, and continue to do so. We visited a number of houses with small shops attached and were shown how the clay is collected, stored and the whole process of how it goes from the mountain and made into household items.

Oona McGee

Lake Kinrin:Lake Kinrin was a lovely pocket of nature teeming with fish and wildlife, thanks to the hot springs that bubble up through the lake bed, creating an ideal spa-like environment. A short stroll takes you all around the lake, making it a beautiful, serene place to stop and breathe the fresh mountain air.

Hita Gion Yamaboko hall:The Hita Gion Yamaboko hall is a site that's well worth a visit as it contains some of the largest and most impressive festival floats you'll find in all of Japan.
These floats are paraded around the streets once a year for the annual Hita Gion festival in late July, and for the remainder of the year they're housed here for people from around Japan to admire.
Gazing up at the huge floats and discovering all their intricate details makes for an awe-inspiring experience.

Lunch at Ginsushi:If you want to eat like a local, Ginsushi is the place to go. The homely, family-run eatery specialises in Hitan sushi, which uses fruit and vegetables as toppings for sushi instead of the usual raw fish.
Meals here offer a surprising array of different tastes and textures, all of which are delicious and beautifully presented and prepared. Vegetarians and meat-eaters alike are sure to be incredibly impressed by the delicious meat-free morsels on offer!

Mameda walking tour:Walking around the beautiful Mameda district is a wonderful way to spend an afternoon, as it has a traditional, laid-back atmosphere and a variety of small stores and eateries to pop in and out of as you explore the narrow streets.
This is the best place to pick up a pair of locally made geta sandals, with a huge selection of styles available, and you can find the largest cedar geta in all of Japan!

Ontayaki no Sato:One of the highlights of the tour, this tiny, tranquil pottery village and its brilliant soundscape–one of the 100 best Soundscapes of Japan–will leave a lasting impression on you long after you've returned home. The sound of the water-powered wooden clay-crushing devices and the charm of the local families that sell their beautiful wares make this a must-visit spot.
Ukiha Bekkan Shinshiyo
Samantha Firth

Dinner at Accommodation:We were treated to a Japanese course dinner which provide 9 dishes included sashimi, a local fish dish, egg custard, beef, and vegetables that we were able to fry ourselves and many many other dishes–we left very happy and full!

Accommodation (Ukiha Bekkan Shinshiyo):Our stay at Ukiha Bekkan Shinshiyo in Amazase Onsen was lovely, check-in was very quick and our rooms were very comfortable. We were able to enjoy our own private hot spring bath on the balcony overlooking the river below. It was a lovely was to end a busy day of sightseeing by relaxing in the bath while listening to the river below.

Oona McGee

Dinner at Accommodation:One of the best things about staying at a ryokan inn is the meals, which come in feast-like proportions, featuring fresh local ingredients and beautiful seasonal embellishments.
Ukiha Bekkan Shinshiyo knows how to treat their guests to stunning meals, served in private rooms with gorgeous views and attentive staff to help guide you through each course.

Accommodation (Ukiha Bekkan Shinshiyo):Ukiha Bekkan Shinshiyo in Amagase Onsen is a quiet haven with an inn-like atmosphere that makes you feel instantly at home.
The staff are incredibly attentive and helpful, and they go out of their way to ensure that your stay is comfortable and pleasant.
The rooms are clean and modern, and some even come with their own rotenburo hot spring outdoor baths on an attached terrace where you can relax and gaze out at the surrounding scenery.
Day
4
Ukiha Bekkan Shinshiyo
Samantha Firth

Takkiri Valley:Our visit to Takkiri Valley was by far the best way to start our day, we wandered down a beautiful walkway next to a shallow river bed, which goes on for about 2 km. We stopped at around the 1.3 km mark and took our socks and shoes off and were able to walk in the river, the water lapping at our ankles. It was so peaceful and relaxing!
Train (JR)
120 minutes
Bus
7 minutes
Samantha Firth

Lunch at Shozan:Lunch at Shozan was incredible, we enjoyed a local USA specialty of crispy fried chicken, salad, dumplings, and miso soup. This was by far my favourite meal throughout this trip; the chicken was so tender and juicy.

Oona McGee

Lunch at Shozan:Shozan is such a good restaurant that locals line up to dine here, where the specialty is Usa City's regional delicacy, fried chicken.
Their round, ball-like chicken pieces are so crispy and juicy you'll be wanting to eat them every day, and adults and children alike will fall in love with them, as they're easy to eat, come served in generous portion sizes, and can be ordered as part of a set with rice, salad, tea, and miso soup.
Usa Jingu Shrinemore
RECOMMENDED DESTINATIONS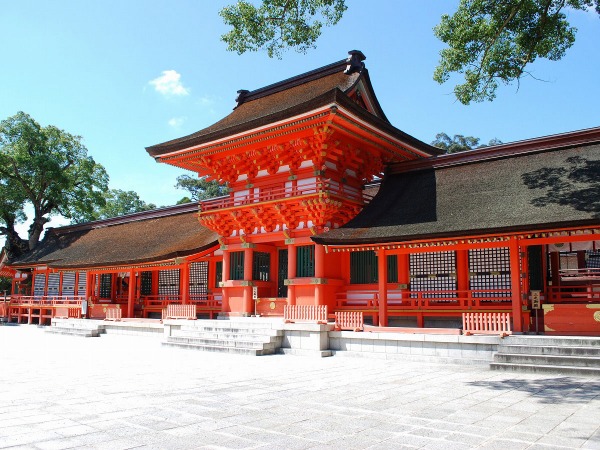 Usa is the main sanctum for the more than 40 thousand hachiman shrines across Japan, and the shrine's main hall has been designated a National Treasure. Ninmon bosatsu is the incarnation of Hachiman, and the temple has a deep history as the birthplace of the fusion of Shinto and Buddhist culture.
Birthplace of the fusion of Shinto and Buddhist culture Usa/Kunisaki peninsula
Kunisaki Peninsula is where Shinto and Buddhism intertwined to develop a unique culture. This culture is called Rokugo Manzan culture.
It is said that Rokugo Manzan was started by Ninmon bosatsu, the incarnation of Hachiman of Usa Shrine in 718 (Yoro 2 nen). In the Kunisaki Peninsula, where the Rokugo Manzan culture spread around Usa Shrine, the area came to be known as the birthplace of the fusion of Shinto and Buddhism.
2018 will mark 1,300 years of the temple's founding.
Samantha Firth

Usa Jingu Shirine:The visit to Usa Jingu shrine was really interesting. We were provided with audio guides to try out, and I found that we could listen to guidance about the places we were. They would be perfect for self-guided tours. The scenery was a mixture of green shrubs, trees, and then specks of red from the branches and main shrines. It was really interesting to learn about the history and the intertwining of religious history among Buddhism and Shinto.

Futago-ji Temple:The entrance to Futago-ji temple features the same protective statues as they have at Oita airport–the Nio Guardians are there to protect and ensure you have a good, safe trip. This is a temple blessed by nature, with associated buildings surrounded by many trees. We were able to meet a monk here, which is unusual as not many other temples offer such interactions with visitors.

Oona McGee

Usa Jingu Shrine:Usa Jingu contains a wide variety of sacred sites, and visitors can get a deeper understanding of each site on the shrine grounds with a fun-to-use interactive audio guide that comes with multi-language options.
This is how you'll learn about things like "meoto iwa", two flat stones on the steps leading to the main shrine. Partners who hold hands whilst standing side-by-side on the stones are said to receive happiness.

Futago-ji Temple:This ancient temple enhances your sense of adventure and deepens your connection with the sacred atmosphere of the site.
It's a stunning place to explore, and the English-language guide map is very helpful so you can walk through the grounds on your own.
Bus
65 minutes
Oita Airport
ANA (ANA Japan Explorer Pass) Show details
Haneda Airport
Samantha Firth

This trip to Tokyo and Oita was up there as one of my all-time favourite trips! I feel so blessed to be given an opportunity to visit a lesser known area of Japan and will forever have fond memories of all the experiences. I was able to see so many cool new sights and enjoyed a lot of fresh fish, sashimi and sushi!

Oona McGee

This tour is a great introduction to two very different sides of Japan, allowing you to gain a greater understanding of city life and country living through hands-on activities and visits to renowned sites.
Every stop makes for a truly memorable experience!
RECOMMENDATIONS FROM OTHER TRAVELERS
I was able to enjoy new sights of Tokyo, that I did see on my last trip here, as well as different side to Tokyo–you'll have to read on to find out more about the sights I saw. Oita prefecture is not a very well-known area to Australian travellers but I hope this report will give some insight to my trip to both Tokyo and Oita and I hope it excites you enough to visit. I can't wait to come back to Japan again!
Samantha Firth

Full Time Travel Blogger and Contact Creator at Travelling King
Reside in Australia

Hobby

Travelling, going to the gym and spending time with my husband

Number of visits to Japan

This is my 3rd time to Japan
RECOMMENDATIONS FROM OTHER TRAVELERS
This tour takes you from the busy streets of Tokyo to the picturesque mountains of Oita, Japan's No.1 "onsen prefecture." A terrific tour for those who love nature walks, onsen hot springs, traditional scenery, local food and drink, and historic shrines and temples.
Oona McGee

Writer
Reside in Tokyo
Home country: Australia

Hobby

Travel, photography, taiko, kyudo

Length of stay in Tokyo

Living in Japan for 10 years
Other recommended route in same area