EXPERIENCE THE QUINTESSENTIAL
After experiencing the charms of Japanese cuisine at Kappabashi Kitchenware Town and by trying your hand at making sushi, it is off to Oita Prefecture to take in some tradition. Enjoy a trip that is the essence of Japan from the tranquility of Usa Jingu Shrine, where time stands still, to hot spring towns.

Official Tokyo Travel Guide
https://www.gotokyo.org/en/

Local government official website
https://www.discover-oita.com/


TRAVELER
Traveled : January 2017

Elle Croft

UK Travel blogger for The Travel Hack.
Reside in UK

Traveled : January 2017

Rob Gilhooly

resident
Reside in Tokyo
Home country: UK
London Heathrow Airport
JAL044 Examine the directions from your country
Elle Croft

<Flight>
Japan Airlines was a very comfortable airline. There was a lot of leg room for an economy seat, and I appreciated the USB charger and big entertainment screen. The meals were also very good, with a varied selection of food to choose from. The flight attends were also extremely helpful and friendly throughout the flight.
Haneda Airport
Tokyo Metropolitan Area
Day
1
TOKYO
Kappabashi Kitchenware Townmore
Kappabashi Kitchenware Town is a shopping street with over 100 years of history located in downtown Tokyo between Asakusa and Ueno. The street stretches 800m from north to south and has over 170 specialist shops selling Japanese, Western, and Chinese cookware and lacquerware, Japanese and Western sweets and bread makers, kitchen equipment and tools, food ingredients and packaging, and more.
Professional use products for purchase by general consumers. Japanese knives and food samples are popular with foreign customers.
Elle Croft

<Kappabashi Kitchenware Town>
Kappabashi Kitchenware Town, known for its kitchenware, offered a really good insight into the culinary traditions of Japan. The stores along this street, which has the mascot of a kappa (or water sprite) once catered just to wholesale clients. Restauranteurs and chefs would come here to buy high-quality knives, cooking equipment and tableware.Today it's still a shopping destination for the pros, but tourists and locals alike can come and find quality kitchen goods for really reasonable prices. It was amazing to see all of the resin food, and to learn what all of the implements and dishes were used for. This is also a great shopping destination for anyone looking for affordable and good quality knifes and kitchen wares.

Rob Gilhooly

<Kappabashi Kitchenware Town>
The 800-meter-long Kappabashi Kitchenware Town houses hundreds of stores specializing in a variety of kitchenware, from hand-crafted knives and cast-iron teapots to cutlery, crockery and giant-sized rice cookers. Some stores specialize in the resin-based food replicas that are displayed outside restaurants throughout Japan. Although the street is primarily for industry professionals, in recent years it has garnered a growing interest among foreign visitors.
Tokyo Metro Ginza Line
Tawaramachi Station→Ginza Station
Tokyo Metro Hibiya Line
Ginza Station→ Roppongi Station
24 minutes
Sushi making experience (Hassan)more
RECOMMENDED DESTINATIONS
Learn, make, eat, and enjoy sushi!
1. Don a traditional happi coat
2. Learn about the history of sushi through a Japanese picture story show
3. Witness a live demonstration of fish being prepared
4. Make your own rolled sushi & nigiri sushi
5. Enjoy your sushi lunch along with a special beef hot pot
6. Receive certification with a sushi experience certificate

Hassan is a shabu-shabu and sushi shop with an innovative style where you can select all-you-can-eat or an a la carte course depending on your mood and the purpose of your visit. It is an almost unheard of refined authentic Japanese space that is loved by a wide range of customers.
Elle Croft

<Sushi experience>
This was one of the highlights of my day in Tokyo - the restaurant was beautiful, and really traditional. I loved being able to make my own sushi (although it was a lot more difficult than the chef made it seem). The fish was fresh and delicious, and I also enjoyed trying other traditional dishes like sukiyaki. At the end I even received a certificate from the chef to prove that I can make sushi like a pro!

Rob Gilhooly

<Sushi experience>
The Roppongi district of Tokyo is known for its vibrant nightlife, but it also offers excellent dining. It also is well known for its wonderfully fresh sushi and even allows visitors the opportunity to dress in a traditional happi coat and try their hand at making sushi under the guidance of one of the restaurant's own itamae, as sushi chefs are traditionally called. It's great fun and a real insight to Japan's best-known cuisine, which one of the chefs, Hiroyuki Ogino, says started in Edo — the former name for Tokyo — in the 1820s as a form of fast food.
Tokyo Metro Hibiya Line
Roppongi Station→ Ueno Station
25 minutes
Ameyoko (Shopping Street)more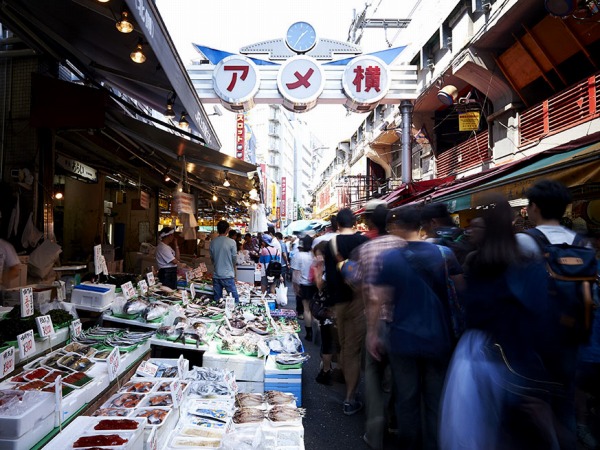 Ameyoko is a shopping street full of life now and in the old days and also a well-known spot for visitors to feel and experience the local atmosphere. In addition to fresh food and candy, it also has shops offering clothes, shoes, bags, and even cosmetics. The good-humored vendors of each shop are firm supporters of face-to-face interaction. "Ameya Yokocho" is the official name for Ameyoko and it became a famous marketspot after World War II.
Elle Croft

<Ameyoko>
Ameyoko was a great destination for seeing a slice of local life in Tokyo.
Ameya Yokocho is a traditional shopping street that was once famous for candy (the name means candy store alley).These days visitors can haggle for fresh produce, grocery items, clothing and accessories.
I recognised some things, like fish, and bags of tiny dried crabs that are eaten as a crunchy snack, and colourful fruit. I loved being able to see all of the unusual ingredients on sale, and even tried manju, a type of sponge cake with sweet bean paste in the middle (which was delicious).

Rob Gilhooly

<Ameyoko>
Ameyoko is a bustling market district next to Ueno Station that sells everything from pickled octopus and green tea-flavored Kit Kats to colorful parasols and bargain sneakers. It also hosts a variety of food stalls and ad hoc auctions.
Toei Oedo Line
Ueno-Okachimachi Station→Shin-Okachimachi Station
1 minute
Tsukuba Express
Shin-Okachimachi Station→Asakusa Station
2 minutes
Elle Croft

<Asakusa>
Asakusa is a must-see for anyone visiting Tokyo! This area is full of history and culture. Although you might imagine Tokyo to be all gleaming, modern high-rises and quirky new fashion, this corner of the city is the complete opposite. Asakusa's main attraction is the ancient Buddhist temple Senso-ji. To get to the temple, you have to walk through the enormous and eye-catching Kaminarimon (Thunder) Gate, complete with a giant red paper lantern.The Senso-ji temple is incredible to look at, and all the shops that lined the entrance were fun to look at and shop for souvenirs.

<Dinner: Kamiya Bar>
For dinner we headed to Kamiya bar, a legendary watering hole dating back to 1800. It was a fun and casual restaurant, a good choice after exploring Tokyo for a day. The food was tasty, and I enjoyed trying "Denki-bran" (A famous brandy-based cocktail in Japan from over 100 ago).

Rob Gilhooly

<Asakusa>
About 1,400 years ago Asakusa was just a fishing village on an estuary of Tokyo Bay, but when fishermen Hamanari and Takenari Hinokuma netted a statuette of Kannon, the Buddhist Goddess of Mercy, in the nearby Sumida River, they inadvertently gave birth to Sensoji, which is today the capital's oldest temple complex. It is also one of the most popular and throngs of visitors pose for photos beneath giant red lanterns hung at the ornate Kaminarimon and Hozomon gates, or peruse rows of stores lining the lively approach road.

<Dinner: Kamiya Bar>
A short walk from Kaminarimon (lightning gate) is another long-standing Asakusa institution that is equally electrifying. Kamiya Bar offers a unique atmosphere, hearty meals and a homemade brandy-based cocktail called "Denki-bran" that is guaranteed to warm the cockles. While there's a sit-down restaurant upstairs, the first floor houses a friendly no-frills bar that was founded in 1880.
Asakusa View Hotel
Elle Croft

<Stay: Asakusa View Hotel(Metropolis Tokyo)>
Asakusa View Hotel is the perfect hotel to stay in for exploring Tokyo. It was easy to get to from the airport and really centrally located. My room was really comfortable, and I had an amazing view over the city. Breakfast in the morning offered a huge selection of food, but the best part was the view I got to enjoy from the 26th floor while I was sipping my coffee!

Rob Gilhooly

<Stay: Asakusa View Hotel>
The Asakusa View Hotel is a comfortable hotel a short walk from Kitchen Town. Though essentially Western in style, it also offers hinoki (Japanese cypress) communal baths and some of the suite rooms on the 25th floor offer views over the pagoda at Sensoji, the 634-meter-high Tokyo Skytree and, on a clear day, guests can even see Mount Fuji.
Day
2
KYUSHU(OITA)
8:00 Haneda Airport
JAL661 Show details
Elle Croft

<Haneda airport>
I'd never heard of Haneda airport before my visit, but it is centrally located, with loads of facilities for travellers. JAL flight was on time and everything was smooth and easy.

Rob Gilhooly

<Haneda airport>
Tokyo's international airport at Haneda also caters to domestic flights and is extremely user-friendly. There are no long waits either — passengers are requested to pass through security 15 minutes before boarding.Like other modes of public transportation in Japan, JAL domestic flights are normally very punctual.
9:45 Oita Airportmore
From the general information desk at the first floor Arrivals area, travelers can find airport facilities plus get help for their vacation or business in everything including sightseeing and lodging, transportation, or renting a car.
Tabito, next to the Departure lobby, is the go-to shop offering from specialties from across Oita and Kyushu, to a full range of original gifts that can only be found at the airport. Here, you can find various items such as seafood products, confectioneries, and crafts unique to Oita.
The impressive view of the sky with planes flying about with the magnificent ocean spreading in the distance from the observation deck and cuisine gets you in the mood to travel. The observation counter, where you can see powerful airplanes up close, is popular with couples. Dining, which features local ingredients from Oita, is not to be missed. The airport has it all from Japanese to Western, to sushi and ramen, to dessert and drinks.
Oita Kotsu High-Speed Limousine Bus
Oita Airport→Kitsuki
About 30 minutes
Kitsukimore
It is the only place in Japan known as the Sandwich castle town. With the flavor of the Edo period remaining thick, it was the first in the country to be recognized as "Historic Cityscape with Kimono."
Around Kitsuki Castle, there is a group of samurai residences on the south and north hills, and a merchant town sandwiched in the valley between them. The rows of samurai residences and other buildings are a window into the past for you to enjoy and understand how the samurai and townspeople lived in the Edo period and what the town looked like. The view from the top of the hill is very dynamic, with the thatched roofs of the samurai residences and the white walls of homes, along with stone walls and bamboo groves forming a precious scenery that is often seen in a movie or TV drama.
Elle Croft

<Kitsuki>
This town, an old samurai village that's also home to Japan's smallest castle, is one of the best places in the country to get dressed up in traditional Japanese attire and go for a stroll. There's a rich cultural history to be explored, and part of that is learning how to wear a kimono like a local. Dressing up in a kimono was an experience I will never forget! I was amazed at how many layers, sashes and details went into getting a kimono on, and I'm so impressed that there are women who can do it without help! Kitsukiu was the perfect location for it, as with so much history that's been preserved, I literally felt like I'd stepped back in time.

<Lunch: Wakaeya Ureshino meal>
This was one of the best meals I had in Japan. The tai chazuke Ureshino(slices of sea bream with sesame soy source on rice with hot green tea poured on it) was very tasty, and it was made even better by hearing the history of the dish and the region by the owner of the restaurant. The atmosphere was really peaceful, and the restaurant was in a very beautiful setting.

Rob Gilhooly

<Kitsuki >
Kitsuki is just a 90-minute flight followed by a 20-minute drive from Tokyo, but seems centuries away from the modernity of the capital. This old feudal town, often referred to as little Kyoto, offers a glimpse into old Japan, when Daimyo(feudal lord) and their loyal samurai ruled the land. Additionally, visitors can see it all while dressed in traditional attire, with Warakuan offering both women's and men's kimono for rent. There are over 150 patterns to choose from and just being dressed up in these elegant garments by highly trained professionals is in itself a fun experience.

<Lunch: Wakaeya Ureshino meal>
Wakaeya's speciality is "Tai Chazuke Ureshino," strips of sesame sauce-marinated sea bream on rice that is cooked for exactly three seconds in steaming green tea. It dates back over three centuries and was originally prepared for feudal lords at nearby Kitsuki Castle. Gentaro Goto, the 16th-generation owner of Wakaeya, says the name of the dish originated from one such feudal lord, who was feeling unwell, eating the Tai Chazuke and proclaiming "ureshii no", which roughly translated means "this makes me happy." It's a wonderful dish — a kind of Asian risotto — where the green tea enhances the flavor of the sesame sauce, which is concocted according to an secret age-old recipe.
JR Nippo Main Line Limited Express Sonic
Kitsuki Station→Usa Station
About 14 minutes
Taxi
Usa Ekimae→Usa Jingu Shrine
About 10 minutes
Usa Jingu Shrinemore
RECOMMENDED DESTINATIONS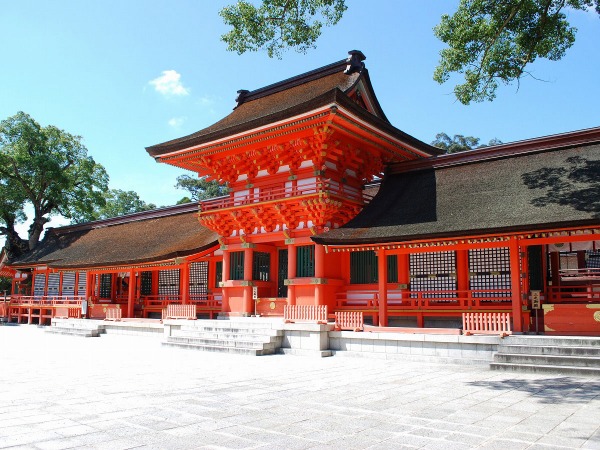 Usa is the main sanctum for the more than 40 thousand hachiman shrines across Japan, and the shrine's main hall has been designated a National Treasure. Ninmon bosatsu is the incarnation of Hachiman, and the temple has a deep history as the birthplace of the fusion of Shinto and Buddhist culture.
Birthplace of the fusion of Shinto and Buddhist culture Usa/Kunisaki peninsula
Kunisaki Peninsula is where Shinto and Buddhism intertwined to develop a unique culture. This culture is called Rokugo Manzan culture.
It is said that Rokugo Manzan was started by Ninmon bosatsu, the incarnation of Hachiman of Usa Shrine in 718 (Yoro 2 nen). In the Kunisaki Peninsula, where the Rokugo Manzan culture spread around Usa Shrine, the area came to be known as the birthplace of the fusion of Shinto and Buddhism.
2018 will mark 1,300 years of the temple's founding.
Elle Croft

<Usa Jingu Shrine>
I was amazed by Usa Jingu Shrine - we were lucky to visit on a quiet day which made it seem even more peaceful and magical. I was really impressed with the audio guide, which was available in English. It was really interesting, and self-paced which meant I could just stop and enjoy the views if I didn't want to listen all the time. The shrine itself is beautiful - it's a number of different buildings, all with different meanings and uses, scattered throughout the most beautiful grounds. I would recommend a visit to Usa Jingu Shrine to anyone visiting Oita from the UK - it's not to be missed!

Rob Gilhooly

<Usa Jingu Shrine>
Usa Jingu Shrine is one of the most important places of worship in Japan, indicated by its status as the head shrine of the Hachimangu Shinto sect, which has some 40,000 member shrines throughout Japan, each devoted to Hachiman — the god of archery and war. The shrine was established in 725 and is dedicated to the deities Hachiman-Okami, Hime-Okami and Jingu Kogo, while the guardian deity of children, Gankake Jizo, and a huge camphor tree known as Kusuno-ki are purported to impart special powers. In addition to the striking orange-red shrine buildings, the vast grounds of this well-known power spot offer relaxing walks along leafy pathways that pass by ponds and sumptuous bridges, one of which, Kurehashi, is only opened every 10 years.

<Walking around Beppu>
Beppu maintains an old-world charm, with narrow lanes leading past cozy eateries and bustling bathhouses. The Beppu Hatto Walk offers a guided walking tour through parts of old Beppu that are conducted by local volunteers, offering an insight not into touristy spots, but places of significance to local residents. One such place is the Takegawara Onsen, a public bath house set in a classic wooden building that one of the guides says is often mistaken for a temple.
Daiko Hokubu Bus
Usa Jingu Shrine→Usa Ekimae
7 minutes
JR Nippo Main Line Limited Express Sonic
JR Usa Station→Beppu Station
27 minutes
Hanabeppu
Elle Croft

<Dinner: Robata-jin>
This restaurant was fantastic - it felt very traditional, with the low table, and private room to eat in. I tried lots of different dishes, as well as some different types of sake, and everything I tried was delicious, including some local specialties.

<Stay: Hanabeppu>
Hana Beppu hotel is gorgeous - it's modern, but with a lot of details that give it a traditional Japanese twist. The facilities were luxurious, including the lovely onsen and tasty breakfast, and the service was wonderful. I'd recommend this hotel to anyone visiting Beppu.The onsen are open 24 hours, so you can freshen up at night beneath the stars, or in the morning as the sun begins to hit the peak of Mount Yufu. Once you've successfully navigated a Japanese onsen once, you'll be hooked. In Oita Prefecture there are countless locations for you to enjoy the onsen experience. It's said to have many health benefits (they say you'll live an extra three years for every onsen you take! )

Rob Gilhooly

<Dinner: Robata-jin>
Robata-jin is an izakaya, which is commonly translated as pub, and while there is a pub-like atmosphere here, the fare served goes way beyond any standard pub grub. Particularly good are the charcoal-grilled Yamaga beef, yellowtail sashimi with a local citrus fruit called kabosu, and another Oita delicacy, toriten, which are tempura-battered chicken fillets.

<Stay: Hanabeppu>
Hanabeppu is a graceful hotel that combines all the hominess of traditional Japanese ryokan inns with the modern comfort of classy hotels. Hanabeppu's stylish approach is summed up by the wonderful sitting area overlooking a lovely Japanese garden that is closed in by a partition-cum installment made from bamboo — from which many Beppu crafts are made. Bamboo is a key feature throughout the well-appointed rooms and soothing hot spring baths.
Day
3
Hanabeppu
Beppu Jigoku Meguri(hell tour)more
A tour of the seven hells where fumaroles and hot water vigorously erupt from the ground. In admiring the hells, the UmiJjigoku (sea hell), Chinoike Jigoku (blood pond hell), Tatsumaki Jigoku (tornado hell), and Shiraike Jigoku (white pond hell) have been designated nation scenic spots for their superior colors and formations.
Elle Croft

<Beppu>
Beppu is known for its hot spring sources, of which there are over 2,000. On a winter's morning the steam rising from the onsen makes it look like the town is on fire. We stopped at a viewpoint to look over Beppu on the way to the mountains, which was amazing. Then I had a tour of the Hells.The crocodiles, for example. the actual onsen there was just a hot pool, so the crocodiles seemed like a bit of a gimmick.

Rob Gilhooly

<Beppu>
Beppu is often called the onsen (hot spring) capital of the world and it's easy to see why. There are 2,000 hot spring sources in the city, whose onsen water consumption is second only to Yellowstone National Park. Seen from an elevated location, the steam billowing from the hundreds of spa facilities gives the impression of a city under siege.It is also home to a place called hell — a collective name for a group of scorching hot springs whose mineral content makes each unique in coloration and viscosity. Visitors can see each one on the "jigoku-meguri" (hell circuit) tour.
JR Nippo Main Line
Beppu Station→Usuki Station
About 1 hour
Kyushin Kotsu (for Mie-machi)
Usuki Station→Usuki Sekibutsu
About 20 minutes
Elle Croft

<Lunch: Kirakuan Pufferfish>
I was so excited (and a little nervous) to try fugu! It was really tasty, and everything we ate at this restaurant was unforgettable. The restaurant itself is pretty spectacular, with so much history and tradition preserved by the owners. The service was impeccable - so friendly and helpful.

Rob Gilhooly

<Lunch: Kirakuan Pufferfish>
The specialty served at Kirakuan in Usuki is one of Japan's great delicacies: fugu — wafer-thin slices of blowfish sashimi that is wrapped around chives and dipped in a soy-sauce-based dip and a dash of kabosu citrus fruit.

<Cycling the town>
Usuki's old teramachi (temple town) area features rows of beautifully preserved wooden houses and temples situated along narrow ambling lanes and high stone walls. One of the best ways to explore the town is by bicycle and the visitor center just below the ruins of Usuki Castle rents electric and conventional bicycles.
Usuki Stone Buddhasmore
The Usuki Stone Buddhas are carved to represent Furuzono Sekibutsu Dainichi Nyorai and are said to have been created from the late Heian period to the Kamakura period.
In terms of scale and quantity, the high quality of the carving of the stone Buddhas is representative of Japan, and on June 15, 1995, the statues were designated as National Treasures, the first stone carvings to receive such a designation and the first national treasure in Kyushu.
There are over 60 stone Buddhas, of which 59 are national treasures.
The stone Buddhas are divided into 4 groups, with each group given a name determined by their location. The grups are called the First Hoki group (Dogasako Buddhas), the Second Hoki group, the Sanno group, and the Furuzono group, respectively.
Each is a masterpiece of outstanding work and the expressive figure of Buddha gives peace of mind to visitors.
Elle Croft

<Usuki stone Buddhas>
The stone Buddhas are worth a trip to Oita alone. Impressive doesn't even cover how amazing these sculptures are - it's incredible to think they've survived for so long, and some even have their original paintwork. Well worth a visit!

Rob Gilhooly

<Usuki stone Buddhas>
About 20 minutes from downtown Usuki, a series of Buddhist statues carved into volcanic rock can been found peeping out of a forested escarpment. Each one has its own unique features and were carved in the Heian and Kamakura eras between 794 and 1333, though by whom and for what purpose remains a mystery. Depsite their age, the majestically executed reliefs remain surprisingly clear, in particular the Amida-san-son-zou (three Amidas) and Furuzono-Sekibutsu (Furuzono stone Buddhas), with Dainichi Nyorai at its center — regarded as the finest of its kind in Japan.
Kyushin Kotsu Bus
Usuki Sekibutsu→Hakuba-kei
About 5 minutes
Sausu Liner Airport Bus
Usuki Interchange→Oita Airport
About 90 minutes
Oita Airport
JAL Show details
Haneda Airport
RECOMMENDATIONS FROM OTHER TRAVELERS
I had an incredible time in Tokyo and Oita and would recommend it to anyone looking for a holiday that's culturally fascinating, naturally beautiful and unlike anything else I've ever done!

Elle Croft

UK Travel blogger for The Travel Hack.
Reside in UK

Number of visits to Japan

First time
RECOMMENDATIONS FROM OTHER TRAVELERS
This tour offers fascinating insights into Japanese history, culture and cuisine, some of which are unique to the location.
Rob Gilhooly

resident
Reside in Tokyo
Home country: UK

Hobby

reading; music; calligraphy; sports.

Length of stay in Tokyo

20 years
Other recommended route in same area