FEEL THE EARTH
After appreciating Thirty-six Views of Mount Fuji, a masterpiece of one of the most famous ukiyo-e painter, Hokusai Katsushika at the Sumida Hokusai Museum where possesses and exhibits his works, head to Sakurajima, active volcanoes in Kagoshima prefecture. Amazing trip to feel power of the earth.

Official Tokyo Travel Guide
https://www.gotokyo.org/en/

Local government official website
http://www.kagoshima-kankou.com/for/


TRAVELER
Traveled : October, 2018

Victoria Brewood

Travel blogger
Reside in UK

Traveled : October, 2018

Kathryn Wortley

Travel writer and journalist
Reside in Tokyo
Home country: United Kingdom
London Heathrow Airport
ANA212 Examine the directions from your country
Victoria Brewood

My flight from London to Tokyo Haneda was direct and departed on time. I really enjoyed the food on ANA, particularly the soba noodles and the "Aromatic Kabosu", which is a signature drink on ANA flights. We had a choice of Japanese or Western cuisine: I chose a fish dish which was really yummy! I found the staff to be really friendly and the service to be excellent.
Haneda Airport
Tokyo Metropolitan Area
Day
1
TOKYO
Toei Streetcar (Toden) Arakawa Linemore
Toei Streetcar (Toden) Arakawa Line is a streetcar that runs from Minowa of Taito-ku, a neighborhood that very much retains the Shitamachi (old Tokyo downtown) atmosphere, to Waseda, known as the site of the university by the same name. The gentle ride is so laid back it's hard to believe that this is an actual means of transport in Tokyo.
Visitors can enjoy sights that are well off the beaten track to their hearts' content, including shopping centers, Arakawa Yuen, Asukayama Park, Togenuki Jizoson Kogan-ji Temple, and Kishimojin. Nothing can beat a trip along the Toei Streetcar (Toden) Arakawa Line for those who want a taste of local life.
Victoria Brewood

In the morning we took the Toden Arakawa tram, which is between a streetcar and a tram. We went to the Sugamo Togenuki-jizo, Koganji Temple, where we washed our hands in water and prayed. Afterwards we tasted some local sweets made from sweet potato and strolled around the neighbourhood.

For lunch we ate eel at "Yatsumeya Nishimura," which I had never eaten before. It was served over rice and also came with pickles and soup on the side. I thought the eel was moist and tasty and it was interesting to see the chefs cooking it downstairs in the open kitchen.

We stopped in a coffee shop called Papa Noel on Joyful Minowa shopping street, where the owner prepared a cup of hot cocoa for each of us. He told us about his efforts to learn English, as well as his encounter with singer John Lennon and his recent travels to New York. It was really nice to chat with a local person.

Kathryn Wortley

The Toden Arakawa Line is the last survivor of Tokyo's streetcar system. In Sugamo, where we disembarked, there were a lot of reminders of old Tokyo.

Our delicious lunch at Yatsumeya Nishimura was the local specialty: eel broiled and covered in a sticky, sweet sauce over a bed of rice. This delicious and vitamin-rich dish was accompanied by soup, pickles and green tea. Afterwards, at the entrance to the shop, we watched the chefs expertly prepare the eel over white-hot coals.

Joyful Minowa is covered with shopping arcades full of small shops selling fruit and vegetables, meat and fish, lunch boxes and freshly prepared yakitori (assorted meat on sticks), clothes and other items.
Tokyo Metro Hibiya Line Minowa-->Akihabara
Around 30 minutes
JR Chuo Line Akihabara-->Ryogoku
Sumida Hokusai Museummore
RECOMMENDED DESTINATIONS
Katsushika Hokusai, praised as a world-class artist, was born near Hokusai Dori in what is now known as Sumida Ward, and spent most of his 90-year life in the ward, leaving behind many excellent works.
In addition to showcasing Hokusai's works, the museum conducts exhibitions and educational outreach projects with diverse themes that convey the relationship between Hokusai and Sumida in an easy-to-understand manner.

Victoria Brewood

The Museum is dedicated to the artist Katsushika Hokusai, who is the creator of famous works such as The Great Wave and Red Fuji, which are pieces from the collection Thirty-Six Views of Mount Fuji. The museum is located here because it is where Hokusai was born and spent most of his life. I loved the modern architecture of the building and the permanent exhibition allows visitors to discover more about the artists life and woodblock prints. Inside the permanent exhibition there is an artwork showing Hokusai working with his daughter - the dollls are so life-like that I was almost convinced they were real people!

Kathryn Wortley

Sumida Hokusai Museum is a tribute to 18th century ukiyo-e artist Katsushika Hokusai, whose woodblock print The Great Wave off Kanagawa is an iconic image of Japan. The permanent exhibition is home to not only his prints but also displays about his life in the Sumida area and the techniques he used. On our visit, the temporary exhibition had a fascinating display of his original artwork of bridges.
JR Sobu Line local train
Ryogoku-->Akihabara
JR Yamanote Line
Akihabara-->Tokyo
11 minutes
3 minutes by foot from Tokyo Station Marunochi South Exit
SKY BUS TOKYO(Odaiba Night Course)more
On the Odaiba Night Course, the two-story open-deck SKYBUS TOKYO takes passengers to see the Tokyo Tower lit up against the night sky and also goes directly beneath the Rainbow Bridge. Since the SKYBUS TOKYO also takes highways along the way, passengers can feel like they are on a theme park attraction.
The SKYBUS TOKYO stops at Aqua City in Odaiba and allows passengers one hour of free time to get something to eat or take a commemorative photo with the Statue of Liberty and Rainbow Bridge in the background.
This two-hour tour is the perfect way to enjoy many of Tokyo's night spots in a short amount of time.
Victoria Brewood

The Sky Bus is a sightseeing bus with an open-air roof, allowing tourists to take in the views of the city. I enjoyed seeing Tokyo Tower at night, as well as the Rainbow Bridge. It was interesting to learn that the Rainbow Bridge is actually only lit up like a rainbow at Christmas. The Sky Bus is definitely a great way to see the city.

The Tsukiji Sushiko restaurant served a large selection of sashimi, nigiri and sushi rolls.You can order individual pieces or a platter, so I ordered a platter of various different nigiri, as well as a maki roll. The server also brought us a plate of tiny tempura shrimp to try, which were really good.

Kathryn Wortley

On the top deck of the Sky Bus, we saw the sights of Tokyo by night, passing by Tokyo Station and an illuminated Tokyo Tower before crossing Tokyo Bay via the Rainbow Bridge to reach Odaiba. The beautiful nightscape of Tokyo's millions of twinkling lights more than made up for it.

Located inside the massive shopping complex of Aqua City, Tsukiji Sushiko serves beautifully presented sushi. The light wood interior is bright and welcoming, as is the service. At the counter seating, customers can watch the sushi chefs work their magic.
Mitsui Garden Hotel Kyobashi
Victoria Brewood

The room of Mitsui Garden Hotel Kyobashi had a comfortable bed and featured everything I needed, including pajamas, hairdryer, TV and charging cables for my phone. Breakfast featured a buffet with a variety of hot and cold options. I loved the smoothies that were available in the morning.

Kathryn Wortley

My stay at Mitsui Garden Hotel Kyobashi was comfortable, convenient and enjoyable. The rooms are modern and featured a Hotel Original Pillow. The hotel is only a 10-minute walk from Tokyo Station. There were three choices of eggs for breakfast as well as a buffet of about 30 dishes.
Day
2
KYUSHU(KAGOSHIMA)
Haneda Airport
ANA (ANA Expericence JAPAN Fare) Show details
Victoria Brewood

Our ANA flight departed on time and took 2 hours to reach Kagoshima. Staff were very friendly and we were offered a complimentary drink, such as apple juice, water or coffee, in flight. I really liked the fact that there was free Wi-Fi on board the aircraft so I could check my emails and post to social media.

Kathryn Wortley

As to be expected from ANA, check-in and boarding were smooth, our flight was on time and the service was impeccable. The aircraft was clean, the seat was comfortable and we enjoyed a complimentary soft drink during the flight. We also had access to ANA's Wi-Fi Service on board.
Kagoshima Airportmore
Kagoshima Airport is located about 28km northeast of Kagoshima City atop the Jusanzukabaru plain, which offers views of the Kirishima mountains to the east and Sakura-jima to the south. This provides the perfect location as the gateway to Kagoshima. On sunny days, head to the rooftop observation deck to watch all sorts of airplanes take off and land, from turboprops to large jets, all backed by magnificent views of the Kirishima mountains. Kagoshima Airport also offers shops selling a huge selection of goods from Kagoshima, including delectable sweets, specialty foods from Kagoshima, and arts and crafts made by local artisans. Check out the retro Eames shell chairs in the domestic departures lobby that make the airport chic.
Victoria Brewood

Kagoshima airport had free WiFi and a new tourist information/welcome centre at arrivals. Our bags arrived quickly, and then we went straight to the car to start our itinerary in Kagoshima.

I had actually only ever heard of sake here in the UK, but shochu is an incredibly popular Japanese alocohlic drink made from sweet potatoes. It was very interesting to see how shochu is produced and I was also able to make a small piece of art from the glass fragments from the shochu bottles. Later that evening I was able to try shochu for myself - I enjoyed it hot, mixed with water.

Sengan-en is a very beautiful stately home and Japanese garden, which was built as a second residence by Shimadzu Mitsuhisa in 1658. The traditional gardens are very tranquil and scenic, with beautiful views of the Sakurakima volcano. We had lunch in the restaurant, which overlooks the garden and serves a selection of Kagoshima cuisine, including Kurobuta Pork. The house also features a stunning replics of a pair of vases sent to Shimadzu family as a gift to Nicholas II of Russia.

Kathryn Wortley

What better way to relax and unwind after a flight than to dip your feet into a mineral-rich foot spa? Much to my delight, Kagoshima Airport has just that. The Airport also has a Tourist Information Desk and an a corner where you can taste Kagoshima's famous green tea for free.

Shirakane Ishigura's status as a registered Tangible Cultural Heritage of Japan is not surprising given its beautiful stone and white-washed walls and historic wooden beams. The factory tour provided an insight into the traditional manufacturing process. We also enjoyed a VR experience showing the history of shouchu and stained glass making used finely crushed parts of the shouchu bottles.

Sengan-en's restaurant is bright and inviting, offering stunning views of Sengan-en's gardens and historic buildings as well as Mount Sakurajima and Kinko Bay. I chose Kagoshima's famous black pork in tonkatsu style. It was delicious and filling, and I order them with a delicious and healthy local vinegar-based drink.
Sakura-jimamore
RECOMMENDED DESTINATIONS
Sakura-jima, floating in Kinko Bay, is the symbol of Kagoshima. It was previously, as its name suggests, an island (jima = island), but lava flowing from the 1914 Taisho eruption of the island's volcano filled in the strait between the mainland and the island, and it became part of the Osumi Peninsular. There are around 4,600 people who live on this volcanic island, with its frequent eruptions, and they enjoy the blessings of the volcano, including crops such as the Sakurajima daikon and Sakurajima mandarin oranges, abundant hot springs, and views of mountains and villages.
Victoria Brewood

To get to the Sakurajima volcano we took a ferry. The ferry is a car ferry but we got out of the car and walked to the upper deck to enjoy the views of the volcano as we approached. The weather was gorgeous and I managed to get some great photos of the volcano in the distance.

When we arrived at Sakurajima we watched a special video, which explained how the volcano formed and what life is like in the shadow of the volcano. There are 24 hour ferries so people can leave the island in case of an eruption. After watching the video we went to bathe our feet in the Nagisa Foot Bath Park.

Next we drove to the Arimura Lava Observatory, which has 360-degree views of the volcano, lava fields and island. The sun was setting and it was incredible to see just how fertile and green the volcanic soil actually is.

During the last major eruption in 1914, the 3 metre torii gate of Kurokami Shrine was buried, with only its top beam still visible. The locals decided to leave the gate buried, to show the threat posed by the volcano for future generations. Next to it there is an old ficus tree, which managed to survive the eruption. As we drove around the island, we also saw bags of volcanic ash outside people's houses, which they collect and dispose of for recycling.

In the evening we went to a cozy, local restaurant for dinner. The owner is really friendly and there's no menu in the restaurant, so she prepares whatever she thinks guests would like. I tried chicken sahimi for the first time. I actually quite liked it with ginger and soy sauce. We had such a lovely evening!

Kathryn Wortley

The Sakurajima ferry terminal is easily accessible by tram and then foot from Kagoshima Chuo Station. The ferry ride is only about 15 minutes' duration. From the upper decks, we had beautiful views of Kinko Bay and Sakurajima on our approach.

Sakurajima is known as one of the most active volcanoes in the world. Sakurajima and Kinko Bay form a geopark, home to unique botanical diversity. Local people gather falling ash in garbage bags for pick-up in case there is falling debris.

On most days, Sakurajima ejects only ash. The Sakurajima Visitors Center showed that 409 eruptions had been recorded from January 2018 to October 2018. Residents reported enjoying living in harmony with their grumpy neighbour, whose ash blows to areas nearby.

Though Sakurajima rarely ejects more than ash, Kagoshima Prefecture is ready for any eventuality. The Sakurajima ferry runs 24 hours a day, 365 days a year, and we saw many shelters throughout Sakurajima. Villages on the volcano are concentrated on the coast, and there seems to be a ferry pick up from each village if an eruption occurs.

Sakurajima was a beautiful sight, in the morning, afternoon and evening. It is an icon of Kagoshima Prefecture. Its fertile volcanic soil yields plentiful komikan oranges and giant daikon radishes. Local people use the ash to create art, and there is a huge selection of products in the gift shop of the Sakurajima Visitors Center.

We met a number of residents while we were having our meals at restaurants and had a good time together. Kagoshima people are kind, and were happy to give us tips on places to see, things to do and foods to try.
Sakurajima Ferry Terminal Sakura-jima side to Kagoshima side 15 minutes
Kagoshima City Tram Suizokukan-guchi to Kagoshima-Chuo Station 15 minutes
Shiroyama Hotel Kagoshima
Victoria Brewood

The Shiroyama Hotel is a large hotel where you can watch the sun rise over the Sakurajima volcano from the room. From the outdoor section of the onsen, you can bathe while gazing at Sakurajima. The breakfast buffet had a wide selection of foods, including both Western and Japanese dishes. I particularly liked the apple vinegar drink they had on tap. My hotel room was very clean and comfortable, with a modern bathroom and two large beds.

Kathryn Wortley

There was truly something for everyone at Shiroyama Hotel Kagoshima's breakfast buffet, with Western and Japanese options, as well as breads from their own bakery. The guest room was vast and comfortable, and the hotel's outdoor onsen at sunrise offered breathtaking views of Sakurajima.
Day
3
Shiroyama Hotel Kagoshima
Hotel shuttlebus
Kagoshima-Chuo Station West Exit to hotel, around 20 minutes
Express Ibusuki no Tamatebakomore
Head to Ibusuki on this train, designed around the theme of the legend of the Dragon's Palace told on Satsuma Peninsular in Kagoshima Prefecture. This train has an interesting monotone exterior, and a stylish wooden interior. The train produces white smoke when people board, referring to Urashima Taro's treasure box, and the white smoke that came from it.
Victoria Brewood

The interior of the train is very special and the seats face the window, so you can enjoy the views as the train passes along the coastline. Everything on this train, including the food, has a black and white theme, representing the old and the young. It was a really unique experience and definitely one of the most scenic train rides I have ever taken: I didn't want it to end!

Experiencing a "sand bath" was definitely one of the weirdest things I have done but it was a lot of fun. We were buried under the volcanic sand, with just our heads sticking out of the sand under an umbrella. The sand is hot and very heavy, so I was able to feel my heartbeat in my hands and my feet! Taking a sand bath improves circulation and can help with a number of health conditions. Initially I felt anxious but then as the time went by I began to feel more relaxed, wiggling my feet and my hands when it got too hot.

After the sunamushi onsen we went for ramen at Taketora, which has a friendly, modern atmosphere but with Japanese interiors. We had gyoza to start and ordered all sorts of different flavors of ramen; mine had a pork based broth with minced meat on top. I sprinkled over the fish flakes, which danced on the top of my ramen.

Kathryn Wortley

Named after the treasure box in the legend of Urashima Taro, Ibusuki no Tamatebako is historic on the outside but modern on the inside. As the train snaked its way down the coast to the seaside town of Ibusuki, we enjoyed the train's exclusive vanilla–sesame pudding and sweet bread.

Rising out of the sand after 10 minutes spent buried head to toe in its warmth was an invigorating experience. The cotton kimono to wear in the sand bath was easy to put on and the staff who heaped the naturally hot volcanic sand on us gave their kind instructions in English. As the sand makes you sweat profusely, the sand bath is good for health.

Taketora's menu includes Kagoshima's famous tonkotsu ramen as well as soy sauce-based and salt-based versions. We tried the local specialty ramen, which was topped with dried bonito flakes. The gyoza (dumplings) were delicious, too.
Power assisted rental bicycle
Approx. 18 minutes (up to 2 hours)
Chiringashimamore
Chiringashima, or Chirin Island, is also known as the "marriage island." You can walk here across the sandy "Chiririn Road," an 800 meter sandbank that appears at low half-tide and low Spring tide from March to October.
Victoria Brewood

Chiringashima is an uninhabited island in Kinko Bay, which has a sand bar that only appears at low tide and according to certain times of the year and phases of the moon. We visited a lookout spot to take pictures and enjoy the pretty views of the island from above.

Kathryn Wortley

We took a short hike up a hill for views of Chiringashima, the largest island in Kinko Bay, and Ibusuki. We were lucky to see the sandbar connecting it to the mainland as it only appears during low tide for only a few hours per day from March to October.
Kagoshima Kotsu Bus (local: Nagasakibana, Kaimondake, Ikeda-ko)
Eco-camp-jo Iri to Ibusuki Station 10 minutes
* Or 18 minutes on the "Iburin" rental bicycle
4 minutes by Kagoshima Kotsu Bus (Local bus: Nagasakibana, Kaimondake, Ikedako route)
from Ibusueki Sta. bus stop to Sand Bath Hall bus stop
*Or 8 minutes by Iburin rental cycle.
Sunamushi Onsenmore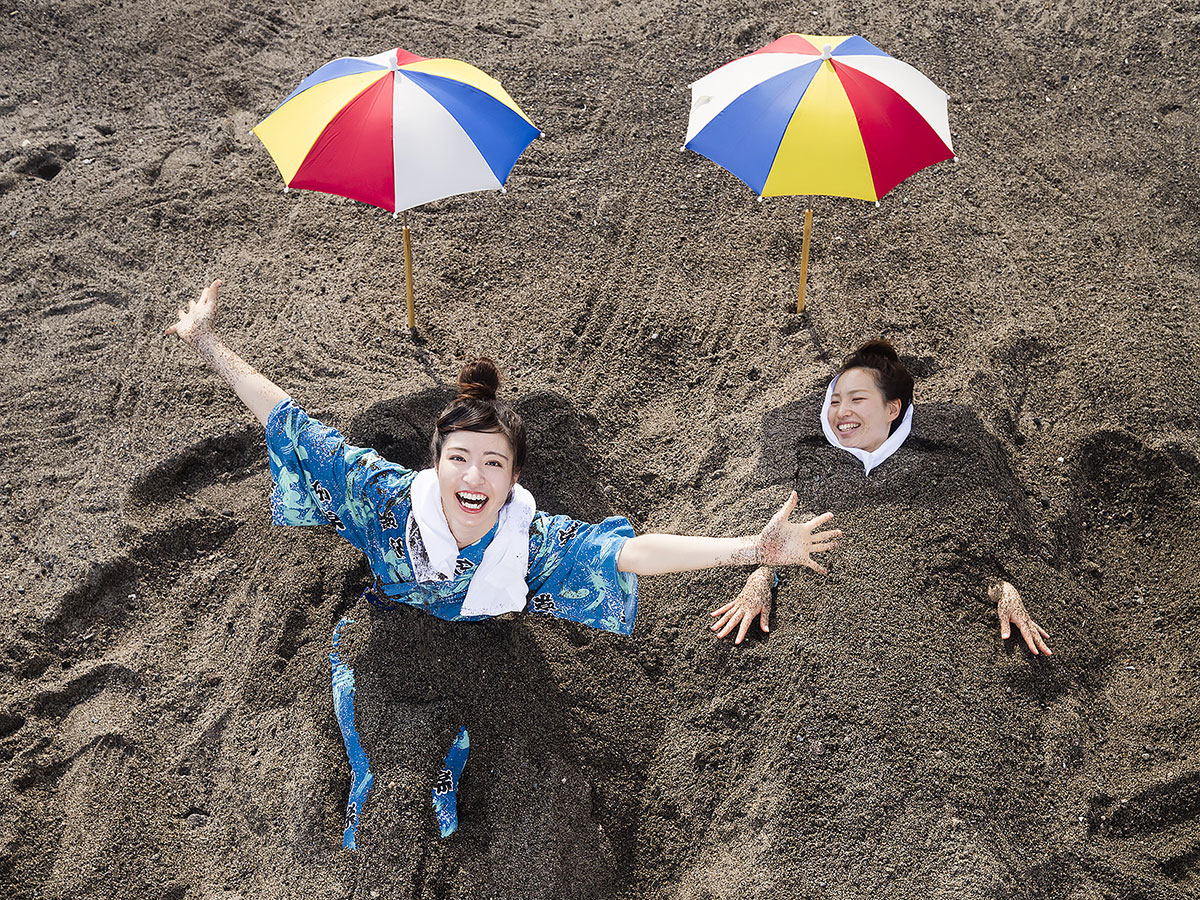 There are over 1000 places where sources of hot springs gush forth throughout Ibusuki City. The world's only natural "sunamushi onsen," or sand bath, is highly effective for both detoxing and relaxing.
Victoria Brewood

Following our visit to the lookout spot we visited another onsen called Tamatebako, which has two gender-segregated hot spring baths with views of Mount Kaimon. We didn't bathe here but we did get to enjoy the scenery.

Ryugu Jinja shrine is located on a cape in southern Kagoshima, and it is here that Oto-Hime (Princess of the Dragon Palace) is said to be enshrined. There is a custom for visitors to write wishes on sea shells, so I wrote my down my wishes, offered a coin and then rang the bell to make my wish come true. We then walked to the Nagasaki-bana Lighthouse to admire the views of the ocean and Mt. Kaimon.

To finish up the day, we visited Nishi-Oyama station, which is the southernmost JR station in Japan. Because this train station has incredible views of Mount Kaimon, the time waiting for a train seems to be short. Truly the most breathtaking train station I've ever seen on my travels!

At Kagomma Furusato Yataimura, we spent the evening bar hopping, enjoying different foods such as meat skewers and kurobuta pork. The atmosphere here is very lively and is a popular place for people to relax and enjoy a beer or glass of shochu after work. I had so much fun trying different types of foods and some local plum wine.

Kathryn Wortley

We passed another sand bath, Sayuri, which is a 30-minute drive from downtown Ibusuki. Fushime Kaigan is also home to Kagoshima's former salt manufacturing site. You can see the steam rising from the old salt plains and feel the salt on the air.

This fascinating coastal shrine is unlike any other in Japan. Its orange-red and white colours are a beautiful contrast to the sea that surrounds it. Rather than write a wish on a wooden board, visitors write their wish on a large shell and place it in a jar or with a nearby statue of Urashima Taro and a turtle.

The southernmost JR station in Japan was a picture-perfect place to snap a photo of Mount Kaimon, the sole railway track and the lush surrounding fields. The most southerly post box in Japan is also at the station, painted yellow rather than red in recognition of its special location.

Kagomma Yataimura's line of red lanterns is welcoming. Once inside, you will find 25 tiny eating and drinking establishments, each with about eight seats, friendly local customers and helpful staff. We enjoyed moving from bar to bar, trying local delicacies such as satsuma-age and gane.
Kagoshima Kotsu Bus (local: Ibusuki Station)
Sunamushi Kaikan to Ibusuki Station 4 minutes
* Or 8 minutes on the "Iburin" rental bicycle
JR Ibusuki Makurazaki Line for Kagoshima Ibusuki Station to Kagoshima-Chuo Station 1 hour 10 minutes
Hotel in Kagoshima City
Day
4
Hotel in Kagoshima City
Victoria Brewood

The Kirishima Open Air Museum consists of a number of different art pieces and sculptures designed by artists around the world, which are spread across a large park at the foot of Mount Kirishima. We walked through the forest areas, discovering different art works along the way.

Lunch on our last day was a special treat, since the Wasure-no-sato Gajoen was set in a beautiful forest landscape. The ryokan had a traditional Japanese atmosphere, so we took off our shoes and we were served a selection of dishes, including chicken sashimi, egg roll, pork and soup. Hospitality here was excellent.

Kathryn Wortley

Nestled in 13 Hectare in the foothills of Mount Kirishima lie dramatic pieces of contemporary art by artists from across the world. We enjoyed reclining on the golden picture frames on the manicured lawns and spotting all Antony Gormley's statues hiding among the trees.

In this restaurant, which is surrounded by a forest, chickens roamed the yards and staff source all ingredients from the local area. We had the sense of being in a place where time forgot, thanks to the historic buildings and tools on display. Lunch was a delicious set meal comprising numerous small dishes.
Hotel shuttlebus
Hotel to Kagoshima-Chuo Station (Airport limousine pickup point), around 30 minutes
Kagoshima Airport Limousine Bus 45 minutes
Kagoshima Airport
ANA (ANA Expericence JAPAN Fare) Show details
Haneda Airport
Victoria Brewood

In the trip in Tokyo, I loved trying eel for the first time and walking through the Minowa Shopping Street. The SkyBus allowed me to see the city from a different perspective and I loved being able to see some of the major landmarks.
I really enjoyed my trip to Kagoshima and found the place to be very beautiful. What I loved most about the prefecture was the friendliness of people, the foods and the incredible views. I would definitely return to Kagoshima as three days wasn't enough time to uncover all the things that the prefecture has to offer.

Kathryn Wortley

Though I have lived in Tokyo for four years, the tour was a reminder of all the things in the city still to do, such as a night ride by bus across Rainbow Bridge to see the lights of the city. Though at the forefront of cutting-edge technology, Tokyo is also steeped in history. Riding the Toden-Arakawa line, which is the streetcar system remaining in Tokyo, and embarking for Joyful Minowa Shopping Street felt like an experience undertaken by local people for decades. At under two hours by plane, the journey from Tokyo to Kagoshima felt short and easy. Though near, Kagoshima remains culturally distinct from Tokyo, making it a region worth exploring, to understand more about Japan. Kagoshima is rich in wonderful onsen, food, hospitality, scenic spots and fun activities.
RECOMMENDATIONS FROM OTHER TRAVELERS
Visiting both Tokyo and Kagoshima, it was nice to experience different sides of Japan.My 24 hours spent in Tokyo allowed me to see a more "local" side of Tokyo, instead of visiting the typical tourist areas. In Kagoshima,The majestic Sakurakima volcano is breathtaking and there are many ways you can feel its presence. I also really enjoyed discovering the typical foods and drinks of Kagoshima, including shochu, Kurobuta Pork "black pork" and chicken sashimi. Kagoshima has a very different vibe to Tokyo and I found it to be a really relaxing place.
Victoria Brewood

Travel blogger
Reside in UK

Hobby

solo travel, food and photography.

Number of visits to Japan

Second visit to Japan
RECOMMENDATIONS FROM OTHER TRAVELERS
This tour first showcased Japan's capital of yesteryear and some of the many off-the-beaten-track spots waiting to be explored. Next, we travelled to Kagoshima, a region brimming with unspoilt scenery, culinary delicacious, exciting activities and friendly local people.
Kathryn Wortley

Travel writer and journalist
Reside in Tokyo
Home country: United Kingdom

Hobby

Travel

Length of stay in Tokyo

Currently lives in Tokyo for five years
Other recommended route in same area