FEEL THE EARTH
After appreciating Thirty-six Views of Mount Fuji, a masterpiece of one of the most famous ukiyo-e painter, Hokusai Katsushika at the Sumida Hokusai Museum where possesses and exhibits his works, head to Sakurajima, active volcanoes in Kagoshima prefecture. Amazing trip to feel power of the earth.

Official Tokyo Travel Guide
https://www.gotokyo.org/en/

Local government official website
http://www.kagoshima-kankou.com/for/


COMING SOON!


Two people are traveling this route right now!
Their travel reports will be posted soon.
London Heathrow Airport
ANA212 Examine the directions from your country
Haneda Airport
Tokyo Metropolitan Area
Day
1
TOKYO
Toei Streetcar (Toden) Arakawa Linemore
Toei Streetcar (Toden) Arakawa Line is a streetcar that runs from Minowa of Taito-ku, a neighborhood that very much retains the Shitamachi (old Tokyo downtown) atmosphere, to Waseda, known as the site of the university by the same name. The gentle ride is so laid back it's hard to believe that this is an actual means of transport in Tokyo.
Visitors can enjoy sights that are well off the beaten track to their hearts' content, including shopping centers, Arakawa Yuen, Asukayama Park, Togenuki Jizoson Kogan-ji Temple, and Kishimojin. Nothing can beat a trip along the Toei Streetcar (Toden) Arakawa Line for those who want a taste of local life.
Tokyo Metro Hibiya Line Minowa-->Akihabara
Around 30 minutes/310 yen
JR Chuo Line Akihabara-->Ryogoku
Sumida Hokusai Museummore
RECOMMENDED DESTINATIONS
Katsushika Hokusai, praised as a world-class artist, was born near Hokusai Dori in what is now known as Sumida Ward, and spent most of his 90-year life in the ward, leaving behind many excellent works.
In addition to showcasing Hokusai's works, the museum conducts exhibitions and educational outreach projects with diverse themes that convey the relationship between Hokusai and Sumida in an easy-to-understand manner.

JR Sobu Line local train
Ryogoku-->Akihabara
JR Yamanote Line
Akihabara-->Tokyo
11 minutes/160 yen
3 minutes by foot from Tokyo Station Marunochi South Exit
SKY BUS TOKYO(Odaiba Night Course)more
On the Odaiba Night Course, the two-story open-deck SKYBUS TOKYO takes passengers to see the Tokyo Tower lit up against the night sky and also goes directly beneath the Rainbow Bridge. Since the SKYBUS TOKYO also takes highways along the way, passengers can feel like they are on a theme park attraction.
The SKYBUS TOKYO stops at Aqua City in Odaiba and allows passengers one hour of free time to get something to eat or take a commemorative photo with the Statue of Liberty and Rainbow Bridge in the background.
This two-hour tour is the perfect way to enjoy many of Tokyo's night spots in a short amount of time.
Tokyo Metropolitan Area
Day
2
KYUSHU(KAGOSHIMA)
Haneda Airport
ANA (ANA Expericence JAPAN Fare) Show details
Kagoshima Airportmore
Kagoshima Airport is located about 28km northeast of Kagoshima City atop the Jusanzukabaru plain, which offers views of the Kirishima mountains to the east and Sakura-jima to the south. This provides the perfect location as the gateway to Kagoshima. On sunny days, head to the rooftop observation deck to watch all sorts of airplanes take off and land, from turboprops to large jets, all backed by magnificent views of the Kirishima mountains. Kagoshima Airport also offers shops selling a huge selection of goods from Kagoshima, including delectable sweets, specialty foods from Kagoshima, and arts and crafts made by local artisans. Check out the retro Eames shell chairs in the domestic departures lobby that make the airport chic.
Sakura-jimamore
RECOMMENDED DESTINATIONS
Sakura-jima, floating in Kinko Bay, is the symbol of Kagoshima. It was previously, as its name suggests, an island (jima = island), but lava flowing from the 1914 Taisho eruption of the island's volcano filled in the strait between the mainland and the island, and it became part of the Osumi Peninsular. There are around 4,600 people who live on this volcanic island, with its frequent eruptions, and they enjoy the blessings of the volcano, including crops such as the Sakurajima daikon and Sakurajima mandarin oranges, abundant hot springs, and views of mountains and villages.
Sakurajima Ferry Terminal Sakura-jima side to Kagoshima side 15 minutes, 160 yen
Kagoshima City Tram Suizokukan-guchi to Kagoshima-Chuo Station 15 minutes, 170 yen
Hotel in Kagoshima City
Day
3
Hotel in Kagoshima City
Hotel shuttlebus
Kagoshima-Chuo Station West Exit to hotel, around 20 minutes, no charge
Express Ibusuki no Tamatebakomore
Head to Ibusuki on this train, designed around the theme of the legend of the Dragon's Palace told on Satsuma Peninsular in Kagoshima Prefecture. This train has an interesting monotone exterior, and a stylish wooden interior. The train produces white smoke when people board, referring to Urashima Taro's treasure box, and the white smoke that came from it.
Power assisted rental bicycle
Approx. 18 minutes, 500 yen (up to 2 hours)
Chiringashimamore
Chiringashima, or Chirin Island, is also known as the "marriage island." You can walk here across the sandy "Chiririn Road," an 800 meter sandbank that appears at low half-tide and low Spring tide from March to October.
Kagoshima Kotsu Bus (local: Nagasakibana, Kaimondake, Ikeda-ko)
Eco-camp-jo Iri to Ibusuki Station 10 minutes
* Or 18 minutes on the "Iburin" rental bicycle
4 minutes by Kagoshima Kotsu Bus (Local bus: Nagasakibana, Kaimondake, Ikedako route)
from Ibusueki Sta. bus stop to Sand Bath Hall bus stop
*Or 8 minutes by Iburin rental cycle.
Sunamushi Onsenmore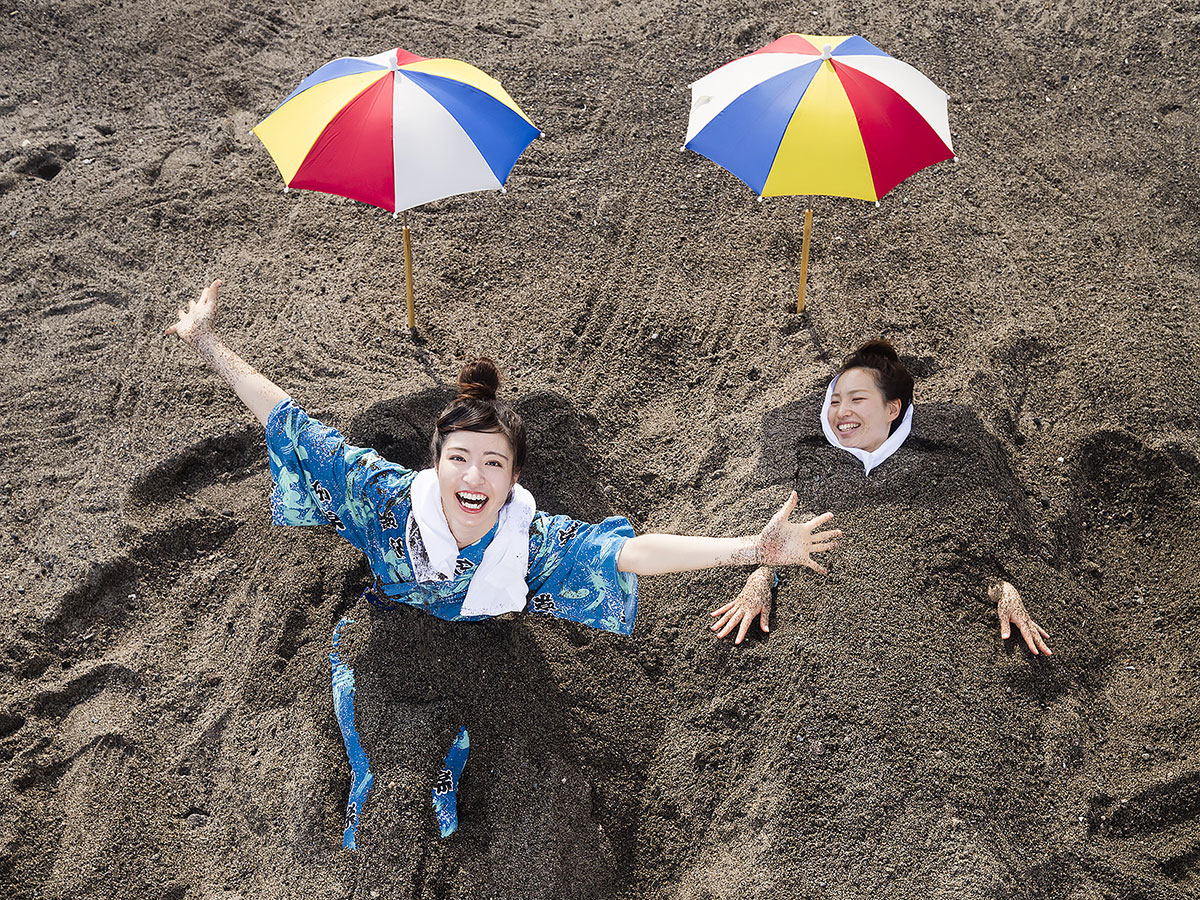 There are over 1000 places where sources of hot springs gush forth throughout Ibusuki City. The world's only natural "sunamushi onsen," or sand bath, is highly effective for both detoxing and relaxing.
Kagoshima Kotsu Bus (local: Ibusuki Station)
Sunamushi Kaikan to Ibusuki Station 4 minutes
* Or 8 minutes on the "Iburin" rental bicycle
JR Ibusuki Makurazaki Line for Kagoshima Ibusuki Station to Kagoshima-Chuo Station 1 hour 10 minutes, 1,000 yen
Hotel in Kagoshima City
Day
4
Hotel in Kagoshima City
Hotel shuttlebus
Hotel to Kagoshima-Chuo Station (Airport limousine pickup point), around 30 minutes, no charge
Kagoshima Airport Limousine Bus 45 minutes, 1,250 yen
Kagoshima Airport
ANA (ANA Expericence JAPAN Fare) Show details
Haneda Airport
Other recommended route in same area