REFRESHING BREEZE IN GREEN STILLNESS
At the Shunkaen Bonsai Museum, you can try making a bonsai that condenses the majesty of nature into one small pot, while receiving basic instructions from a teacher, all for a reasonable price.
Afterwards, you can set out on a soothing trekking journey that helps you forget the troubles of everyday life, as you gaze on the rich waters, lush moss, and charming old trees of Kagoshima's Shiratani Unsuikyo Ravine.

Official Tokyo Travel Guide
https://www.gotokyo.org/es/

Local government official website
http://www.kagoshima-kankou.com/for/


Viajeros
Traveled : July, 2020

Christopher Lawson

Content Creator
Lugar de residencia Japan
País de origen: Glasgow in Scotland
Primer día
TOKYO
Museo de BONSAI Shunka-En more
DESTINOS RECOMENDADOS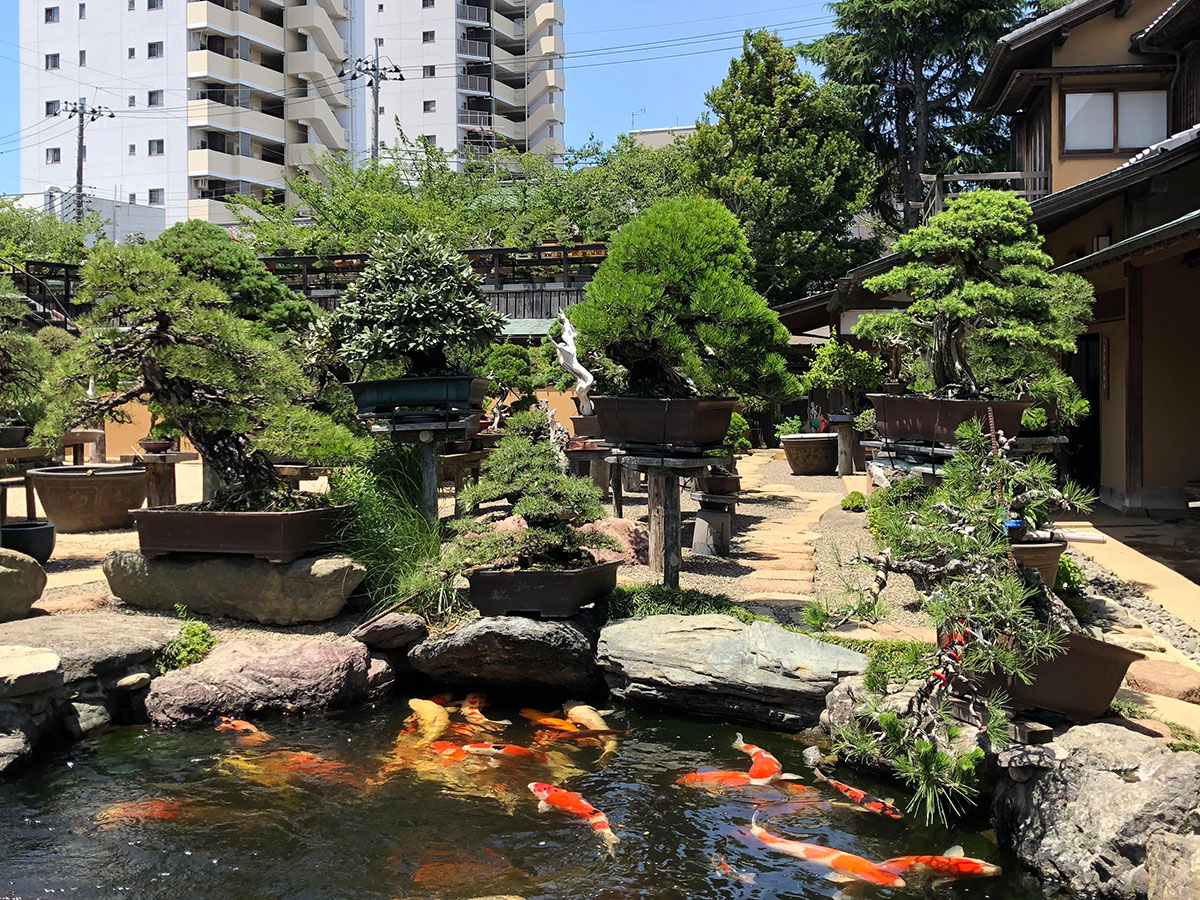 El bonsái es el arte de crear la inmensa naturaleza en una pequeñísima maceta. El Museo Shunkaen Bonsai nació en 2002 gracias a la idea del creador de bonsáis, Kunio Kobayashi, galardonado con el Premio del Primer Ministro del Gobierno de Japón, uno de los tres galardones más prestigiosos del país, y con el Premio de Cultura Higashikuninomiya. El señor Kobayashi desea difundir este arte en todo el mundo a través de este museo, donde hay un estanque con unas preciosas carpas nadando y una solemne casa diseñada al estilo japonés, con más de mil macetas de bonsái alineadas. Cada maceta recrea un mundo diferente, del que emana un ambiente lleno de hermosura y serenidad.
Se organizan talleres (de pago) en inglés y chino para que los participantes comprendan los atractivos de este arte. Las clases se reservan con una antelación máxima de tres días y le ofrecen todas las herramientas y bonsáis, así que no hace falta llevar nada al taller y, si quiere, puede quedarse con el bonsái que haya arreglado usted mismo pagando un precio adicional. ¡Déjese seducir por esta hermosura!

Christopher Lawson

The Shunkaen Bonsai Museum is a tranquil oasis on the outskirts of Tokyo. It features over 1,000 bonsai trees created and maintained under the careful eye of Kunio Kobayashi, one of the world's leading bonsai craftsmen. You can experience pruning your own bonsai tree, which you can take away as a souvenir, or simply take your time strolling among the beautiful trees, which are all unique and at various stages of growth. The museum also exhibits some of the finest trees in a beautiful traditional-looking building that incorporates wood from Yakushima cedar trees, creating a relaxing natural space where traditional tea ceremonies are held. The staff are friendly and informative, with English explanation and information available.
Bus 20 minutes
train (JR 40 minutes)
Meiji Jingumore
Este santuario sintoísta fue establecido en 1920 y está consagrado a los espíritus deificados del emperador Meiji y su esposa, la emperatriz Shoken. El extenso bosque alrededor del santuario en el centro de la ciudad fue creado artificialmente mediante la plantación de cien mil árboles donados por personas de todo el país.
El santuario atrae el mayor número de fieles y visitantes cada año durante hatsumode, a principios del nuevo año.
Christopher Lawson

Meiji Jingu shrine is located near one of Tokyo's busiest stations, Harajuku Station, which is on the JR Yamanote line and borders Yoyogi Park. This shrine was dedicated to Emperor Meiji and Empress Shoken in 1920 and offers a tranquil space away from the bustling areas that surround it. The shrine was destroyed during World War II but was rebuilt to what it is today. The main complex is certainly worth a visit; it is easy to see why three million visitors come to the shrine during the annual New Year celebrations. Visitors can enjoy several Shinto activities and may be lucky enough to watch one of the many traditional Shinto weddings that take place at the shrine each year. What really makes this shrine stand out from other shrines in Japan is the vast wooded grounds. More than 100,000 trees, which were transported from across Japan, create a peaceful escape from the busy city that lies at the other side of the massive torii gate. The shrine also hosts the Inner Garden and the Meiji Jingu Museum, which newly opened in 2019 and hosts a vast collection from the Meji Era.
By foot 10 minutes
Calle Harajuku Takeshitamore
La calle principal de Harajuku está llena de artículos "kawaii" procedentes de todo Japón. Esta calle de 350 metros de largo está flanqueada hasta sus extremos por tiendas en las que se venden artículos de moda, creps, fotomatones y artículos diversos, tiendas de artículos a 100 yenes para los jóvenes, entre otras. La calle a menudo está abarrotada de gente, incluidos muchos visitantes extranjeros, durante los fines de semana y las vacaciones de verano. También hay callejones repletos de restaurantes populares que tienen cola para entrar. El Centro de Información Turística de Harajuku está situado cerca de la intersección al final de la calle Takeshita.
Christopher Lawson

If not one of the busiest shopping streets in Tokyo, Takeshita Street in Harajuku is certainly the brightest and most colourful. This pedestrian street is over 400 meters long and full of an array of independent stores, small boutiques, as well as some of the major retail brands that often use this location to test the response for new products, trends, and prototypes. With a range of cafes and reasonably priced restaurants, including several crepe shops offering a range of toppings and fillings, no wonder this area is a favourite of young people.
Área metropolitana de Tokyo
Segundo día
KYUSHU(KAGOSHIMA)
Aeropuerto Internacional de Haneda
JAL (JAL Japan Explorer Pass) Mostrar detalles
Christopher Lawson

Like most international airports, I found Haneda airport English-friendly. It certainly offers a number of restaurants and shops to pass the time.

The flight from Tokyo to Yakushima was trouble-free, with the usual high standard of customer service that Japanese airlines are renowned for, as well as on-time departure and accommodating staff.
I certainly enjoyed the refreshing kiwi juice that I choose from the range of complimentary soft drinks JAL had on offer.
Yakushima Airport
Christopher Lawson

Yakushima Environmental and Cultural Village Center; Located close to Miyanoura Port, Yakushima Environmental and Cultural Village Center offers a great chance to learn about the unique nature and culture of Yakushima. The exhibition hall displays include a range of models, information panels, videos, samples, and images, making learning easy, interactive, and fun for children as well as adults. The center also shows an interesting and appealing 25-minute video called "Yakushima, Symphony of Forest and Water," which is shown in the large-screen of the theatre hall.

Yakushima Visitors Center; Yakushima Visitors Center is a one-stop shop to get all the information you could possibly need about sightseeing tours, accommodation, hiking routes, and local areas. All hiking and outdoor equipment that you would require can be rented, and bus tour tickets can be purchased. The visitors center also offers you the chance to see and purchase over 5,000 local products.
Taxi 40 minutes
Seibu Rindo Forest Pathmore
On the western side of the island, the coastal road connecting Kurio and Nagata settlements is called the Seibu Rindo Forest Path, and is surrounded by untouched forests. It is the only place where you can drive a car through a World Heritage zone, where the untouched forest spreads out for around 20 kilometers. You can meet wild Yakushima macaques and Yakushima deer in this area. You may even see a macaque riding a deer.
Christopher Lawson

Located on the western part of Yakushima is a 15km road that is included within the island's World Heritage Site due to the evergreen forest that surrounds it. The route is like a tunnel of green through which you can slowly take a drive through, looking out for the many wild animals in the area. The endangered Yakushima white pine trees and the giant Gajomaru trees, with their air roots hanging down, can be viewed along the route.
Taxi 10 minutes
Ohko-no-taki Waterfallmore
A magnificent waterfall chosen as one of the Top 100 Best Waterfalls in Japan. It is the tallest waterfall in Kyushu, at 88 meters from the clifftop, and the tremendous splash of cascading water is the true definition of dynamic. While you will be splashed with water, you can walk right underneath the basin. The Ogawa Spring gushes forth from between the rocks surrounded by trees nearby, and has long been said to be good for your health if you drink it.
Christopher Lawson

Rated as one of the top 100 waterfalls in Japan, Oko no Taki is the largest waterfall on Yakushima Island. Standing at the base, looking up and seeing the roaring water descend from the 88-meter-high cliff is spectacular. It is a popular destination during the hot summer months, which is understandable as the cool spray gives a nice release from the heat.

Yakusugi Land; Yakusugi Land is the most accessible area in which to see the island's beautiful ancient sugi (cedar) trees, which are over a thousand years old. Taking a relaxing stroll through this park gives you a sense of peace and tranquillity. There are several trails in the park that lead you to Buddha sugi, Futago sugi, and Sennen sugi, which are all trees worth seeing.
Taxi 105 minutes
Christopher Lawson

sankara HOTEL & SPA YAKUSHIMA; This hotel really is the last word on elegance, luxury, and style, with 29 guestrooms in 12 villas dotted throughout the tranquil, wooded grounds. Each standard villa features its own distinctive bedroom, living area and multi-purpose room. Renowned for its five-star spa experience, the Sankara spa, Sana, is the perfect place to re-energise body and mind. The Sankara's magnificent outdoor pool, with spectacular poolside views of the East China Sea, certainly makes a visit worthwhile. The Sankara follows a special concept when it comes to its cuisine: "local production for local consumption." They take local, seasonal island ingredients and create the finest dining experience.
Tercer día
Shiratani Unsuikyo Ravinemore
DESTINOS RECOMENDADOS
Shiratani Unsuikyo Ravine is a popular spot where even those who are not confident in their physical abilities can easily appreciate the primeval forests of Yakushima, including the yakusugi trees that are over 1,000 years old. This area is called the Mononoke Forest, as it became the inspiration for the setting of the film "Princess Mononoke." At 1,050 meters above sea level, Taikoiwa Rock offers beautiful views of Mt. Miyanoura and the Anbo River.
Christopher Lawson

Shiratani Unsui Gorge is like an enchanted forest. It features magnificent woodlands, moss-covered stones, and fresh-water streams. There are a number of trails to follow, ranging from a one-hour walk past the 3,000-year-old Yayoi Sugi tree to a 5–6-hour walk through the mossy primeval forest landscape that helped inspire Miyazaki Hayao's animation "Mononoke Hime." On a clear sunny day, the stunning panoramic views from Taiko Iwa (Taiko Rock) makes the 6-hour hike worth it, especially in spring when the mountain is covered in cherry blossom.
Taxi 50 minutes
Nagata Inakahama Beachmore
Inakahama Beach is one of the precious few sand beaches in Yakushima. It is known as the largest site in the north pacific where sea turtles come to lay their eggs, and is registered by the Ramsar Convention as valuable wetlands.
From June to mid-July, the beach welcomes the peak season for loggerhead turtles to lay their eggs, and at its peak, you can see more than 20 large loggerhead turtles with a total length of 1 meter or more overnight.
Christopher Lawson

Located on the northwest with views of Kuchinoerabu Island, home of active volcano Mt. Furudake, Nagata Inakahama Beach is the perfect location to watch the sunset. The beach also offers a chance to see Loggerhead sea turtles as it is their largest nesting ground. From late April to early August, the turtles come ashore at night to bury their eggs. From early July to late September, the eggs hatch. What an incredible sight to witness the hatchlings pop their heads out of the sand for the first time before finding their way back to the sea.
Taxi 40 minutes
Christopher Lawson

Cottage Davis Yakushima; Since 2018, Cottage Davis Yakushima has been offering a beautiful, bright cottage as self-catering accommodation that can sleep up to 5 adults. It has a veranda where you can sit and relax facing the sea, and plenty of room to spread out and relax. This is the ideal accommodation for those who wish to have the freedom to do what they want. The cottage has all the equipment and utilities to cater for yourself, but I would also highly recommend visiting the on-site restaurant, which offers lunch and dinner. The cuisine uses the finest local produce and can be accompanied by delightful wines from their extensive wine list.
Cuarto día
Miyanoura Port
Christopher Lawson

This Tokyo and Yakushima trip offers the perfect chance to experience Japanese culture, with visits to the bonsai museum and the colourful Takeshita Street in Harajuku. You also get to encounter the peace and natural beauty of Yakushima. Certainly, for me the highlight was seeing the sea turtles hatching, which was such a special experience.
RECOMENDACIONES DE OTROS VIAJEROS
Christopher Lawson

Content Creator
Lugar de residencia Japan
País de origen: Glasgow in Scotland

Aficiones

Traveling and sports

Duración de su estancia en Tokyo

12 years
Otra ruta recomendada en la misma área