NATURE MEETS TECHNOLOGY
Experience the world of cutting edge digital art in Odaiba, Tokyo, and then set course for remote islands in Nagasaki Prefecture. Here, you get to try some extra-special camping, called "glamping." Enjoy a refined journey that blends cutting edge technology and nature.


Official Tokyo Travel Guide
https://www.gotokyo.org/en/

Local government official website
http://www.visit-nagasaki.com/


COMING SOON!


Two people are traveling this route right now!
Their travel reports will be posted soon.
Paris Charles De Gaulle Airport
JAL Examine the directions from your country
Haneda Airport
Tokyo Metropolitan Area
Day
1
TOKYO
teamLab Borderless Odaibamore
RECOMMENDED DESTINATIONS
The Art Collective teamLab has created a museum without a map with a world of art without boundaries in Odaiba.
Borderless art moves out of rooms, communicates with other works, is influenced, interacts without boundaries and sometimes mixes with other works. It is one world connected continuously without boundaries by such groups of artwork.
Immerse your body in borderless art in this vast, complex, three-dimensional 10,000 square meter world. Wander, explore with intent, and create a new world with others. Visit teamLab Borderless to discover this world.

Train
Around 12 minutes
Train (JR)
Around 10 minutes
Shibuyamore
Shibuya district is the origins of youth culture. You will find several famous restaurants, bars, night clubs and live music venues flourishing among rows of stylish department stores and shops with a constant vibrant and youthful atmosphere. Shibuya is definitely the place to go to if you want to get the latest kawaii (cute) trends published in magazines. In addition, you can also enjoy dining at fashionable cafés and affordable eateries. Situated in front of Shibuya Station are some of the district's landmarks such as the statue of Hachiko and the "Shibuya Scramble Crossing."
Train (JR)
Around 3 minutes
Ebisu Yokochomore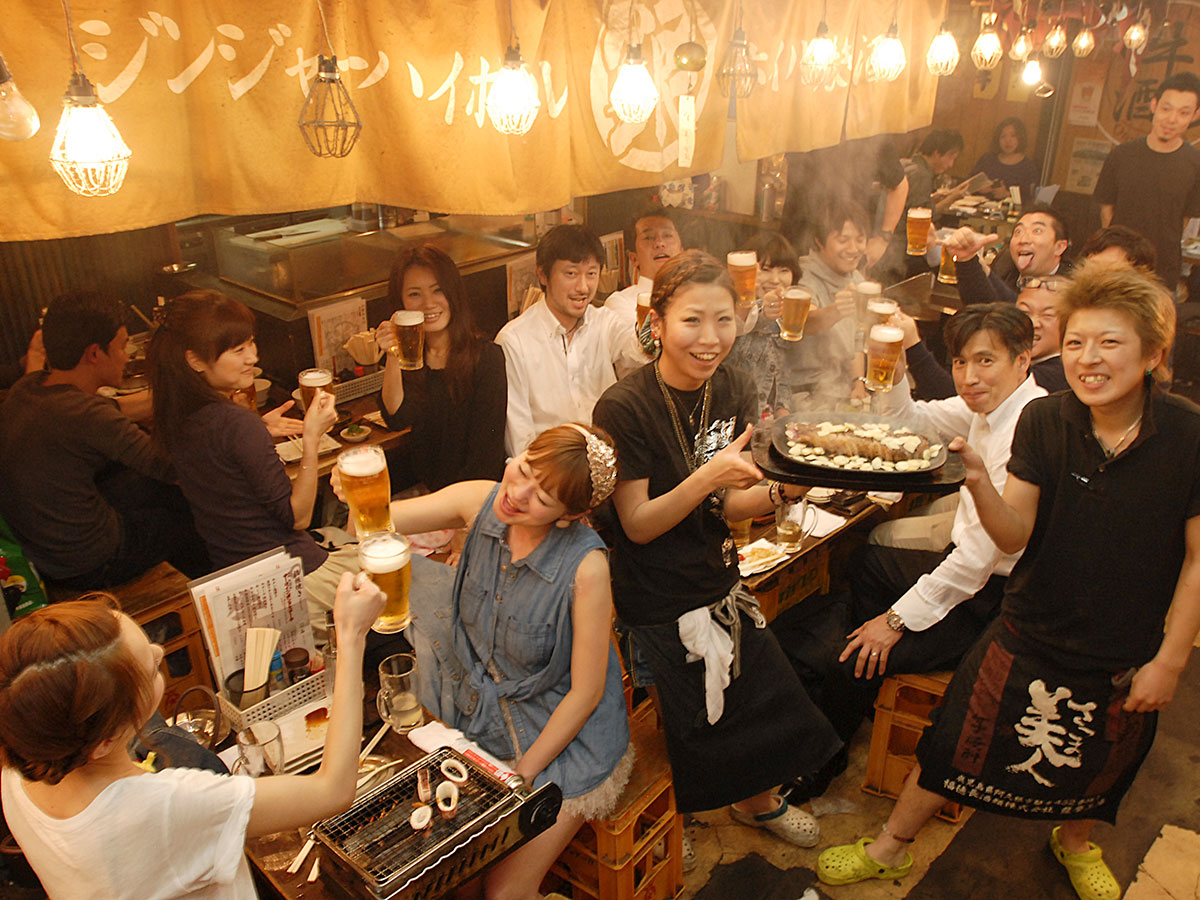 The neon signs and glowing red lanterns tell you you are at Ebisu Yokocho. It is a bustling bar and restaurant district under an arcade. It is the perfect first stop on a night of fun with its variety of shops ranging from stylish wine bars, kushiyaki grilled skewer shops and places specializing in mushrooms, to yakiniku grilled meat restaurants. It is also a great place to make new friends. It is best to go barhopping at night when all of the bars and restaurants are open.
Tokyo Metropolitan Area
Day
2
KYUSHU(NAGASAKI)
Haneda Airport
JAL (Japan Explorer Pass) Show details
Nagasaki Airportmore
Nagasaki Airport is an international airport with regular flights to Shanghai and Seoul.
It was the first airport in the world to be built in the ocean from reclaimed land.
The tourist information desk on the first floor provides information covering the entire prefecture of Nagasaki.

Airplane
30 minutes
Taxi
15 minutes
Nordisk Village Goto Islandsmore
RECOMMENDED DESTINATIONS
Glamping on the Goto Islands is the perfect way to enjoy nature and luxury together on this beautiful and quiet campground. The tents are equipped with proper mattresses, heaters, and many modern entertainment accessories. There are also multiple dinner options available such as a four set course meal, barbeque set, or DIY. This experience will make you feel fully recharged and ready for another fun day of exploring the Goto Islands.
Day
3
Nordisk Village Goto Islands
Taxi
50 minutes
Osezaki Lighthouse & Hiking Trailmore
The Osezaki Lighthouse is located at Osezaki Cliff, which was formed by erosion from the wild waves from the East China Sea. The beautiful hiking trail that leads up to the lighthouse is a beginner to intermediate level trail that takes roughly 1 hour (round trip). Once at the lighthouse platform, the ocean view with the Osezaki Cliff is breathtaking.
Ferry
170 minutes
Experience the Kominka Stay - A Traditional Japanese Housemore
A total of six "Kominka" houses (aka traditional Japanese houses) that are over 100 years old have been renovated and transformed into gorgeous accommodation facilities. Each kominka has a traditional wooden exterior and a decorative interior equipped with modern furnitures. The Kominka Stay lets you experience tradition while having the convenience of modern technology, and it is a fun way to spend the night with family or friends.
Day
4
Experience the Kominka Stay - A Traditional Japanese House
Ferry
90 minutes
Kujukushima Pearl Sea Resortmore
The Kujukushima Pearl Sea Resort offers many water activities such as cruising around the Ninety-Nine Islands, sea kayaking and yacht sailing. There is also an aquarium within the resort that showcases the marine creatures that inhabit the nearby sea. In the evening, the stunning sunset view of Kujukushima from Ishidake Observatory is highly recommended.
Express bus
105 minutes
Nagasaki Airport
JAL (Japan Explorer Pass) Show details
Haneda Airport
Other recommended route in same area