NATURE MEETS TECHNOLOGY
Experience the world of cutting edge digital art in Odaiba, Tokyo, and then set course for remote islands in Nagasaki Prefecture. Here, you get to try some extra-special camping, called "glamping." Enjoy a refined journey that blends cutting edge technology and nature.


Official Tokyo Travel Guide
https://www.gotokyo.org/en/

Local government official website
https://www.discover-nagasaki.com/en


TRAVELER
Traveled : September, 2019

Fabrice Dubesset

Travel blogger
Reside in France

Traveled : September, 2019

Claire LEDOUX

Employee in Japan and reporter for Kanpai! (a French guide to traveling in Japan)
Reside in Tokyo
Home country: France
Paris Charles De Gaulle Airport
JAL Examine the directions from your country
Fabrice Dubesset

JAL international flight: The JAL flight from Paris to Tokyo was around 11 hours but it didn't feel like it. JAL is one airline I recommend taking to Japan. I had a pleasant trip due to the excellent service and generous seating space, which will be appreciated by larger people. The in-flight meals are, of course, substantial, and the great selection of movies available your seat make your time spent during the flight even more comfortable.
Haneda Airport
Tokyo Metropolitan Area
Day
1
TOKYO
teamLab Borderless Odaiba(Closed down on August 31, 2022)more
RECOMMENDED DESTINATIONS
The Art Collective teamLab has created a museum without a map with a world of art without boundaries in Odaiba.
Borderless art moves out of rooms, communicates with other works, is influenced, interacts without boundaries and sometimes mixes with other works. It is one world connected continuously without boundaries by such groups of artwork.
Immerse your body in borderless art in this vast, complex, three-dimensional 10,000 square meter world. Wander, explore with intent, and create a new world with others. Visit teamLab Borderless to discover this world.

Fabrice Dubesset

teamLab Borderless Odaiba: teamLab Borderless Odaiba is an unforgettable and unique space. This digital art museum immerses you in a mysterious and dreamy world.
Each room is a series of galleries where various plays of light take you to another world.
As you explore the new world, your own body creates a world of art. The museum also has a tea ceremony room that offers a unique experience. Everything in this space is magical.

Lunch at DATENARIYA: Odaiba is a popular district full of concert halls, shops, and entertainment facilities. Datenariya at VenusFort is a Japanese restaurant for meat-lovers, especially beef tongue. It is the perfect restaurant to take a break before your next adventure.

Claire LEDOUX

MORI Building DIGITAL ART MUSEUM: teamLab Borderless Odaiba is a place where you can have a fantastic sensory experience. With gentle music playing in the background, you can touch the walls and enter projections, and enjoy different sights, sounds, and sensations. The museum feels as if it is alive with moving works projected on the walls. Time seems to stand still here, so it is possible to ponder and meditate on things. I recommend seeing En Tea House for its incredible creativity.

Lunch at DATENARIYA: The meat at this restaurant specializing in beef tongue is superb and I was quite surprised. The restaurant has a very clean and bright dining space with a relaxing atmosphere. The staff were also very kind and attentive in their service. The restaurant offers specialty products from Sendai and Miyagi Prefecture.
Train
Around 12 minutes
Train (JR)
Around 10 minutes
Shibuyamore
Shibuya district is the origins of youth culture. You will find several famous restaurants, bars, night clubs and live music venues flourishing among rows of stylish department stores and shops with a constant vibrant and youthful atmosphere. Shibuya is definitely the place to go to if you want to get the latest kawaii (cute) trends published in magazines. In addition, you can also enjoy dining at fashionable cafés and affordable eateries. Situated in front of Shibuya Station are some of the district's landmarks such as the statue of Hachiko and the "Shibuya Scramble Crossing."
Fabrice Dubesset

Shibuya: Shibuya is a part of Tokyo that you must see. The waves of people passing through the giant scramble intersection oozes Shibuya. Shibuya is also famous for the story of Hachiko, and it also offers numerous restaurants and high-rise commercial complexes. Every evening, the dog Hachiko waited for his master at Shibuya Station, and his statue is now famous as a meeting place.

Claire LEDOUX

Shibuya: After enjoying some sights, such as the statue of a dog named Hachiko, the symbol of Shibuya, a huge intersection, and taking some Purikura photos, I visited the new Shibuya. The restaurants and cafes inside Shibuya Stream, which opened in 2018, are state-of-the-art and I was able to enjoy a modern ambience. Walking along the well-maintained promenade along the river takes you to an area called Ebisu. On the way, we passed Shibuya Bridge, designed with a train station platform in mind. Construction of this area will be completed in 2027, which promises to deliver more beautiful discoveries.
Train (JR)
Around 3 minutes
Ebisu Yokochomore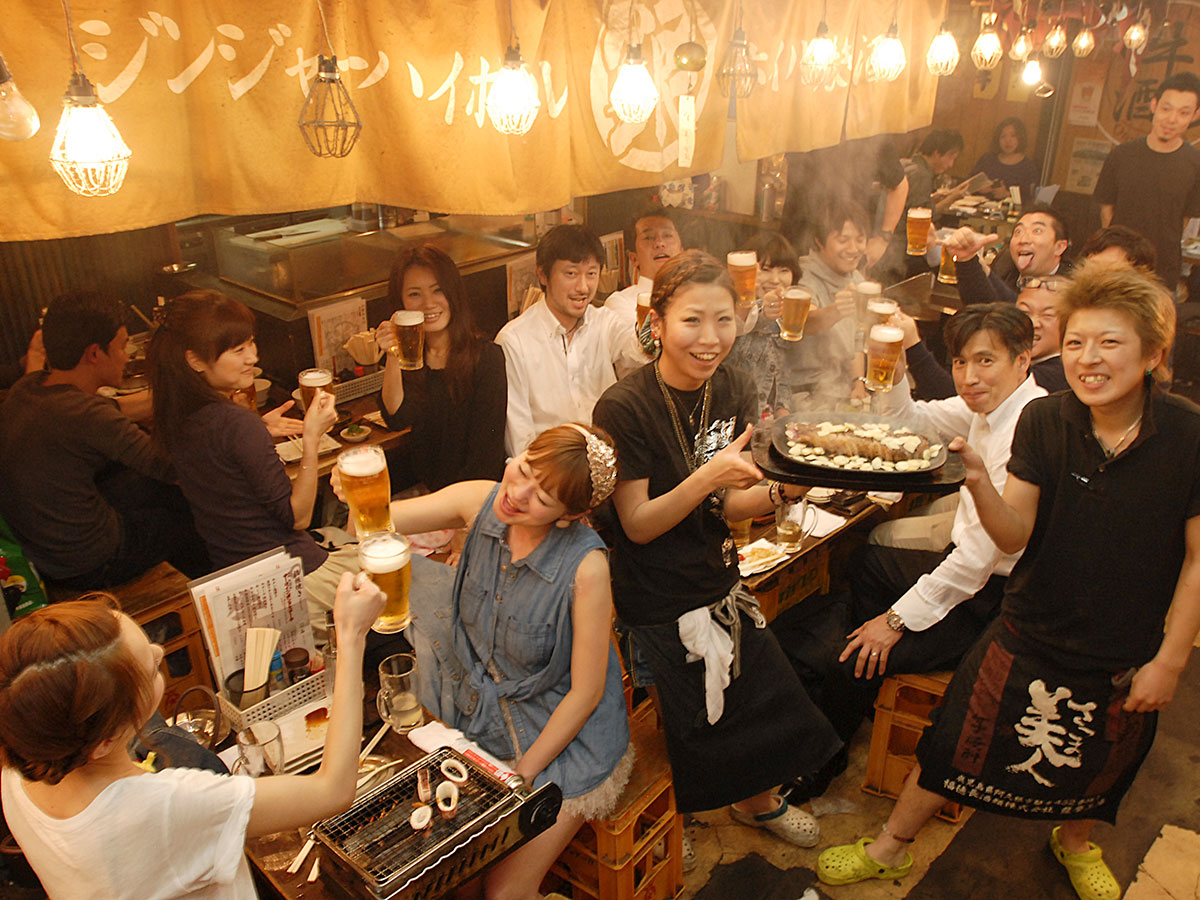 The neon signs and glowing red lanterns tell you you are at Ebisu Yokocho. It is a bustling bar and restaurant district under an arcade. It is the perfect first stop on a night of fun with its variety of shops ranging from stylish wine bars, kushiyaki grilled skewer shops and places specializing in mushrooms, to yakiniku grilled meat restaurants. It is also a great place to make new friends. It is best to go barhopping at night when all of the bars and restaurants are open.
Fabrice Dubesset

Ebisu Yokocho: Ebisu Yokocho is alive with restaurants. Ebisu Yokocho has become an alley filled with izakayas and restaurants with a deep atmosphere. The countless colors, aromas, and shop designs are very attractive. A casual atmosphere spreads out past the colorful entrance where and you can enjoy a side of Tokyo that differs from the daytime.

Dinner at Hamayaki Sakaba Uomaru: Hamayaki Sakaba Uomaru is located in a corner of Ebisu Yokocho. Here, you can enjoy a variety of seafood dishes such as sashimi. I really liked the atmosphere inside with tables of people stopping by for beers after work, foreign tourists trying Japanese food for the first time, and friends having animated discussions. It is the perfect place to get a glimpse of one of Japan's cultures.

Claire LEDOUX

Ebisu Yokocho: Ebisu Yokocho is a small alley packed with numerous restaurants. It has many restaurants that offers very nice and rich menu, so you have a choice of what you want to eat, be it grilled fish, sashimi, or grilled chicken skewers. The alley is the place to go to experience a fun atmosphere at the end of the day in Japan.

Dinner at Hamayaki Sakaba Uomaru: Hamayaki Sakaba Uomaru is a small eatery located right in the middle of Ebisu Yokocho. As a result, I was able to enjoy a casual atmosphere that was reflective of the festive mood of this area. I enjoyed very good and fresh sashimi and other seafood. The restaurant also serves fried foods such as fried gobo (burdock root) or croquettes with crab meat.
Tokyo Metropolitan Area
Day
2
KYUSHU(NAGASAKI)
Haneda Airport
JAL (Japan Explorer Pass) Show details
Fabrice Dubesset

JAL Domestic flight: I flew to Nagasaki on JAL and connected to the Goto Islands from there. It did not take long to reach Haneda Airport by Tokyo Metro. Check-in procedures are, as usual in Japan, quick and I departed on time.
Also, there is a special fare called the Japan Explorer Pass, which can be purchased cheaper than usual, so foreign travelers should definitely use it!

Claire LEDOUX

JAL Domestic flight: The flight between Tokyo (Haneda) and Nagasaki is about 2 hours, much faster than traveling by land. The seats on the JAL flight were comfortable and the service from the cabin attendants was flawless and wonderful. My departure and arrival were both on time.
Nagasaki Airportmore
Nagasaki Airport is an international airport with regular flights to Shanghai and Hong Kong.
Airplane
30 minutes
Taxi
15 minutes
Fabrice Dubesset

The Former Goto Lord's Residence, Garden and Shinjigaike Pond: It was kind of disappointing that there weren't many visitors, but Ishida Castle on Fukue Island was a pleasant surprise.
Ishida Castle was built in 1863, and still has moats, stone walls, and the most beautiful gardens.

Lunch at TSUBAKI CHAYA: Tsubaki Chaya is sure to captivate you. The restaurant has a wall of glass windows that offer views of the nearby ocean. Here, you can enjoy fresh seafood caught on Goto Island grilled in front of you. I had an excellent time looking out over the ocean while waiting for my food to cook, and I really enjoyed my visit.

Claire LEDOUX

The Former Goto Lord's Residence, Garden and Shinjigaike Pond: The Former Goto Lord's Residence, Garden and Shinjigaike Pond: The residence was built in the 19th century. It is a very beautiful house with a gorgeous garden in the shape of the Japanese character for "heart." If you look hard and use a little imagination, you can find turtles in the garden. Some objects are turtle-shaped, while others are stones arranged to look like turtles in the garden. The residence is owned by the head of the 35th generation of the Goto family, and one of the interesting features of this place that you may actually meet the owner.

Lunch at TSUBAKI CHAYA: Tsubaki Chaya was a restaurant with warm hospitality. Because it is on a hill, there is nothing to block your magnificent view of the bay and the cliffs of the coast. The room where I had lunch was made of wood, and the bay seen from the glass window made it possible to enjoy a fresh meal comfortably inside while still feeling as if I was eating outside. The food was very delicious and colorful. I enjoyed seafood, meat, and vegetables, and at the end had local specialties, such as udon from the Goto Islands.
Osezaki Lighthouse & Hiking Trailmore
The Osezaki Lighthouse is located at Osezaki Cliff, which was formed by erosion from the wild waves from the East China Sea. The beautiful hiking trail that leads up to the lighthouse is a beginner to intermediate level trail that takes roughly 1 hour (round trip). Once at the lighthouse platform, the ocean view with the Osezaki Cliff is breathtaking.
Fabrice Dubesset

The Osezaki Lighthouse is a must see spot on Fukue Island. It's pleasant 1.2km trail takes you to the lighthouse at what it seems like the end of the world. I like this kind of deserted place, especially once at the lighthouse, you can feel the power of the ocean. The wind, the cliffs, and the ocean, how not to love?

Dinner at TAOFLAT KITCHEN: TAOFLAT KITCHEN is the place where you can enjoy a meal you haven't eaten, like an experiment. Located in a natural setting, it offers sophisticated cuisine that I haven't eaten before. The chef mixes a variety of flavors and uses only local ingredients to create unique dishes. I loved this place.

Claire LEDOUX

We arrive at the hiking trail by car, and we could see the lighthouse from afar. It seemed quite far at first, but it only took approximately 1 hour round trip (30min there, and 40min back). The view of the lighthouse and the cliff behind was magnificent; very relaxing and full of nature. We could have stayed there for hours. This was certainly one of the most beautiful places that we visited during the trip.

Dinner at TAOFLAT KITCHEN: This restaurant was a mix of Japanese and Western food, but it was great. The appetizer was very original: squid ink cannelloni (pasta) stuffed with eggplant puree, and topped with sliced muscat and shaved black olives. All of the dishes have explanations in English and Japanese. We enjoyed our meal while watching the sunset set over the mountains.
Nordisk Village Goto Islandsmore
RECOMMENDED DESTINATIONS
Glamping on the Goto Islands is the perfect way to enjoy nature and luxury together on this beautiful and quiet campground. The tents are equipped with proper mattresses, heaters, and many modern entertainment accessories. There are also multiple dinner options available such as a four set course meal, barbeque set, or DIY. This experience will make you feel fully recharged and ready for another fun day of exploring the Goto Islands.
Fabrice Dubesset

Glamping at the remote island (Nordisk Village Goto Islands):The Nordisk Village on the Goto Islands offers a glamping experience surrounded by rice fields and forests. The Scandinavian style tents are equipped with all the necessary amenities and more. A night under the stars by the campfire at Japanese countryside; believe me, this is where you can spend a magical evening.

Claire LEDOUX

Glamping is a pleasant and fun experience. The tents are equipped with air conditioning, a small fridge, and a seating area for larger tents. The shower and washroom facilities are located in a separate area, both of which are clean and easy to access. The campfire at night was very relaxing; surrounded by mountains and rice fields. Once accommodated to the various surrounding sounds, we slept very well in our tents.
Day
3
Nordisk Village Goto Islands
Fabrice Dubesset

DIY - Create your own chopsticks: Have you ever wanted to make your own chopsticks? There is a place on Goto where craftsmen can teach you how to make Japanese chopsticks. You can, of course, take them home with you when you're done! After this experience, you'll see the chopsticks in Japanese restaurants in a different light. This was an excellent workshop.

Lunch at SAGARA: Sagara is a restaurant that offers traditional Japanese cuisine in a quiet and relaxing atmosphere. I love its refined space. Exquisite meals are beautifully served and delivered one by one in their own dish. This is a great opportunity to use the chopsticks that you made!

Claire LEDOUX

DIY - Create your own chopsticks: In the old days, samurai lived in the area which was lined with beautiful houses, and I had the experience of making chopsticks in one of them. The process is simple - just shave a pre-cut piece of wood along the mark. It is not easy to finish two chopsticks in exactly the same shape, but the artisan on hand will give you tips on how to do it. When you have created the desired size and shape, apply a little camellia oil and you're done!

Lunch at SAGARA: This is a lovely restaurant with a large menu that ranges from fish to meat, and all dishes come with miso soup and rice. It is close to the center of Fukue and has easy accessibility to the airport.
Taxi
50 minutes
Ferry
170 minutes
Experience the Kominka Stay - A Traditional Japanese Housemore
A total of six "Kominka" houses (aka traditional Japanese houses) that are over 100 years old have been renovated and transformed into gorgeous accommodation facilities. Each kominka has a traditional wooden exterior and a decorative interior equipped with modern furnitures. The Kominka Stay lets you experience tradition while having the convenience of modern technology, and it is a fun way to spend the night with family or friends.
Fabrice Dubesset

Ojikacho (Experience the Kominka Stay - A Traditional Japanese House): Ojika Island was one of the most interesting of the Goto Islands. Even in the old town of Fuefuki, you can still see the old traditional wooden buildings of Goto, of which, Mannichido in Amidado Temple is the oldest wooden building on the Goto Islands.
You should also stop by OJIKAPPN printing! It has a studio where you can print your own original business card. This place has plenty of things to see, such as Akahama Beach and Kojima Shrine, which is said to have been built 1,300 years ago. This island is packed with the beauty of nature and traditional Japan that will captivate you.

Claire LEDOUX

Ojikacho (Experience the Kominka Stay - A Traditional Japanese House): Ojika is one of the Goto Islands and has been selected as the "most beautiful village in Japan" as an island that retains its unspoiled Japanese landscape. Surrounded by the sea, this island is packed with the blessings of nature. Also, the accommodations, renovated kominka old Japanese-style houses, are really interesting. I stayed at a kominka that was over 100 years old and was able to soak in the Japanese sensibilities and spend a peaceful time.
Day
4
Experience the Kominka Stay - A Traditional Japanese House
Ferry
90 minutes
Kujukushima Pearl Sea Resortmore
The Kujukushima Pearl Sea Resort offers many water activities such as cruising around the Ninety-Nine Islands, sea kayaking and yacht sailing. There is also an aquarium within the resort that showcases the marine creatures that inhabit the nearby sea. In the evening, the stunning sunset view of Kujukushima from Ishidake Observatory is highly recommended.
Fabrice Dubesset

This is one of the most beautiful experiences of my trip - the discovery of Sasebo Komas, a type of Japanese Spinning Tops. The couple dedicated their life to the manufacture and promotion of Sasebo Koma. Inside their workshop, you can paint your own spinning top and learn the art of the throwing technique. I can tell you that it is not as easy as it looks. You can practice with your own spinning top once you've returned home! You will definitely have a great time at this place, as it was quite a discovery for me.

Lunch at HAMBURGER SHOP HIKARI:Sasebo hamburgers are so famous in Japan that there is no one who doesn't know about them. They came to Japan in the 1950s from the U.S. Navy and later became a local soul food. The burgers are absolutely huge!
Because this shop is near the port, you may pass by a fisherman or a sailor from the Japanese Navy who came for a Sasebo burger.

Kujukushima: The scenery of Kujukushima Bay and the 208 islands is one-of-a-kind. The tourist information center has a wealth of information, particularly on Saikai National Park Kujukushima. The islets and islands in the bay that you can see on a one-hour pleasure boat from Kujukushima Pearl Sea Resort are almost all uninhabited. This natural landscape was created millions of years ago, and the bay is home to a variety of marine plants, 1,000 species of fish, a thriving fishery, and pearl and oyster farming.
The Ishidake Observatory offers a 360-degree view of Kujukushima Bay. At an elevation of about 200m above sea level, it is a great place to view Kujukushima.
Visit here to watch the sunset at the end of the day.
The panorama is so beautiful that it is used at the beginning of the movie The Last Samurai.
Kujukushima Bay, along with Mont-Saint Michel Bay and Halong Bay, is also part of the World's Most Beautiful Bays Club.

Claire LEDOUX

The experience of painting Sasebo Spinning Tops (unique to Nagasaki only) was very interesting and fun. We first watched the craftsman at work, and then we learned the proper way to throw Sasebo Spinning Tops. The experience continued with the decoration of our own spinning tops. From designing to painting, this activity was one of the best craft experiences during the trip.

Lunch at HAMBURGER SHOP HIKARI: Hamburger Shop Hikari is located in a commercial complex called Goban-gai in Sasebo Port, and is a well-known and famous place in Sasebo. The hamburgers are super delicious. You can also enjoy them outside on the terrace. You can also order hamburgers to go and sit on a bench in the harbor or eat them at the quay. It's a great place with a relaxed atmosphere.

Kujukushima: We went around Kujukushima (which means 99 islands) on the Mirai, a pleasure boat designed like a pirate ship. In fact, there are 208 islands, but use of 99 in the name at the time referred to the large number of islands. Kujukushima is part of Saikai National Park, and all but four islands are uninhabited. The cruise takes about an hour to travel around the islands. Some islands have been shaped by the wind and ocean currents over centuries.
Kujukushima Pearl Sea Resort offers many activities such an aquarium, kayak rentals, cruises around Kujukushima, and dolphin shows.
Express bus
105 minutes
Nagasaki Airport
ANA (ANA Expericence JAPAN Fare) Show details
Fabrice Dubesset

ANA Domestic flight: My return trip to Tokyo was on an ANA flight from Nagasaki. The flight was approximately two hours and went by in no time. Free drinks and other refreshments were offered on the plane, so I was happy with the service on such a short flight.
ANA also offers two types of special fares, which are recommended for foreign travelers as they are cheaper than usual.

Claire LEDOUX

ANA Domestic flight: When I boarded the plane, I was greeted by very colorful rainbow lights on the ceiling. The ANA flight between Nagasaki and Tokyo (Haneda) took about 2 hours and departed on time. The seats were comfortable and the cabin attendants were very friendly and dependable.
Haneda Airport
Fabrice Dubesset

This is a perfect tour plan captures the essence of a modern, cultural, technological Japan that continues to develop, represented by Tokyo, and the nature and traditions of Nagasaki in Kyushu.
The diverse aspects of Japan, its history, culture, city life, nature, will captivate you.
It was a great pleasure to discover these two different aspects of Japan on my first trip to Japan. In particular, I loved the Goto Islands and Kujukushima Bay.

Claire LEDOUX

During my stay in Tokyo, I felt the energy of the city and of everyday life that is overflowing with a large number of people, while being overwhelmed by the buildings and technology. In Nagasaki Prefecture, on the other hand, I was able to see a lot of interesting things in a quieter setting, and was able to better understand life in smaller towns. My trip was packed with a variety of experiences, and each place was a truly rich experience.
RECOMMENDATIONS FROM OTHER TRAVELERS
You will make many discoveries from the differing aspects of Japan - the modern face of Japan in the global city of Tokyo, and the rich nature of the Goto Islands, the westernmost islands of Kyushu. This is an ideal tour plan for those who like a contrasting experience.
Fabrice Dubesset

Travel blogger
Reside in France

Hobby

Travel, nature, culture

Number of visits to Japan

First time
RECOMMENDATIONS FROM OTHER TRAVELERS
The people I met in Tokyo and Nagasaki Prefecture were great. Each of the selected destinations was wonderful and diverse, and I was particularly satisfied with my craft experience. The composition of my trip was well thought out, and I was able to enjoy traveling from the modern technology of Tokyo to the nature of Nagasaki. All of the diverse destinations and activities were unique and rich.
Claire LEDOUX

Employee in Japan and reporter for Kanpai! (a French guide to traveling in Japan)
Reside in Tokyo
Home country: France

Hobby

Nature, temples, history, and experiencing craft tours

Length of stay in Tokyo

3 years
Other recommended route in same area